The Zircon 550 is a lightweight RGB wireless mouse that features a honeycomb design that looks aesthetically pleasing. The mouse is aimed at those who are on a tight budget but still do not want to compromise on quality and performance.
We've spent a good few days with the mouse, have tried out all its bells and whistles, and have had our fair share of experience when it comes to reviewing products from Genesis. From our initial impressions, everything about the mouse from the sensor to the design seems to look good on paper. However, with such bold claims made by the manufacturer, Genesis, does the Zircon 550 truly live up to its name?
What's In The Box?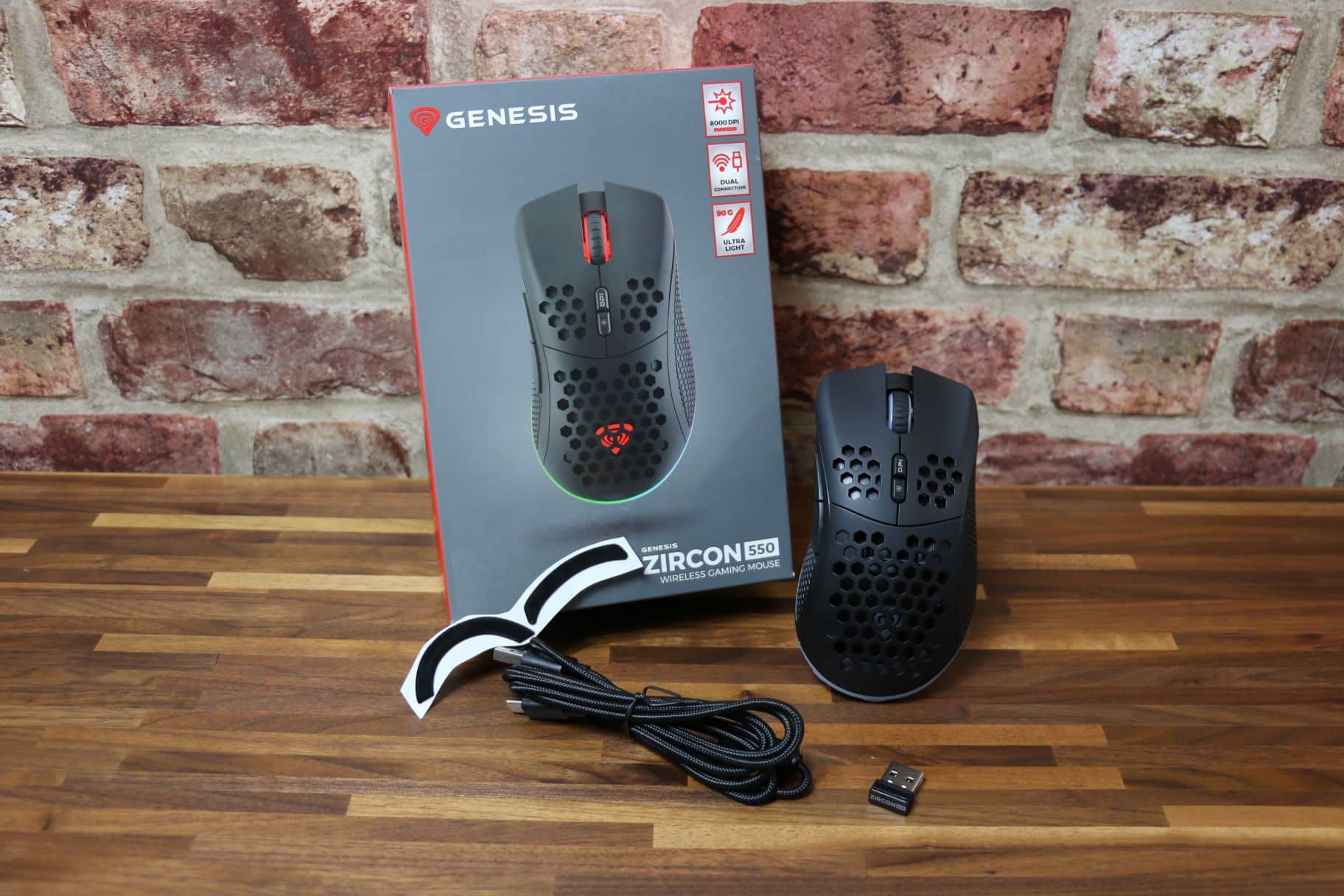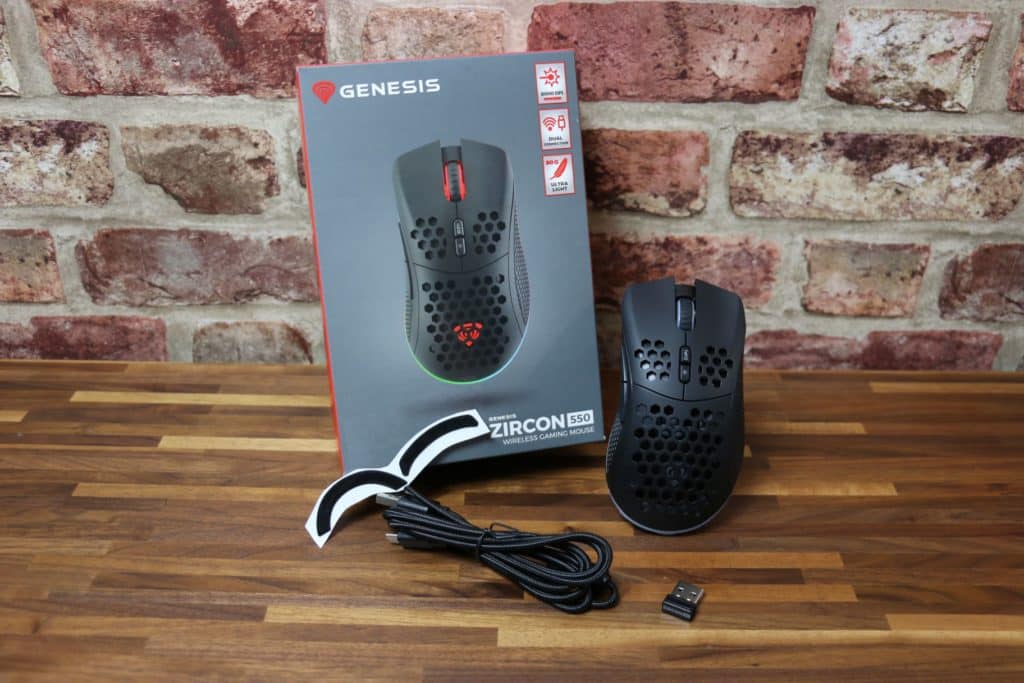 Genesis Zircon 550
Braided USB-A to USB-C Cable
2.4 GHz Wireless Adapator
Spare mouse feet
Design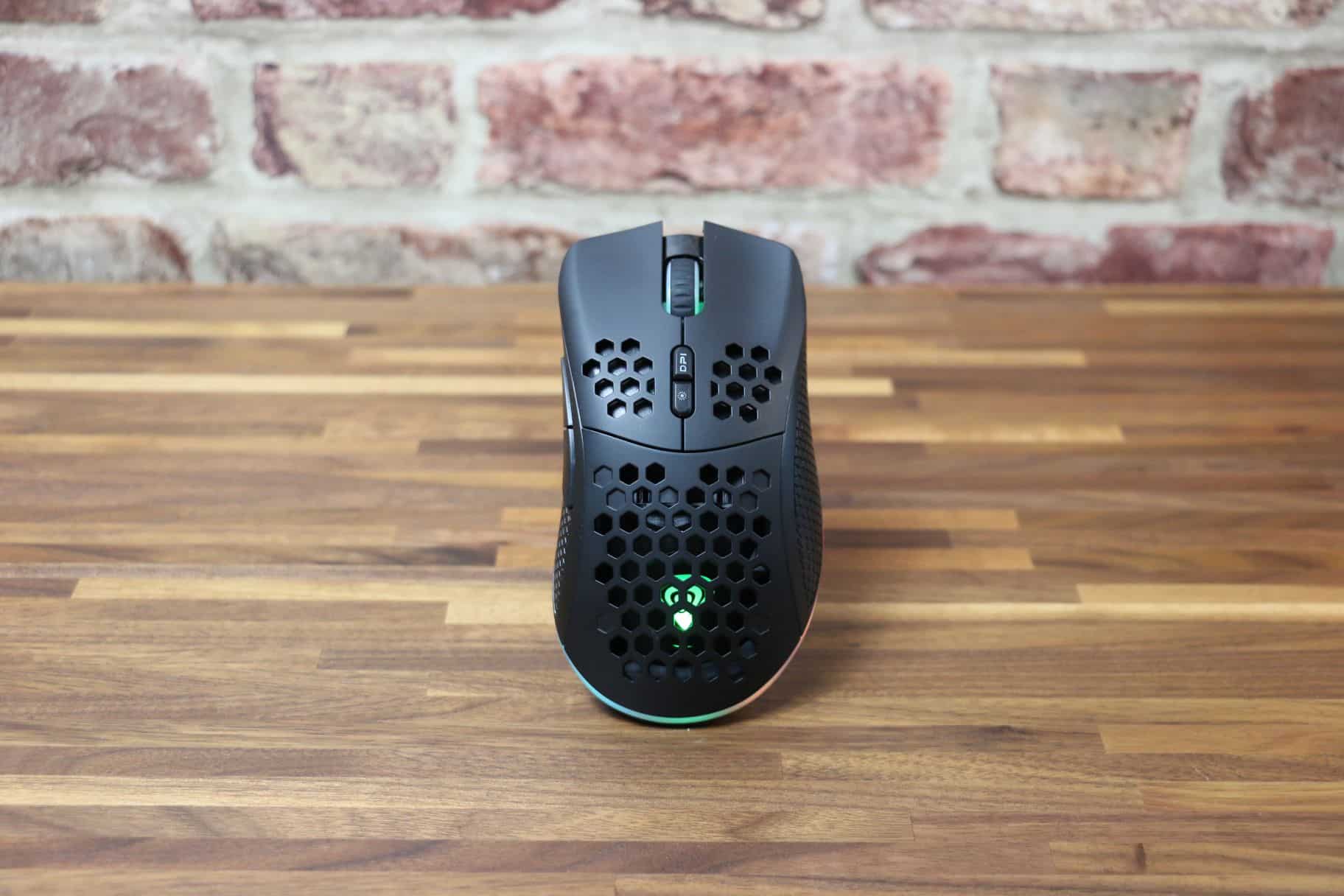 The design and ergonomics of a mouse are extremely important. While we will be talking about what sort of grip suits this mouse the best, we have to first appreciate the subtle design the mouse employs.
Coming in at only 90 grams, the Zircon 550 features 7 programmable buttons that can be customized to your liking. Moreover, it features a honeycomb design with noticeable curves for a better fit. The mouse is not ambidextrous however and has a strictly right-handed design. So, if you are a leftie, look somewhere else!
Besides that, the Zirzon 550 features a DPI button with four different profiles that can be customized according to your liking. It also has a rubber side grip with two more side buttons as well.
The back features the same honeycomb design and comes with a braided USB-C cable. However, the mouse can also be used wirelessly. The feet leave a little to be desired as they don't seem to be that durable, however, time will tell whether that's true or not.
Customization
In terms of physical customization, the Zircon 550 doesn't offer much. It doesn't have tunable / modular weights and the right-handed design limits the amount of customization you can do with the overall body.
However, in terms of software, it does feature seven programmable buttons which can be customized using the downloadable software. In it, you can change DPI sensitivity, customize your RGB lighting, create, save and assign macros while also getting an idea of your mouse's current battery level.
Thankfully, the Zircon 550 features onboard memory. This means that you can uninstall the software if you aren't too keen on keeping bloat on your system after you've done all your customizations. Moreover, your settings will remain the same across all devices.
Connectivity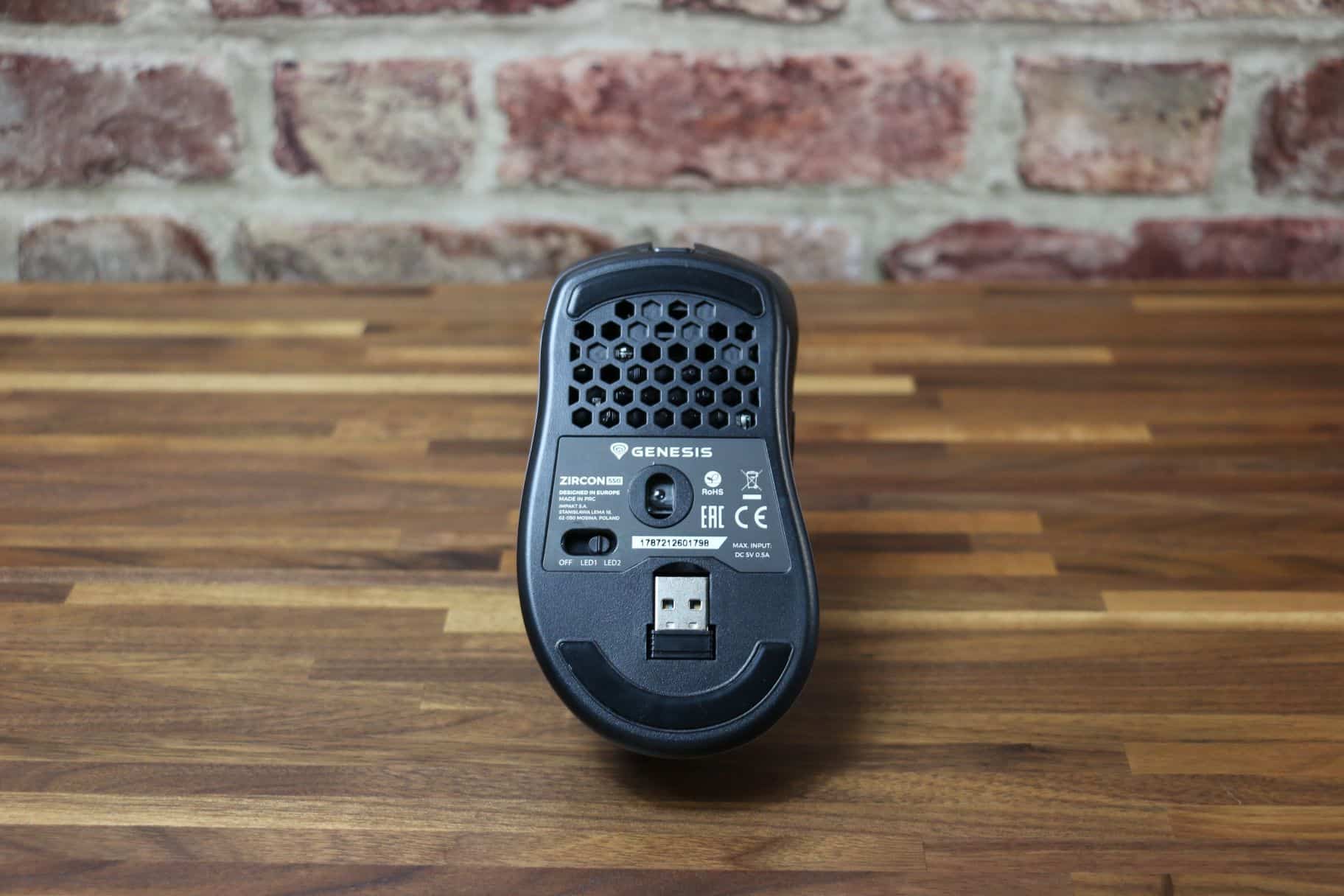 The Zircon 550 offers both wireless and wired connectivity. Utilizing a 2.4 GHz connection, the mouse has a nifty little USB-A dongle that can be tucked under the mouse when you aren't using it. If you aren't in the mood for going wireless, it still features a conventional USB-C to USB-A braided wire.
Battery
Thankfully, the Zircon doesn't use AA batteries but instead has a built-in 600mAh rechargeable battery. While the manufacturer claims up to 80 hours of battery life, expect to be charging the mouse every other day if you are going to be running it on full RGB backlighting.
Performance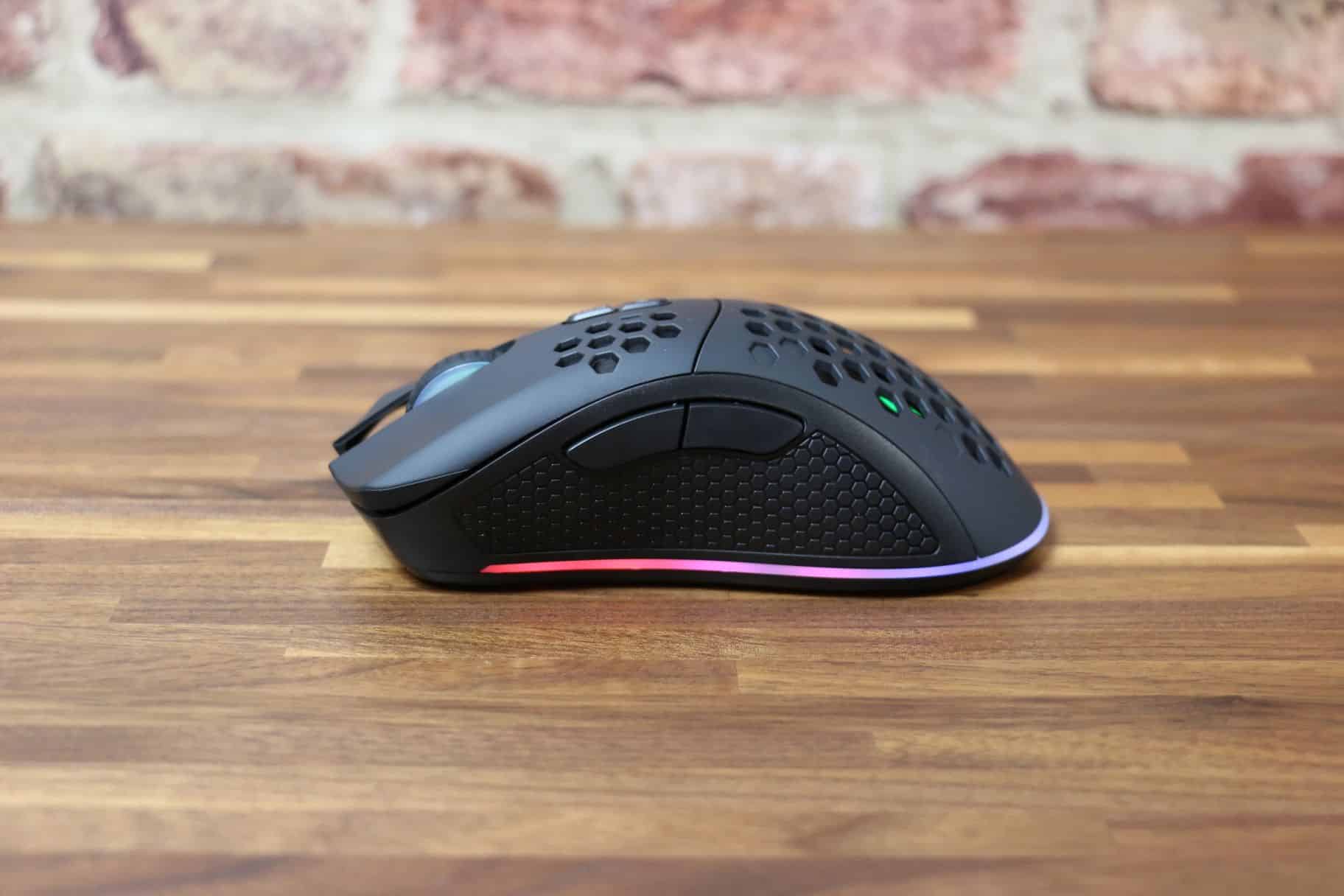 The Genesis Zircon 550 features a PixArt PMW3325 which is a mid-range sensor. It features slightly better tracking than its predecessor, the 3310, and handles up to 130 IPS (inches per second). Needless to say, the sensor is excellent for both FPS and MOBA games and we didn't experience any loss of tracking sensitivity or fluidity even when doing fast hand movements.
The RGB lighting can be a bit distracting though, thankfully, they're quite easy to turn on. While the feet as mentioned earlier, don't seem durable, they glided well enough on our Razer Firefly gaming mat during testing. We upped the DPI to 2000-3000 and also played at lower sensitivity and were quite satisfied with the performance.
Switches
The mouse features mechanical switches that have been rated for 20 million clicks. They sound just fine and have reasonable actuation. The side buttons are placed in a way that it might take some getting used to. However, once you've got your muscle memory down, they perform just fine as well.
---
Should You Buy The Genesis Zircon 550?
If you are in the market for a budget mouse that gets the job done, the Zircon 550 is meant for you. From our performance tests, we have nothing to complain about. The RGB lighting looks great, the wireless connectivity is extremely convenient, the sensor is accurate and responsive while the grip and overall ergonomics combined with the lightweight honeycomb design have led the 550 to earn our seal of recommendation as one of the best budget mice you can get your hands on.