Genesis has been on the peripherals scene for ten years now – an accomplishment worth celebrating! The company thought so as well, so they developed a limited edition mouse dubbed Zircon X for loyal fans & lightweight mouse-seeking FPS players about to become ones themselves. Is the mouse a worthy thank you? Read our Genesis Zircon X Review to get a thorough answer.
Tech Specs
| | |
| --- | --- |
| Dimensions | 4.5" x 2.4" x 1.5" |
| Weight | 72g |
| Buttons | 6 |
| Switches | Kailh 8.0 |
| DPI range | 50 – 19,000 |
| Sensor | PixArt PMW3370 |
| Max acceleration | 50G |
| Connectivity | Wired, 2.4GHz wireless |
| Battery life | 80 hours |
| Ambidextrous | Yes |
Packaging & Contents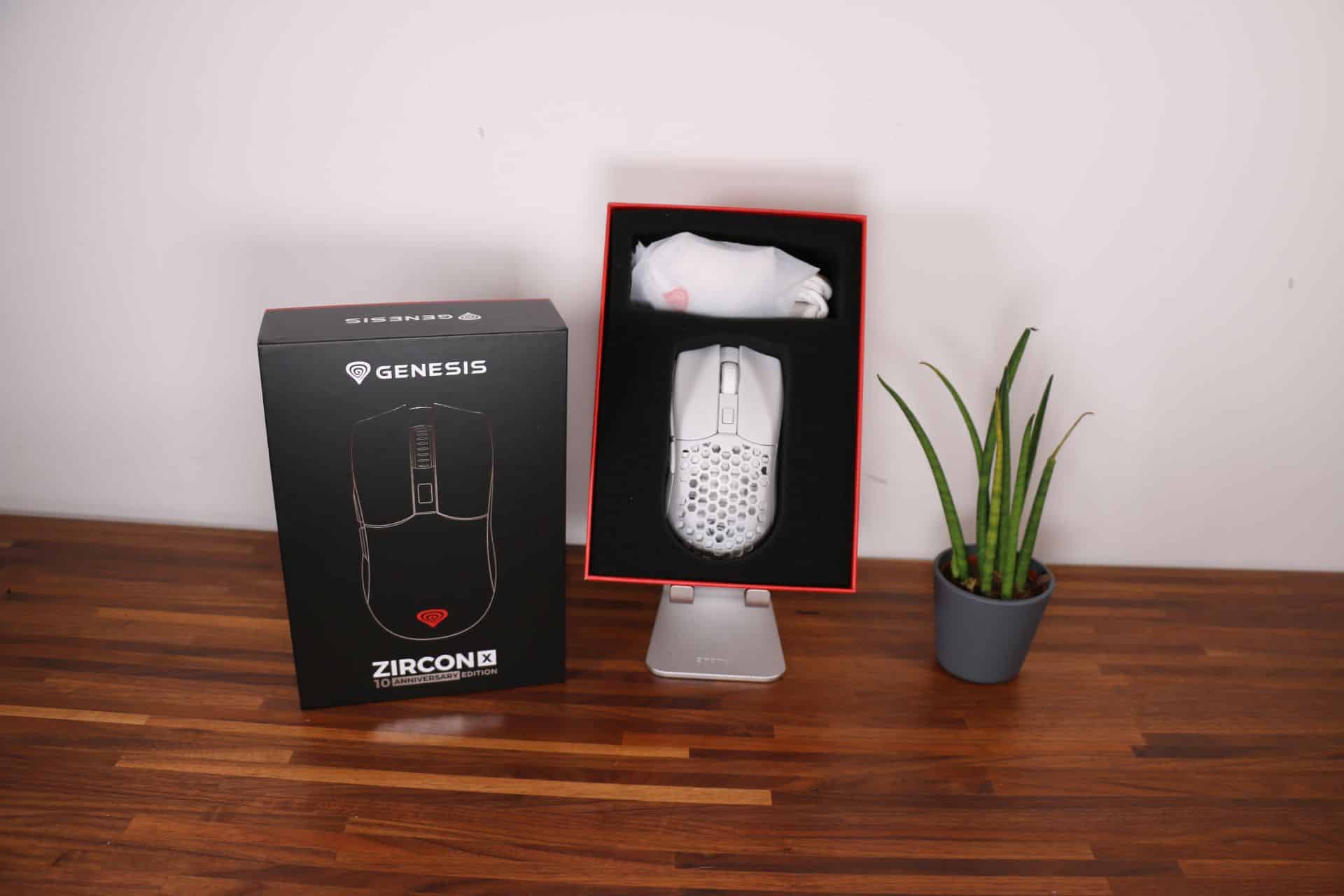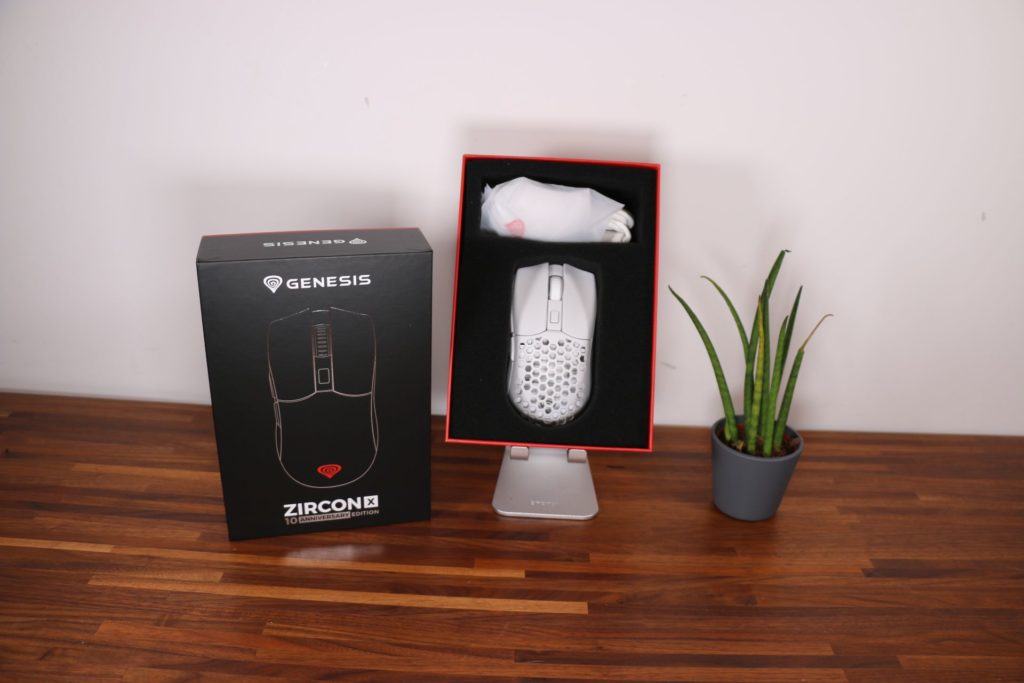 The sturdy cardboard box that houses the Genesis X is as special as the mouse. Rather than featuring a stock photo, the front has a cool white outline of the mouse. Its sides are Genesis red & offer more info on the specs.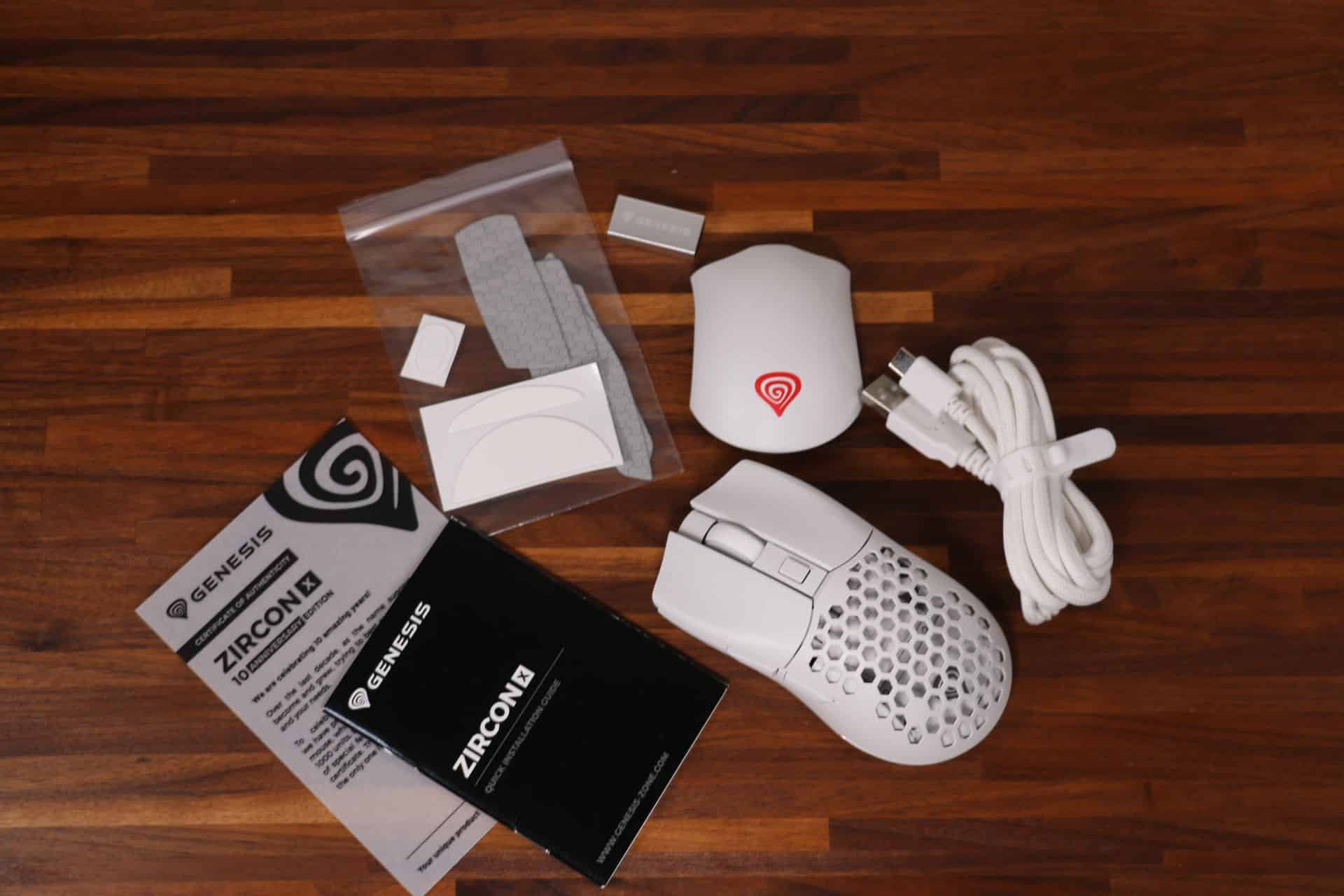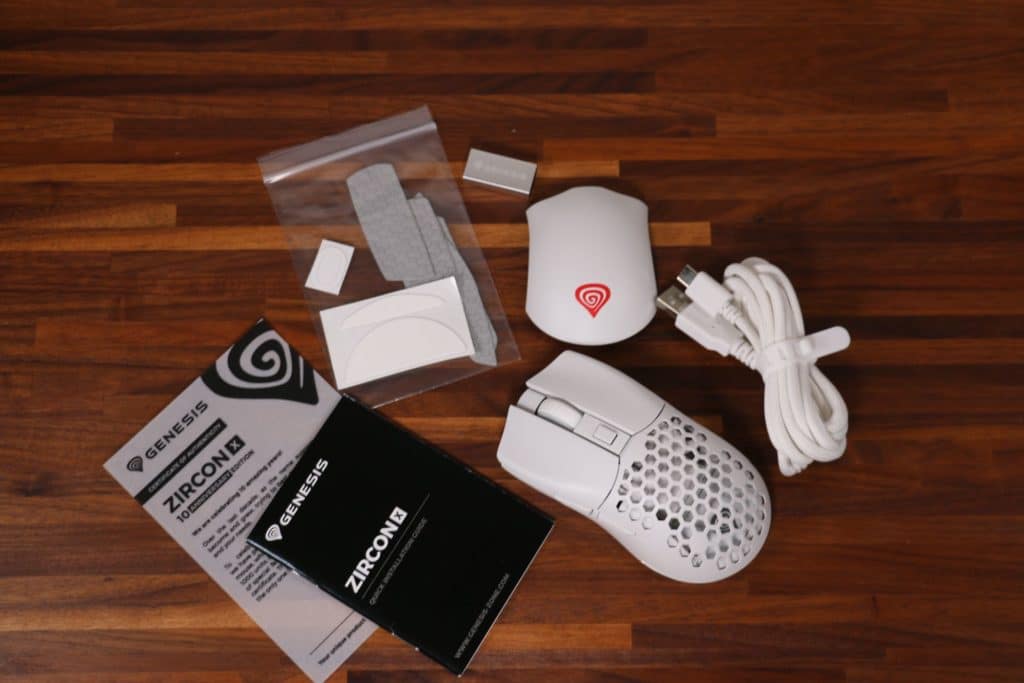 Inside, you'll find ample padding for the Zircon X and a small bag containing most of the accessories. These include a second palm cover, the wireless USB dongle, anti-slip stickers, the feet, a paracord USB cable, a quick start guide, and a special card.
Our Sample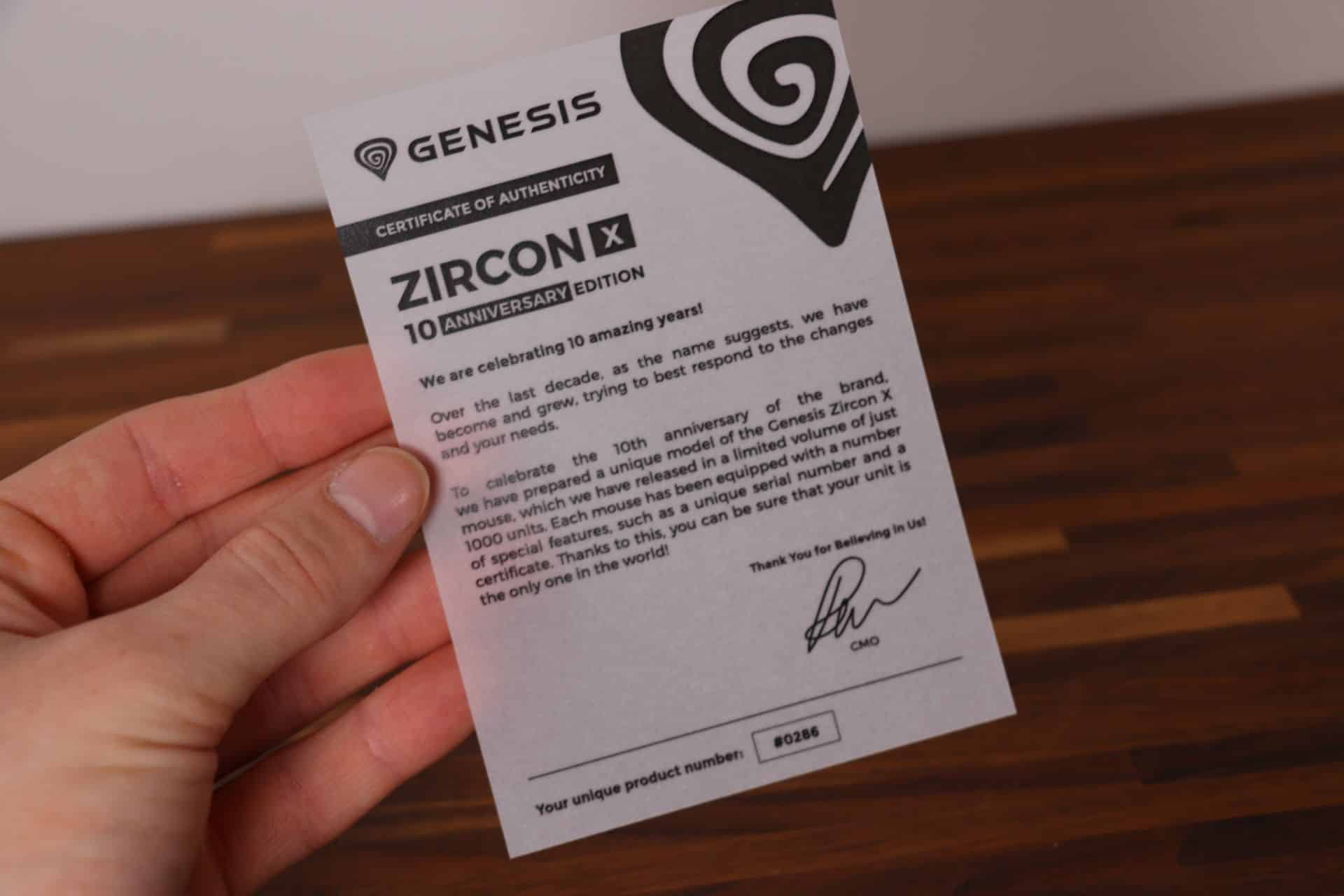 Uniqueness in the genuine sense of the word is what sets this celebratory rodent apart. Genesis only made 1,000 units in this particular style, and you get a certificate of authenticity to that end. Ours has the serial number 286! Here's hoping that you'll also be able to purchase a less distinguished version later down the line since it would be a shame to miss out.
If not, you should set your sights on the Pwnage Ultra Custom Symm 2. It's the same mouse in all but name, so expect comparable performance without the collectible aspect.
Weight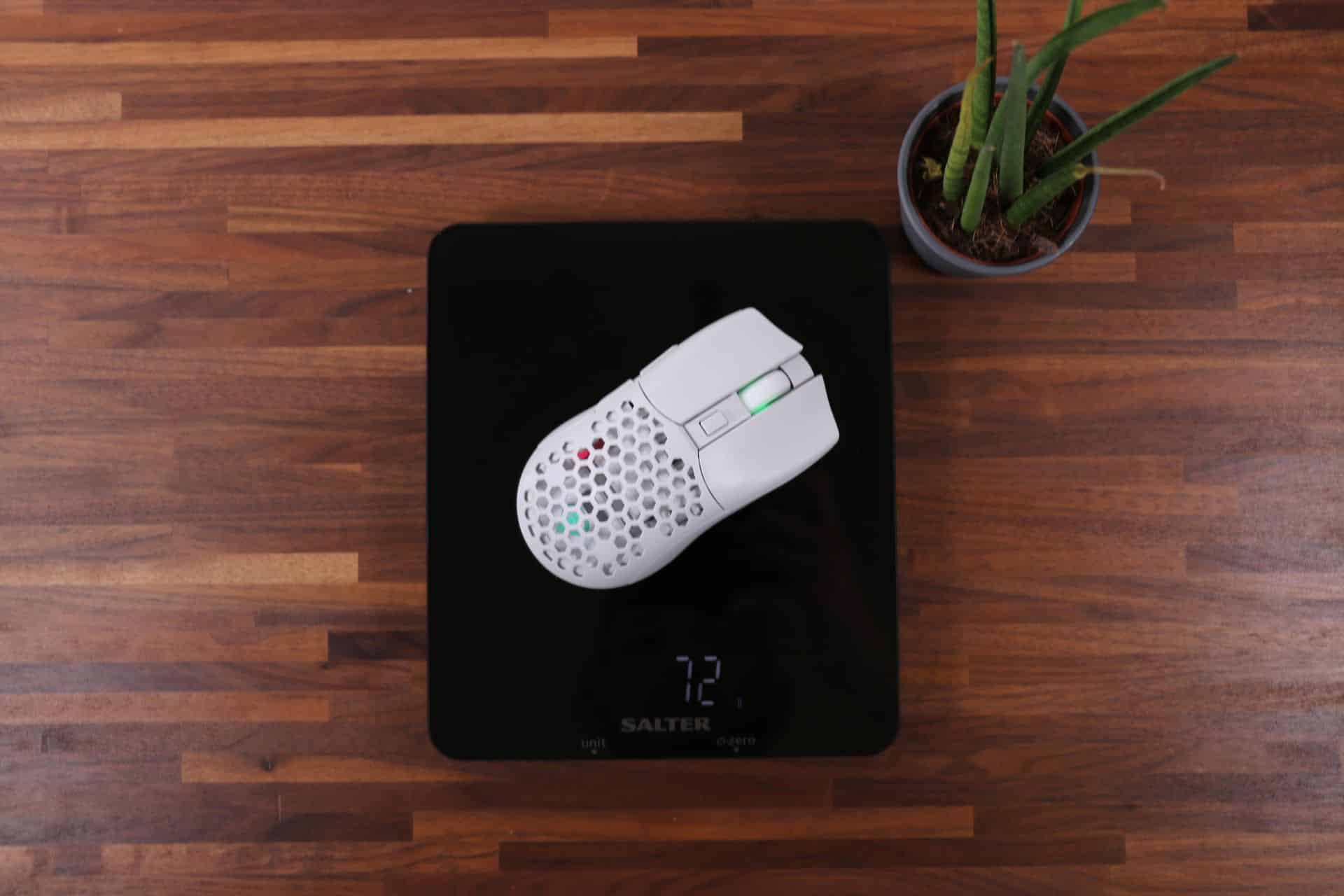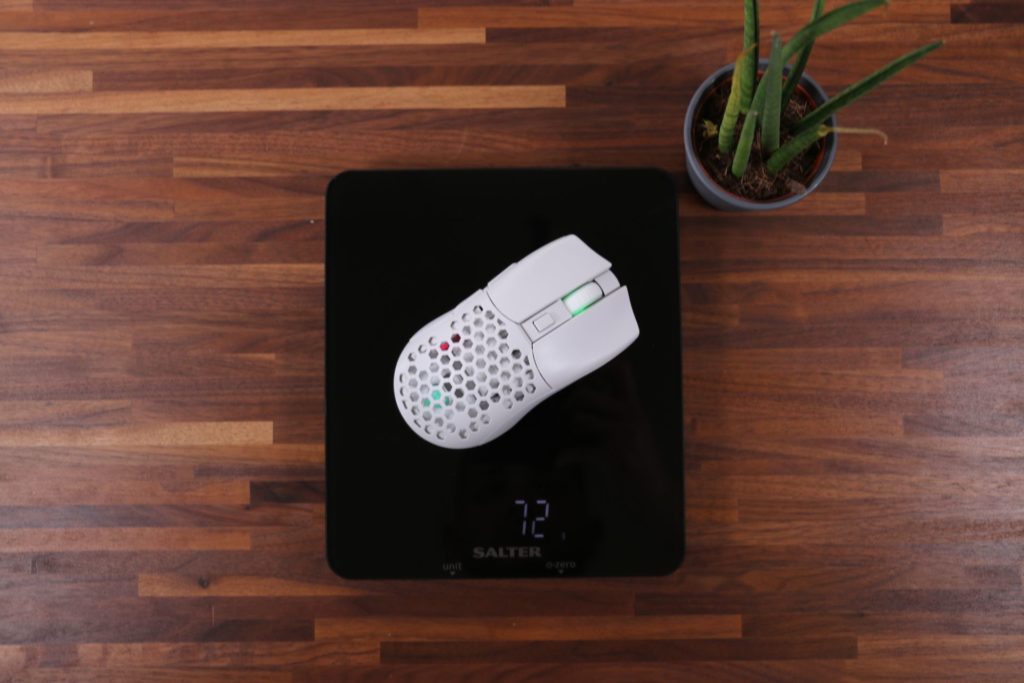 The Zircon X is a lightweight, well-constructed mouse with an emphasis on portability and speed. It weighs 72g with the honeycomb shell on – heavier than some competitors but lighter than the average. There's no direct way of playing with the weight, and the only other thing you can do to reduce it is to use the wireless receiver.
Adding more weight is easier. Using the solid cover prevents dust buildup inside the mouse and makes it heavier by about 3 grams. A compartment in the center houses the receiver, which adds another 2 grams.
Build Quality & Ergonomics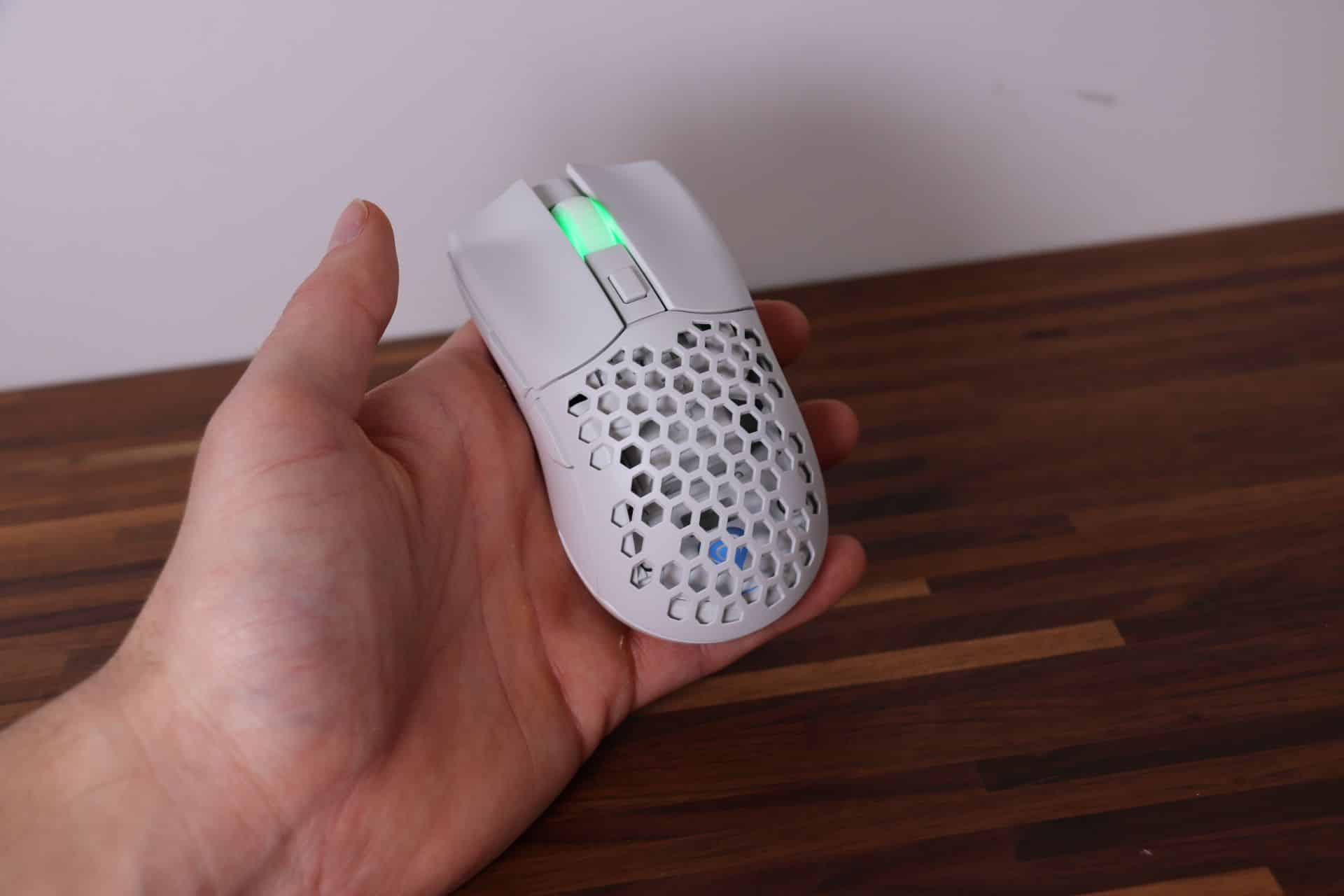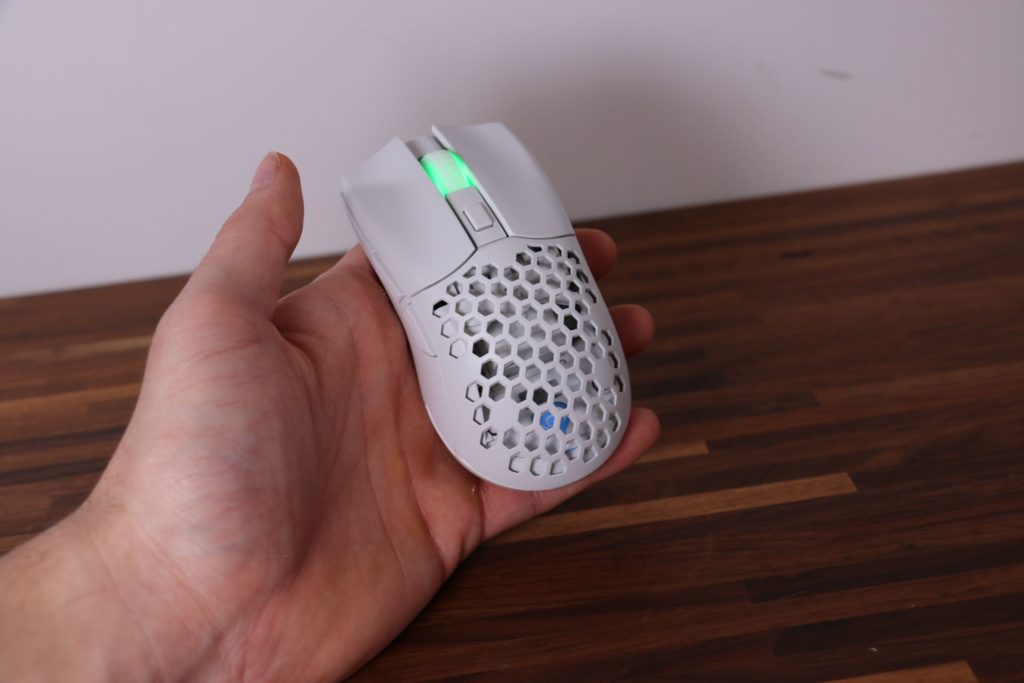 Genesis put together a small yet solid mouse. The plastic has a high-grade feel and should withstand years of sweat & everyday use. Squeezing tightly causes it to flex slightly, but the frame bounces back and is no worse off.
The shell's white ABS plastic goes well with similarly bright cases & keyboards while better exposing the innards through the honeycomb. Its finish is matte, and we didn't find any part of the surface to be particularly slippery. Even so, it's thoughtful of Genesis to include anti-slip rubber stickers for the sides and main buttons.
People with small and medium hands should feel right at home regardless of their preferred grip. We wouldn't recommend this model to large-handed palm grip fans since prolonged use could lead to cramping. Fingertip & claw grip feel comfortable, though. Lefties don't get the complete package since the two side buttons are only on the left. Still, the Zircon X functions as a solid ambidextrous mouse otherwise.
Buttons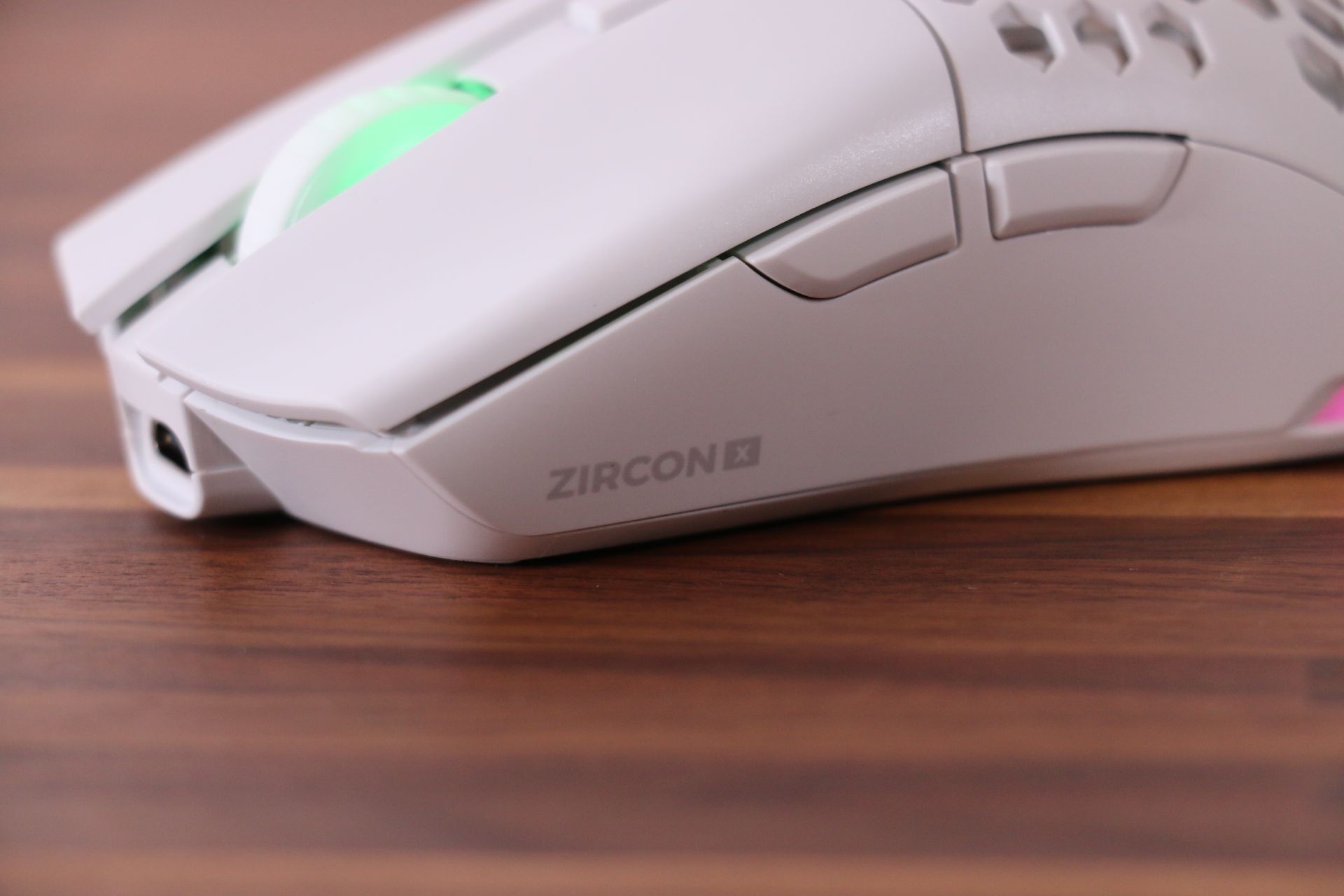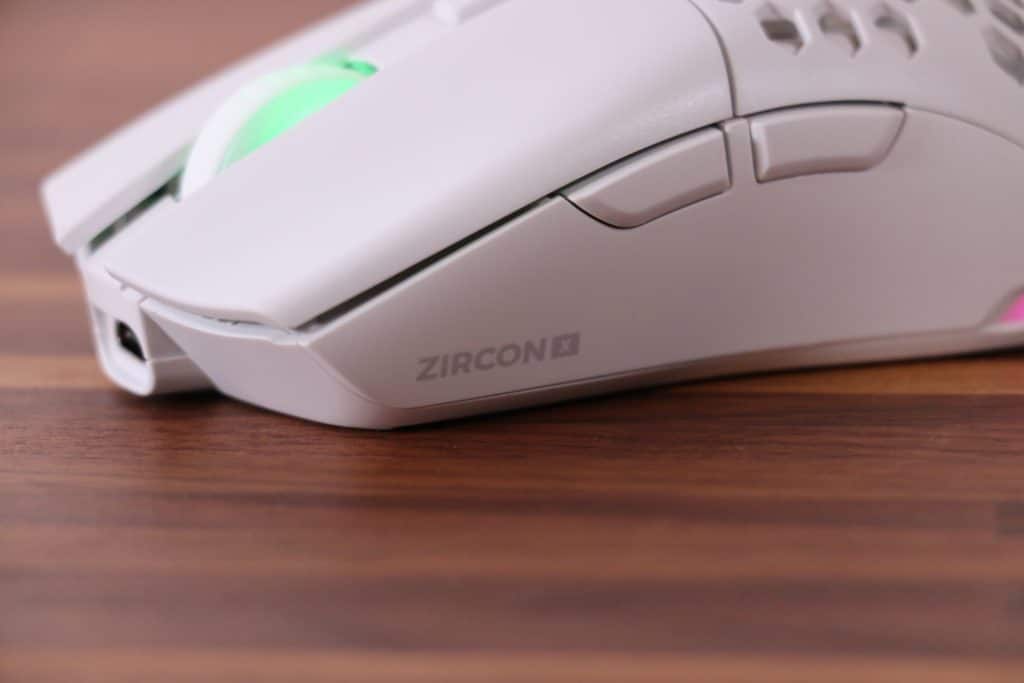 The left and right buttons use Kailh 8.0 switches rated for 80 million clicks. We like the responsiveness and audible but inoffensive clicking. You can press the main buttons in rapid succession, and every click will register. A bit of overtravel results in each button traveling slightly more after clicking without impacting performance. The scroll wheel barely makes any noise while turning and doubles as another button. The DPI toggle and two more side buttons bring the total to six.
Sensor & User Experience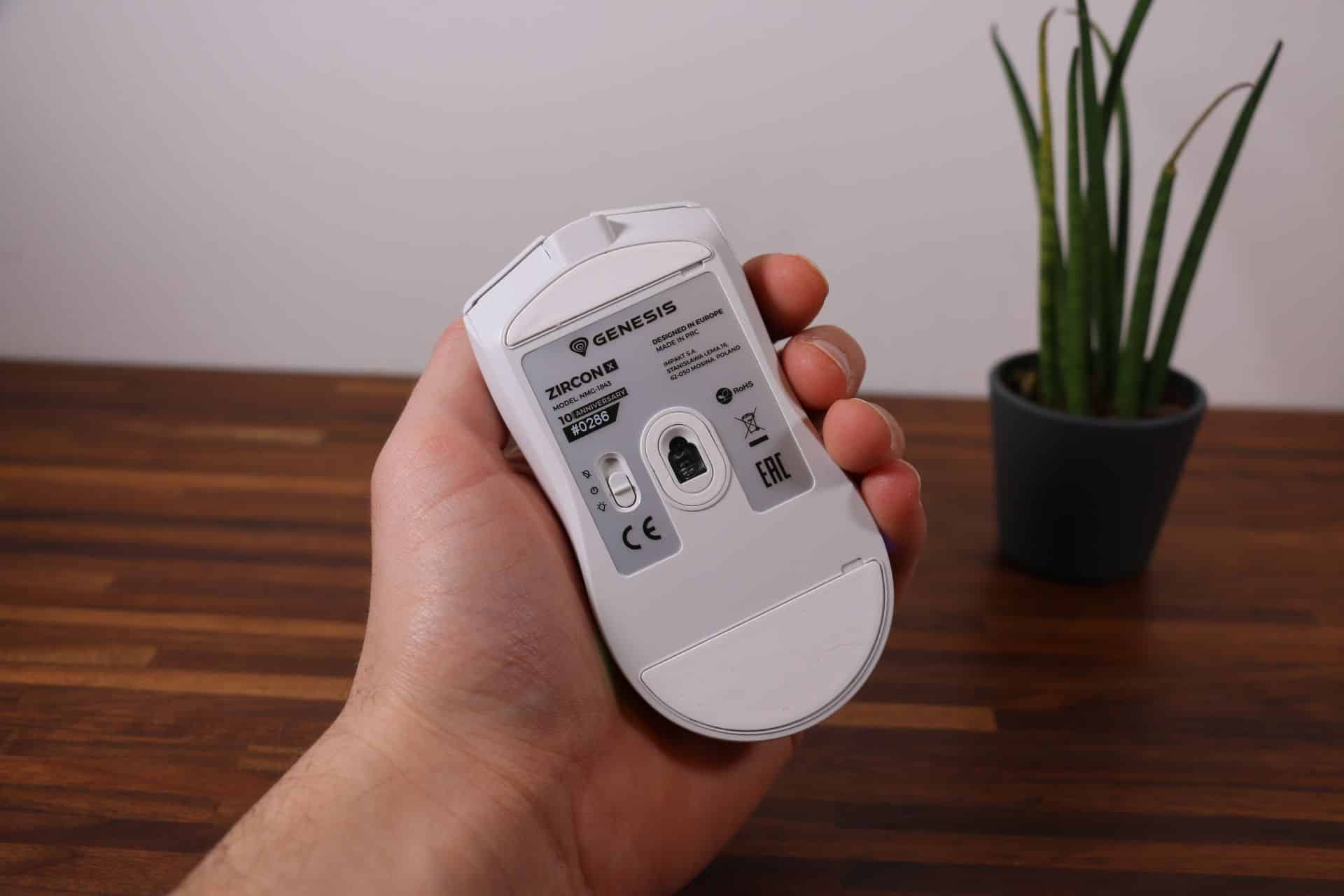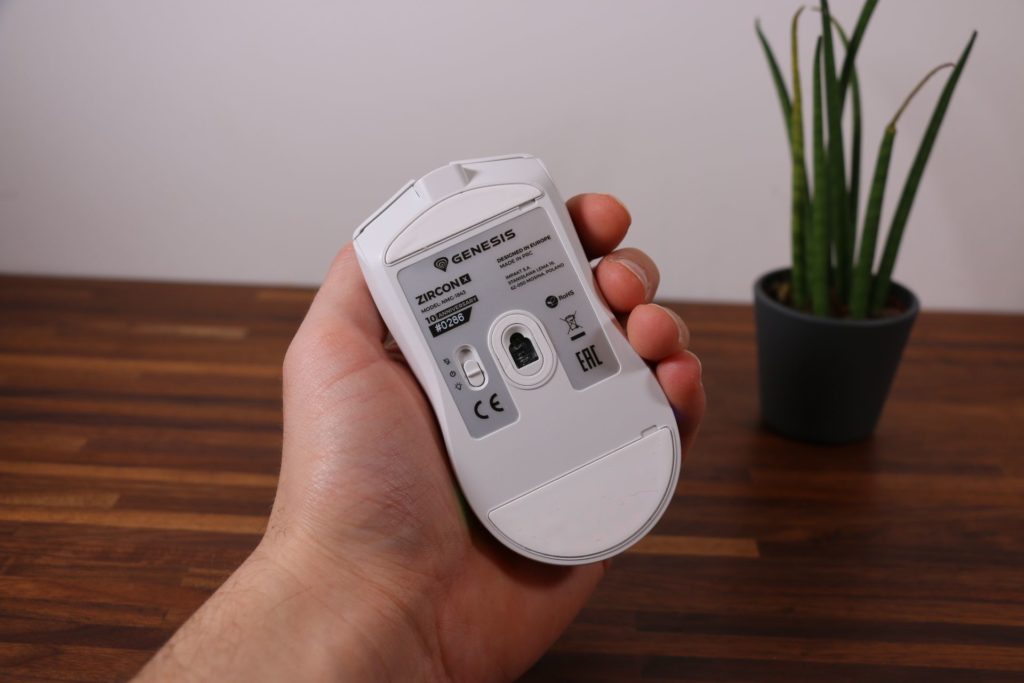 No Genesis Zircon X review would be complete without a few words on using the mouse in different conditions. We found the mouse comfortable to hold & ergonomically sound even though it isn't molded for the right hand. You can't use it on glass surfaces, but the two Teflon feet glide across desks, pads, and even low pile carpets without issue.
Genesis equipped the Zircon X with the new PMW3370 sensor from PixArt. The highlights include a wider DPI range and better IPS coverage than the PWM3360, so expect the mouse to keep up with more frantic movements. Coupled with a lift-off distance of just 1.2mm, this makes the Zircon X an excellent competitive FPS mouse.
Battery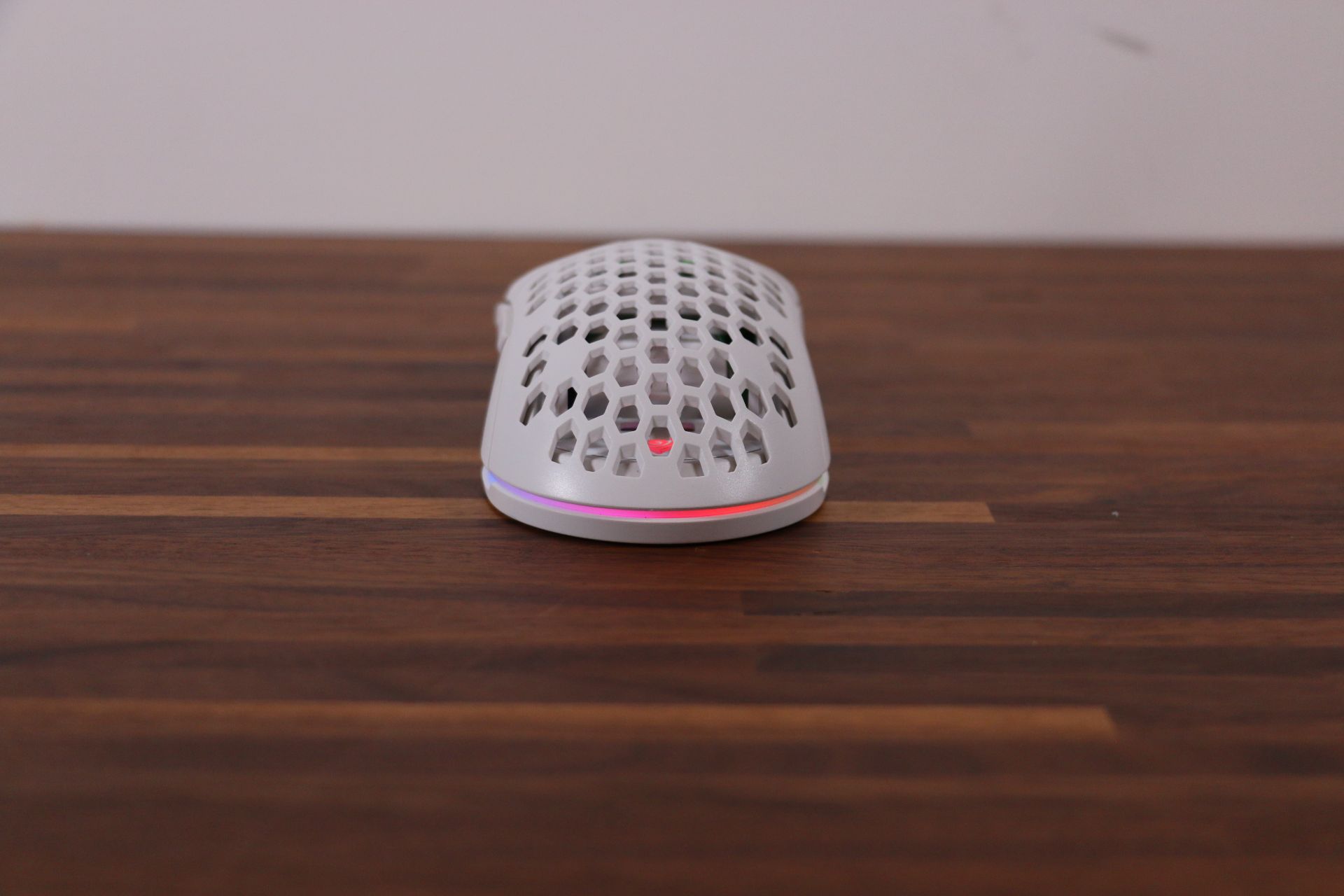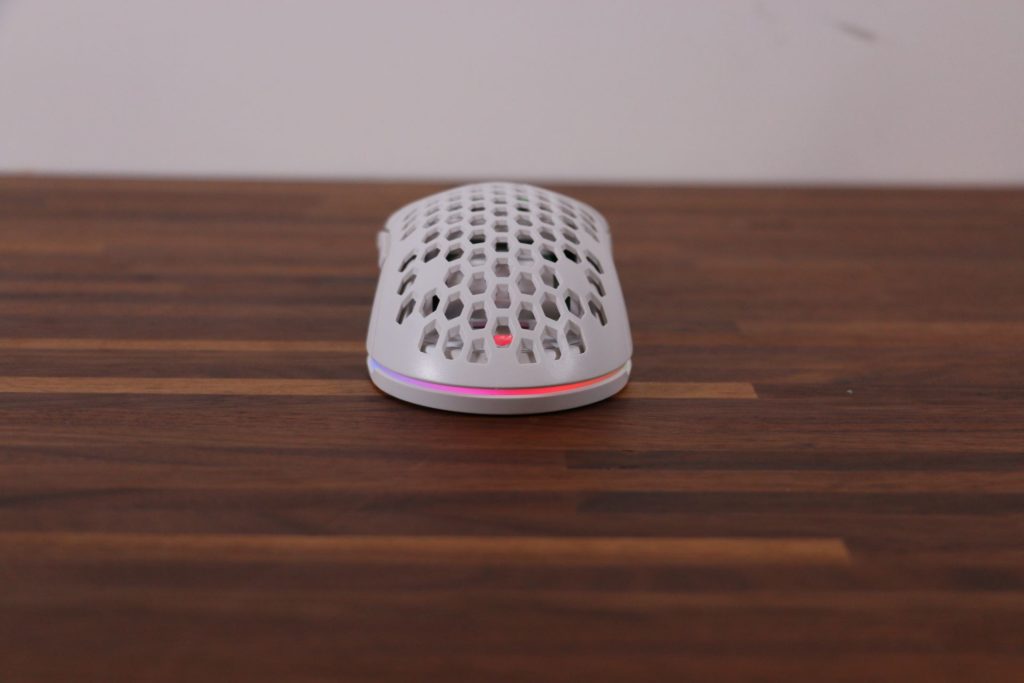 The freedom to game or work wherever you are is a big selling point for the Zircon X, so we're glad the battery lets you do that extensively. Toggling the lighting switch on the bottom results in a charge lasting for 80 hours. Disabling the LEDs bumps that up to 180, which will tide many users over for a month.
The software comes with a percentage-based indicator, so it's possible to track the battery's state & plan to recharge it well in advance. We just wish that replacing the battery was also a feature. You could technically do so with a third-party cell down the line, but you'd have to remove the glued-on original first.
Connectivity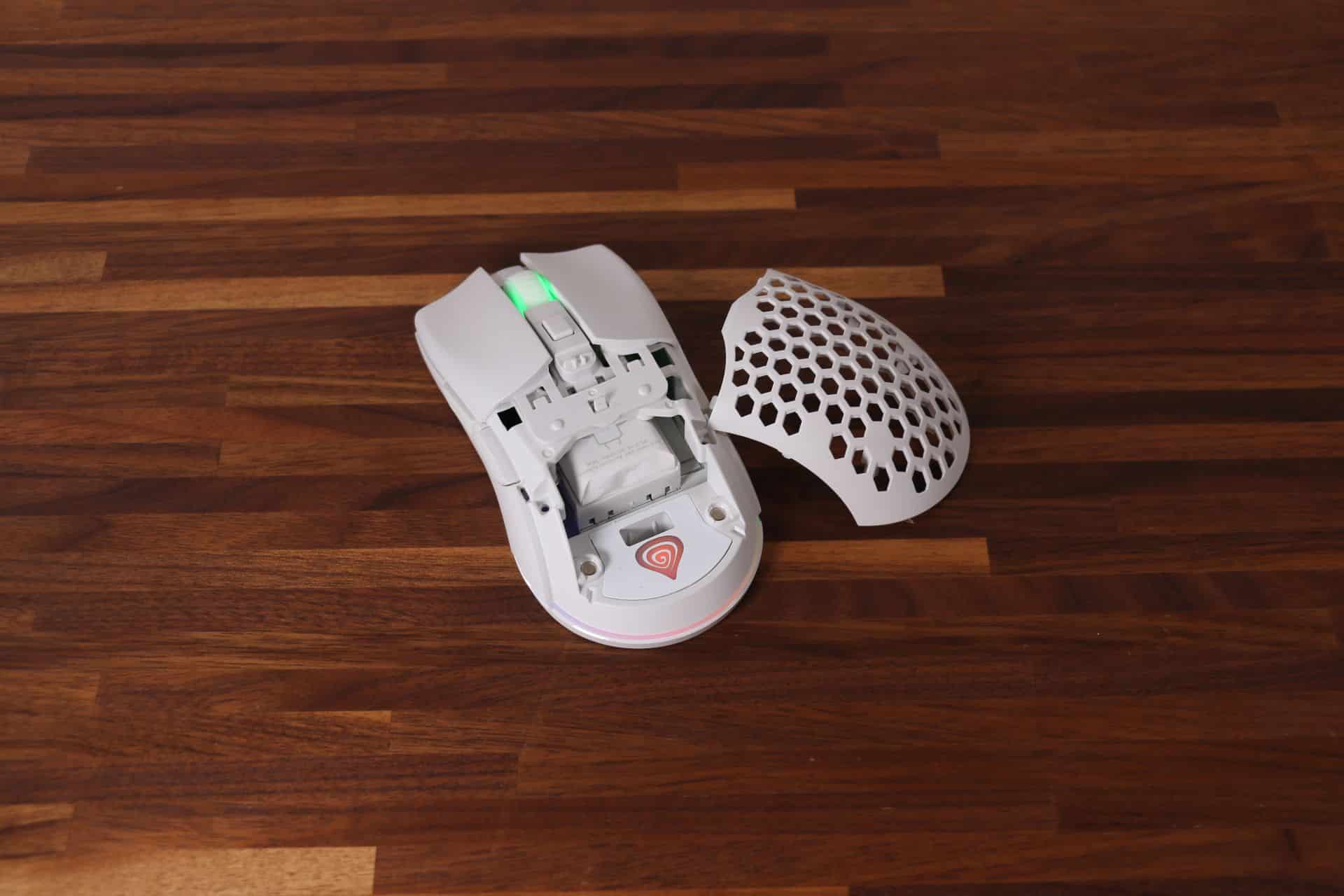 Most users will get the Zircon X for its wireless mode. The dongle plugs into your PC and works flawlessly up to 33 feet. You may always fall back on the charging cable. It's made from paracord and is just over six feet long. It's flexible enough for unimpeded movement but not as aesthetically pleasing as wireless mode since the bends required to fit it inside the box don't straighten out completely.
Software
While it's no Synapse or iCUE, the bundled software offers comprehensive tweaks to every aspect of mouse operation. It's separated into four tabs, starting with button mapping. It's possible to assign different functions to each of the six buttons, even LMB.
The second tab lets you set up to six DPI values in increments of 50 to toggle between, each with an associated scroll wheel color. Here's where you can play around with the polling rate & sensitivity as well as turn on jitter or angle snapping. The third tab is all about macro creation and execution options, while the fourth lets you cycle through several lighting effects and set up the colors.
Conclusion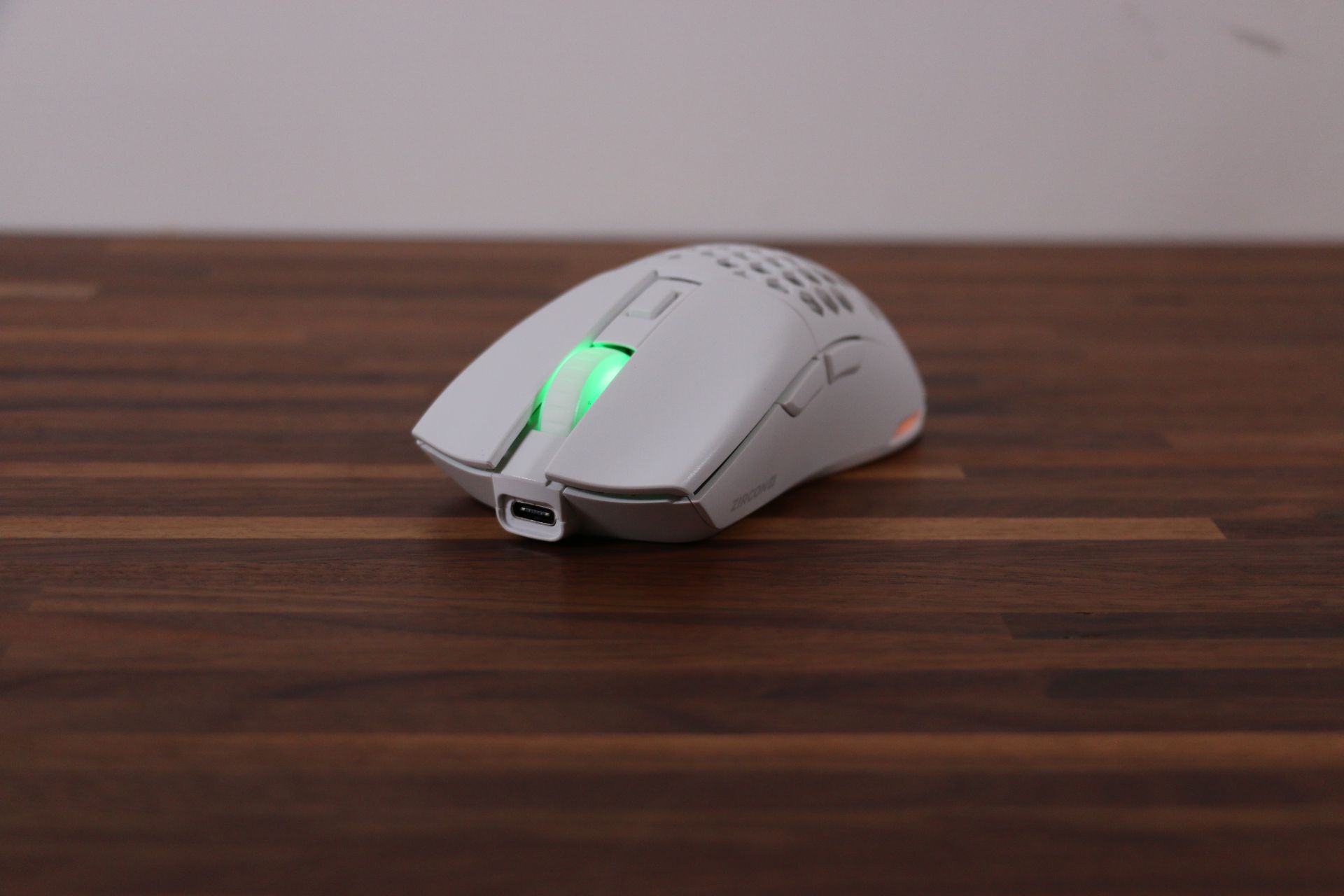 We took on this Genesis Zircon X review in hopes of coming across a good wireless alternative to Razer's Viper Mini while anticipating its successor. Even though it could stand to lose around 10 grams to be perfect, the Zircon X gets close. Its lethal combination of relatively low weight, tiny lift-off distance, and high g-force tolerance means everything from precise small movements to instant flicks or sweeping arcs registers with equal dependability. The Zircon X is here now, so why wait?