The long-awaited Genshin Impact 2.1 anniversary stream program finally aired on August 20 at 9:00 am (UTC-4). Despite the technical difficulties in the English version's stream launch, hundreds of thousands of fans waited patiently and immediately tuned in the moment the Genshin Impact Official account went live on Twitch and Youtube.
The hour and a half special program was jampacked with news on the upcoming characters, weapons, events, and so much more! Here's a detailed summary of the English live stream hosted by Zach Aguilar, Sarah-Miller Crews, and four other popular Genshin voice actors.
Upcoming Playable Characters
Raiden Shogun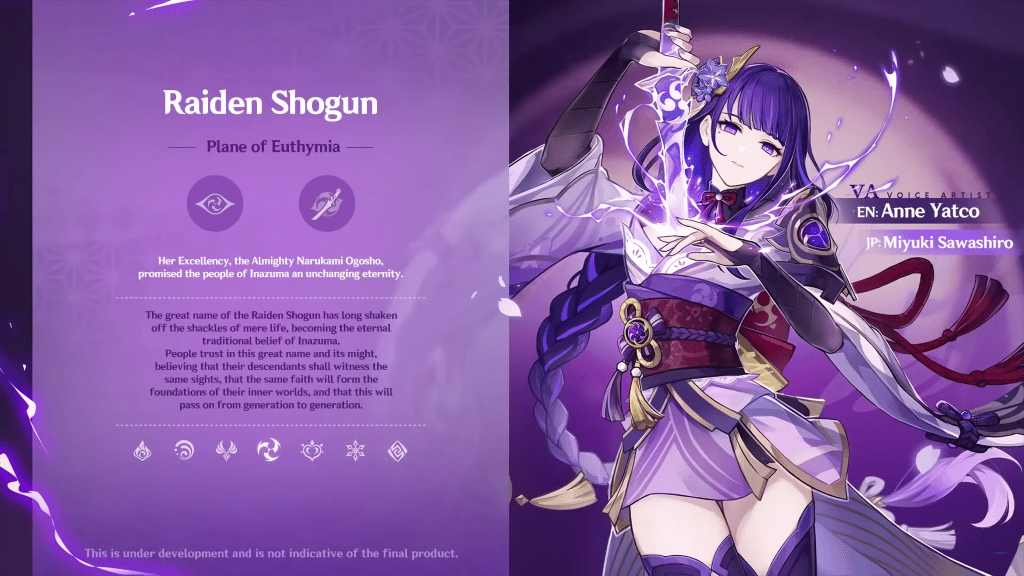 Based on the 2.1 trailer, it looks like Travellers will have a rematch with the almighty Raiden Shogun. Baal wanters, patiently waiting in the shogun's waiting room, got a clear rundown of her skillset. The special program revealed that the 5-star Electro Archon is a polearm user.
Her Elemental Skill (E), Transcendence Baldeful Omen, deals Electro AoE damage and also grants every party member the Eye of Storm Judgment Effect. Baal's Elemental Burst (Q), Musuo Shinsetsu, performs a series of attacks. All of her Normal, Charged and Plunging attacks will be converted to Electro DMG in this state.
Sangonomiya Kokomi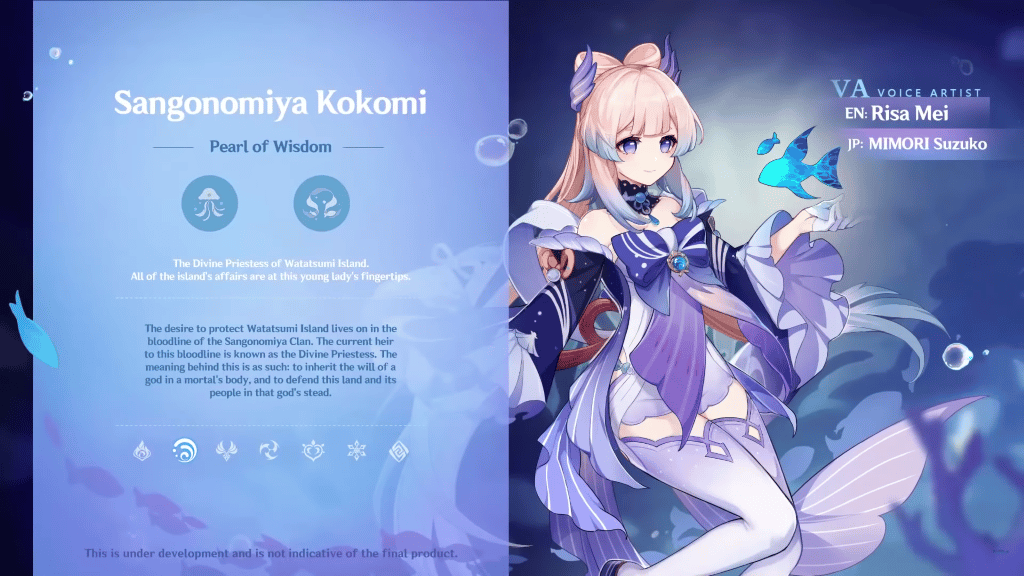 Sangonomiya Kokomi is the Divine Priestess of Watatsumi Island. This graceful 5-star character yields a Hydro vision and wields a catalyst. Her Elemental Skill (E) is called Kurage's Oath; kurage means jellyfish in English. Once activated, a jellyfish illusion joins the battlefield and restores an active character's HP while continuously inflicting Hydro damage.
Kokomi's Elemental Burst (Q) goes by the name Nereid's Ascension. Once activated, Kokomi deals Hydro AoE damage and wears the Ceremonial Garment, which increases her Normal and Charged attacks plus the jellyfish's damage. Unlike most characters in Genshin, Kokomi's Base CRIT rate is -100%, meaning she will not benefit from CRIT rate or CRIT damage.
Kujou Sara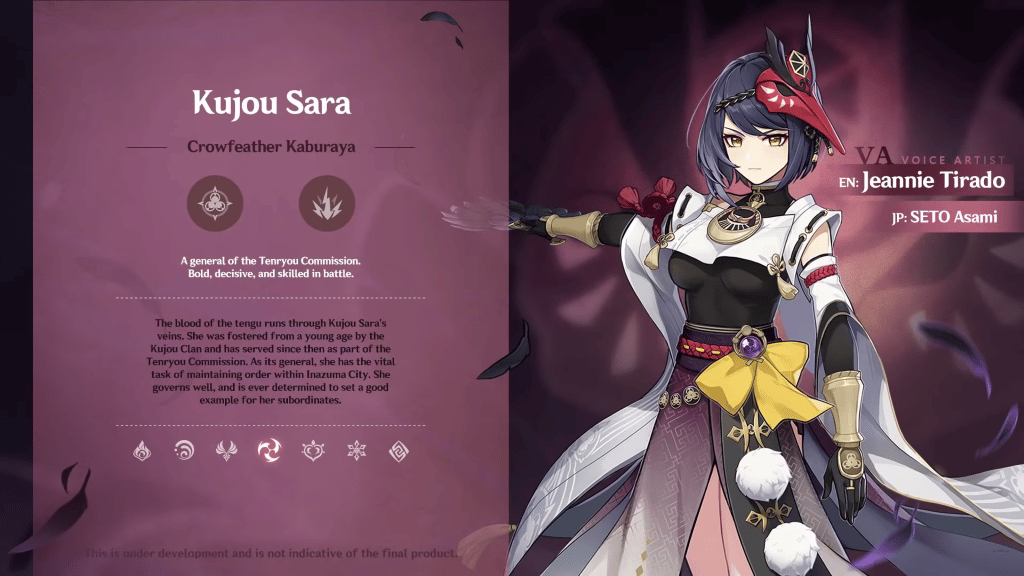 The third new playable character is a 4-star bow user with an Electro vision. Kujou Sara's Elemental Skill (E), Tengu Storm Call, lets her back dash and obtain a Crow Feather Cover. This covering deals AoE Electro damage and increases the attack of nearby characters.
Her Elemental Burst (Q), Subjugation, allows her to strike a target area with Tengu Jirai, dealing AoE Electro damage. This attack also leaves behind fragments of Tengu Jirai Stormclusters which provides an attack bonus. The general of the Tenryou Commission's idle animation and Elemental Burst showcases her magnificent crow feathers.
Aloy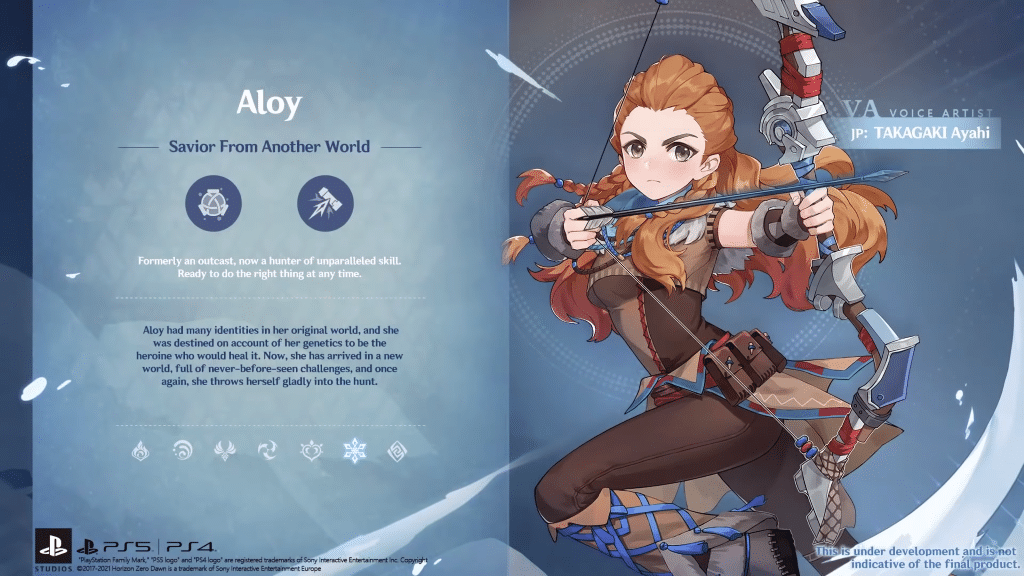 Did somebody say a free 5-star character and a weapon? Yes, that's right. Genshin's first cross-over event will feature Aloy the Nora Huntress from Horizon Zero Dawn. She is a Cryo bow user that will first be playable for PlayStation players in the 2.1 update.
All other platforms will receive her on the 2.2 update. Her Elemental Skill (E) Frozen Wilds throws a freeze bomb and deals Cryo damage, while her Elemental Burst (Q) Prophecies of Dawn deals AoE Cryo damage.
Check the image below for the exact details on how to get Aloy.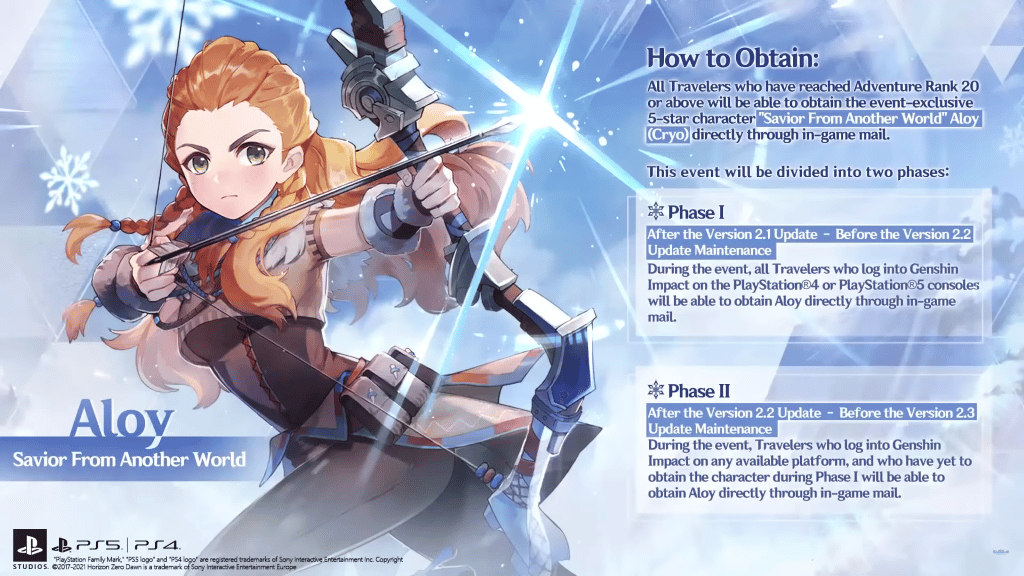 Special Mention
Scaramouche and Yae Miko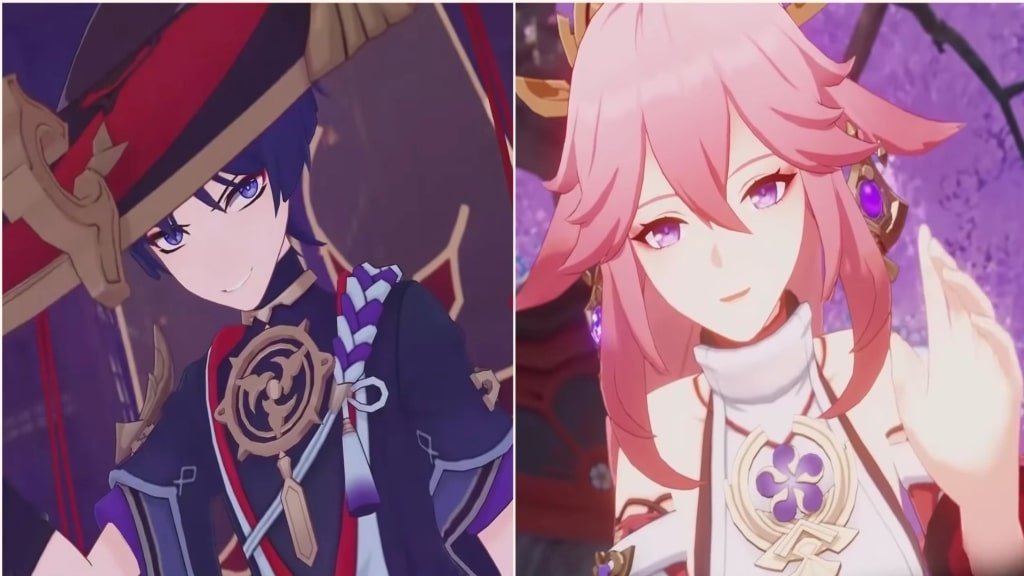 The screams of Scaramouche fans worldwide resonated all over social media the second the cunning Balladeer appeared on the screen. Scaramouche was last seen in Genshin Impact Version 1.1 during the event quest "The Crisis Deepens."
The reappearance of the 6th of the Eleven Fatui Harbingers significantly increased his chances of becoming a playable character, much to the joy of many fans. It is said that Scaramouche's true origins will be revealed in the new storyline.
Yae Miko, the chief priest at Narukami Shrine, also made an appearance in the 2.1 trailer. At the start of the teaser, Yae Miko is seen asking someone, and we don't know who, to repeat the numbers one to three. Later on, she again makes an appearance, this time taunting the traveller.
New Weapons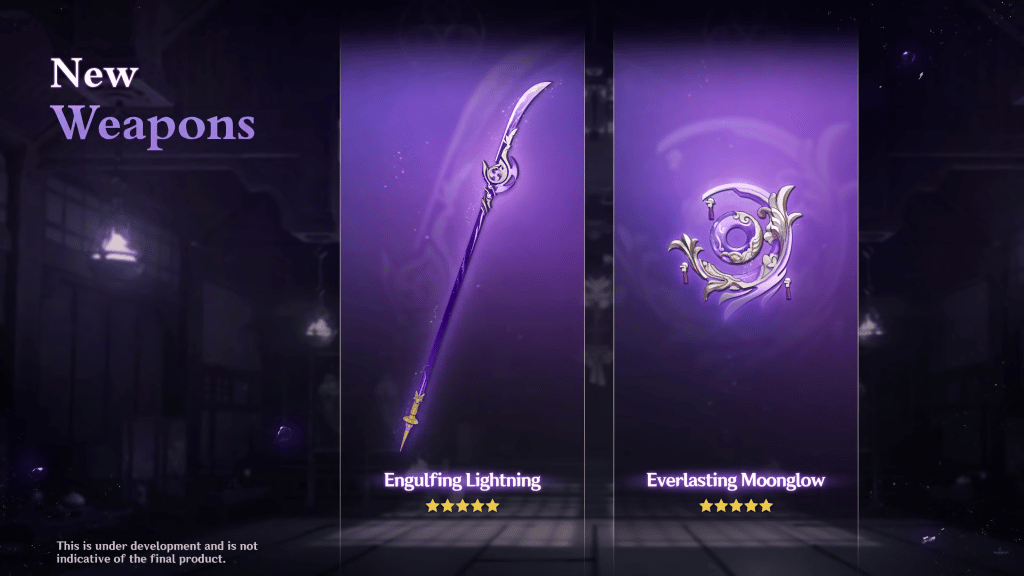 The upcoming update will also release two new 5-star weapons. The 5-star polearm Engulfing Lighting is the Raiden Shogun's featured weapon, while the 5-star catalyst Everlasting Moonglow is said to be Kokomi's featured weapon. MiHoYo will release more details on the exact stats of these weapons in the following days.
Exciting New Quests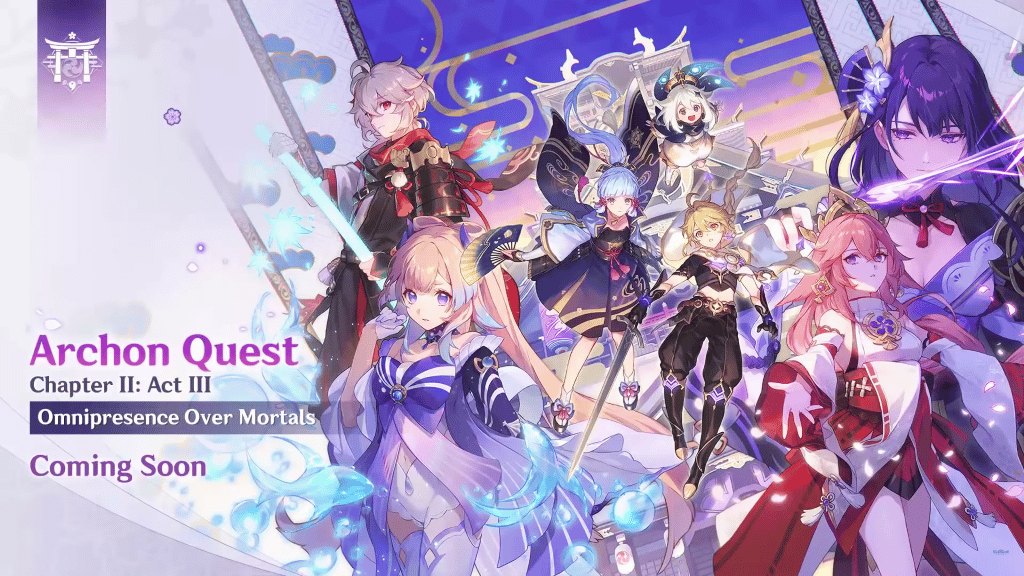 The new update will also introduce the new Archon Quest Chapter II: Act III, Omnipresence Over Mortals, which will continue the game's main storyline. Will the traveller succeed in overturning the dire situation in Inazuma? The coming Archon Quest is undoubtedly something to look forward to. Players can also dive into Raiden Shogun's and Sangonomiya Kokomi's story quest in the new update. That's a total of three exciting quests to play!
Fun Events
Moonchase Festival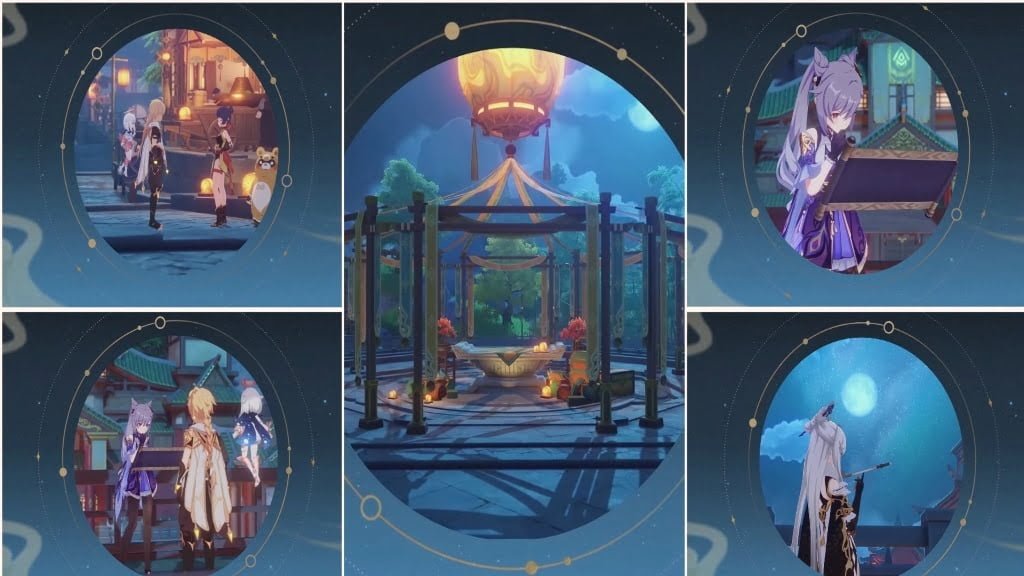 A culture-filled Liyue event where players can immerse themselves in different activities. Throughout the event, Liyue will be filled with festive decor and merchants stalls. Complete activities and win a wide variety of rewards!
Moonlight Merriment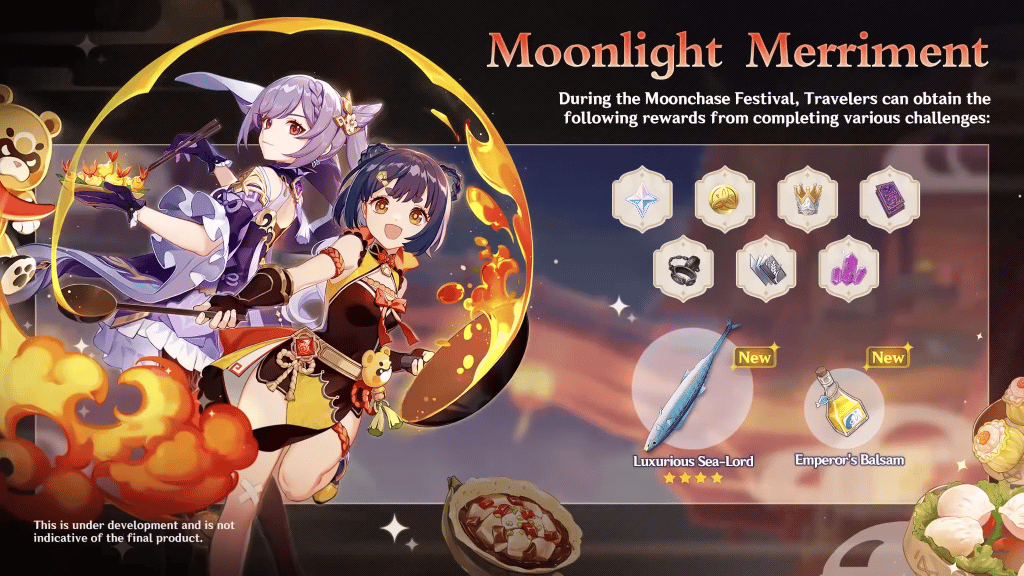 In this event, players will travel around Liyue in search of the true meaning behind the Moonchase Festival. You'll be able to partner up with Xiangling and Keqing throughout the event. Learn new recipes, meet familiar Liyue characters, and, of course, obtain rewards- the Moonchase festival is full of exciting new activities!
Moonlight Seeker and the Trail of Delicacies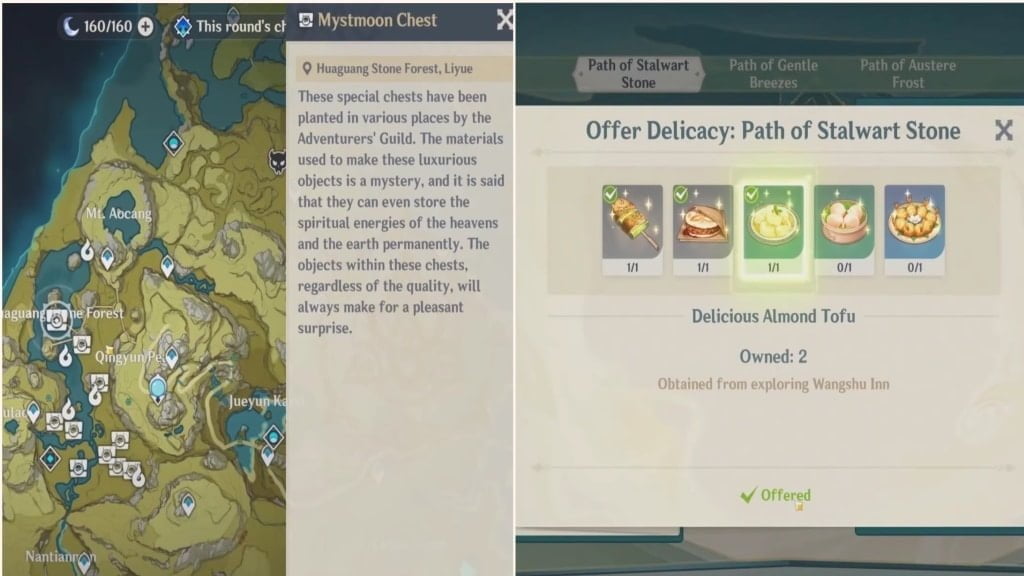 During the Moonchase Festival, there will be two new event gameplay called the Moonlight Seeker and the Trail of Delicacies.
In the Moonlight Seeker, the adventurer's guild will be scattering Moonchase charms and Mistmoon chests all over Liyue, Mondstandt, and Dragonspine. Complete the event by finding clues and collecting charms. It's an exciting treasure hunt filled with various rewards, maybe even a fish claymore? The 4-star claymore Luxurious Sea-Lord will be a reward in the Moonlight Merriment event.
The Trail of Delicacies tasks travellers to locate different monster camps and defeat a range of monsters. Players can gain corresponding buffs by offering the desired recipe. The buffs will help players in completing the challenge.
Lunar Realm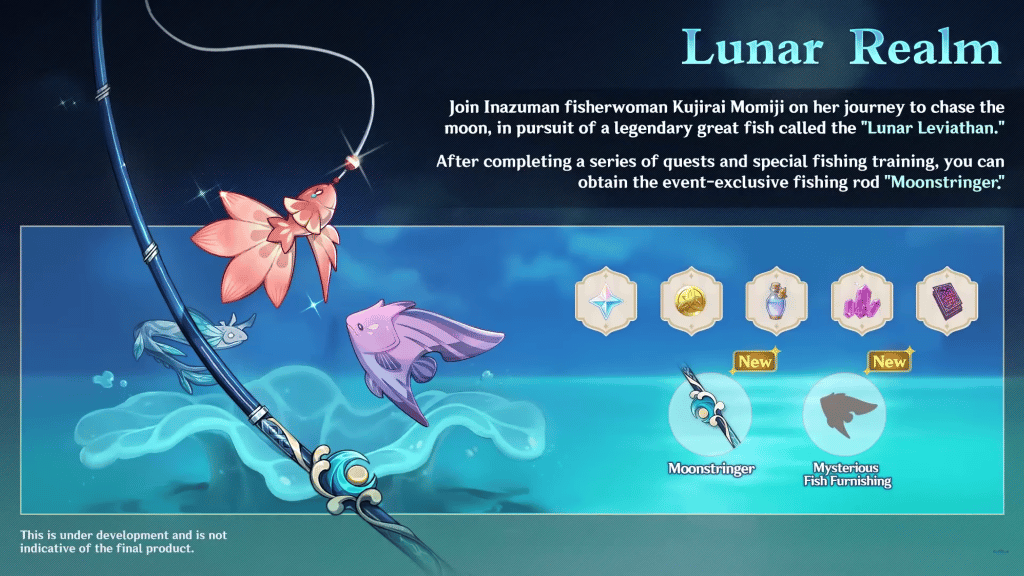 A unique fishing event where players join forces with Inazuman fisherwoman Kuhirai Momiji in search of the legendary "Lunar Leviathan." Legends say that the "Lunar Leviathan" can fulfil a person's wishes.
Hyakunin Ikki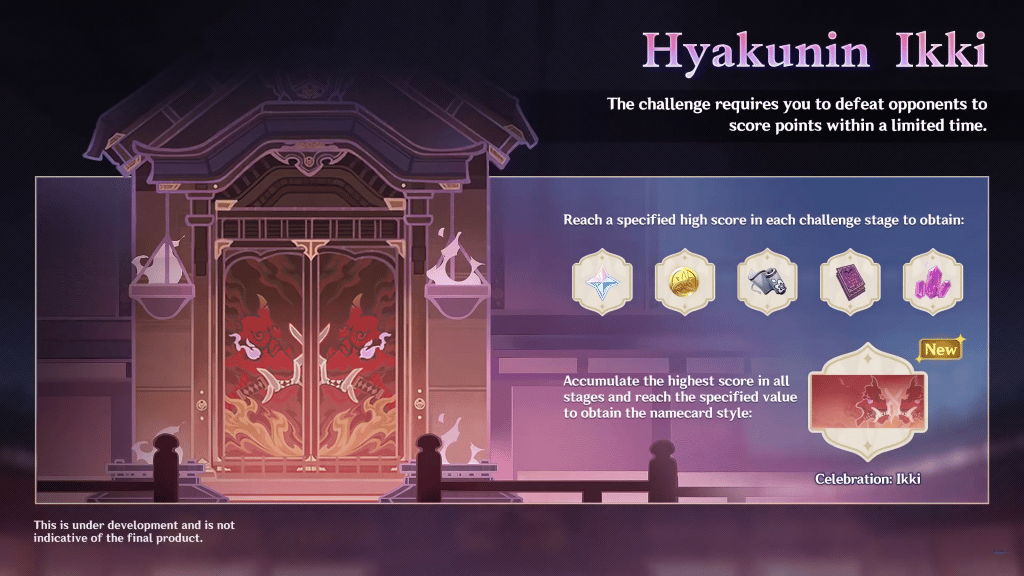 Hyakunin Ikki is free for all fighting tournament where players form six tag teams of two characters. Draft teams with the characters you have, plus the trial characters available for everyone to use. This is a test for team combination and skill drafting! Hyakunin Ikki resembles a relay competition in some ways.
Spectral Secrets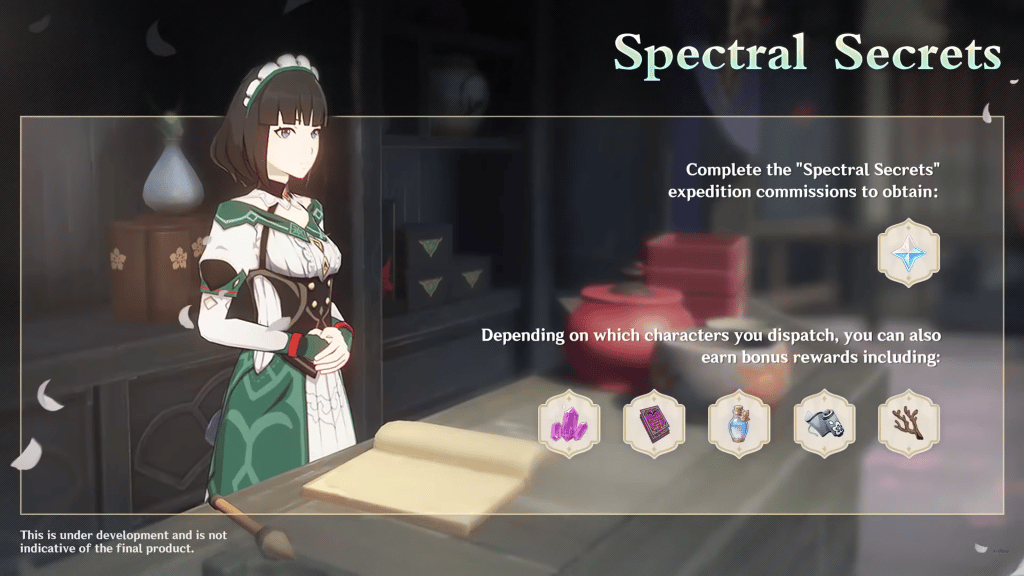 The new version will also feature Spectral Secrets, an event where travellers send out their characters on expeditions based on the information Katheryne posts. For maximum efficiency, you'll have to dispatch characters according to the required expedition element.
Passage of Clouds and Stars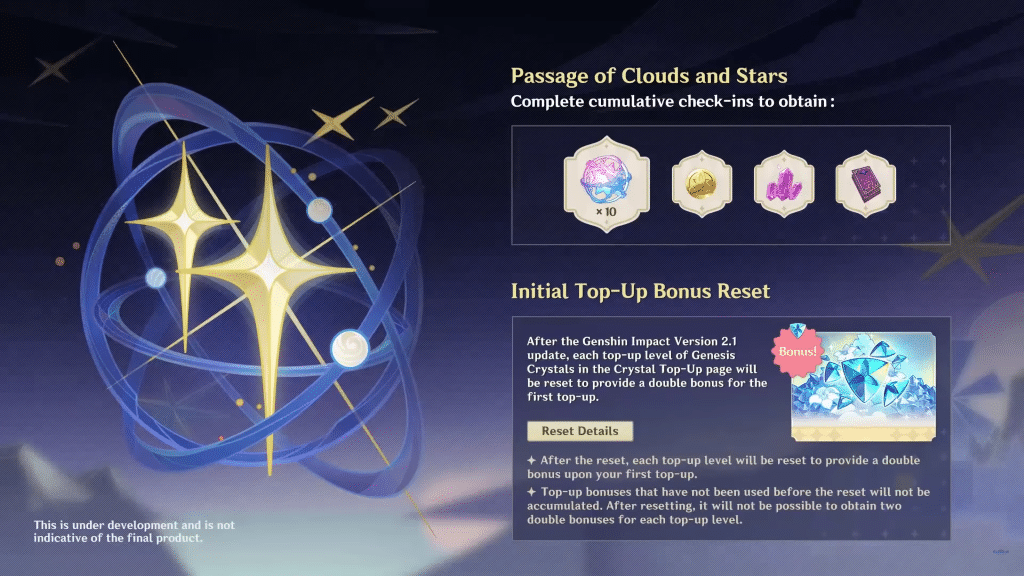 During the Moonchase Festival, players can participate in the daily log-in event, where you can receive up to 10 intertwined fates! The top-up level bonus of Genesis Crystals in the crystal top-up page will also reset after the 2.1 update. If you've been saving the first-purchase bonus, now is the time to avail before the reset takes place!
Engraved Wishes
This web event allows travellers to submit their personal messages to miHoYo. These messages then have the possibility of getting engraved on a Paimon block, a block that will be used to build a six-foot-tall Paimon statue! Throughout the event, miHoYo will select more than 50,000 lucky messages.
Online Concert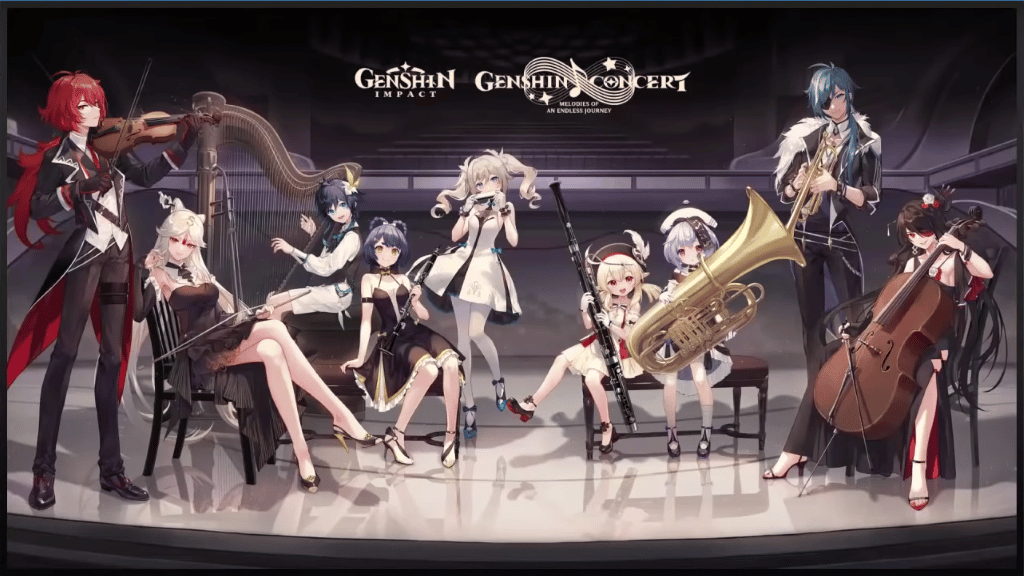 One of the key factors that make Genshin so enjoyable to play is its beautiful soundtrack. To celebrate the first anniversary of its release, Genshin will be hosting an online concert featuring talented musicians from America, South Korea, and Belgium. These musicians will be playing their own covers of Genshin Impact's soundtrack.
Two New Inazuma Regions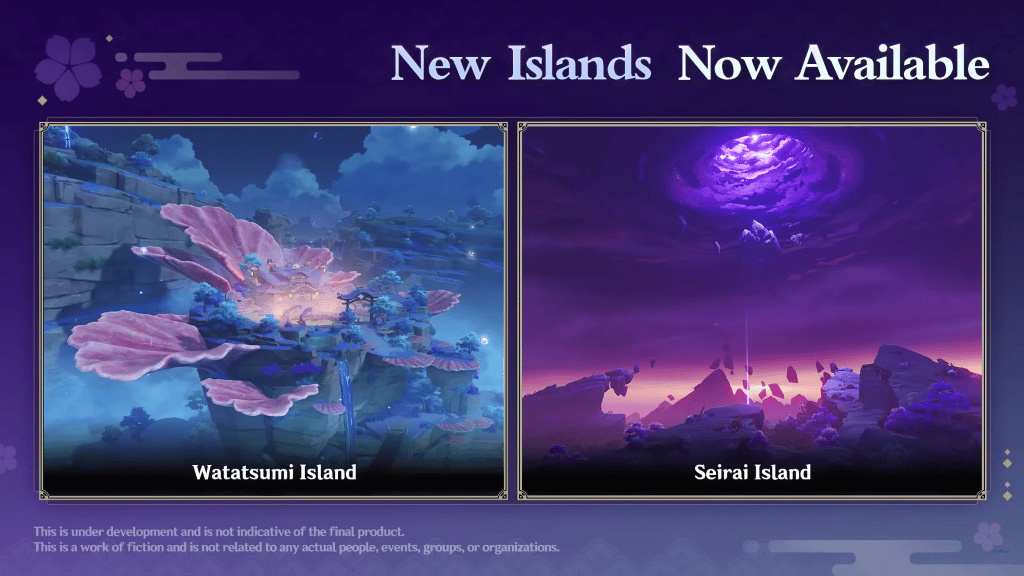 The 2.1 update introduces two new areas for players to explore- Watatsumi Island and Seirai Island.
The first area, Watatsumi Island, is a remote location situated away from other Inazuma Islands. The landscapes and colours in this island greatly differ from the other Inazuma Islands. The Sangonomiya Shrine, the headquarters of the resistance forces, can be found in Watatsumi Island.
Compared to the tranquil Watatsumi Island, the second new region, Seirai Island, is a tumultuous region enveloped by violent storms. This island is littered with dying trees, abandoned shrines, and deserted villages.
New Enemies and Bosses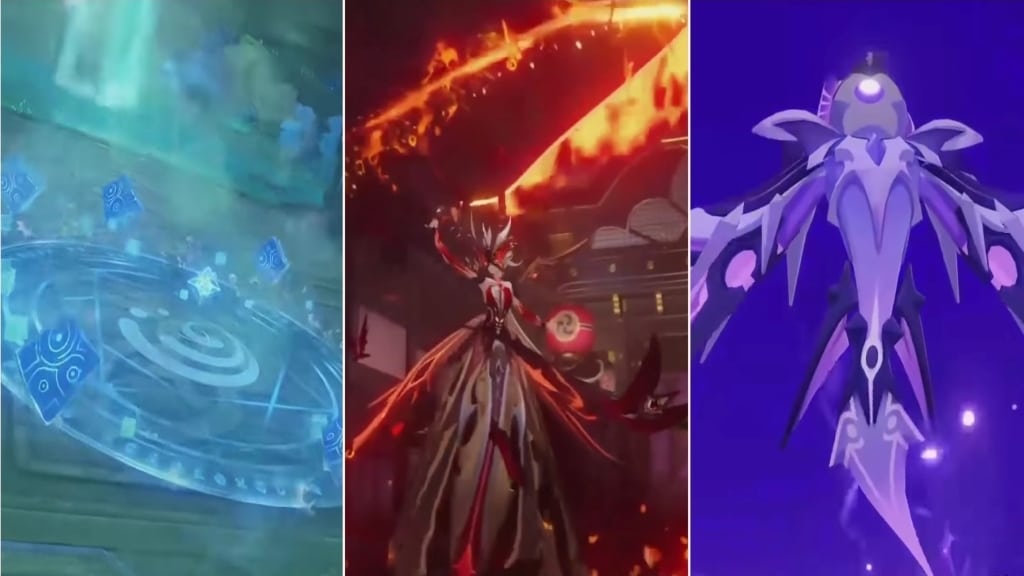 Apart from getting two new regions, players get to battle, three new enemies! The Electro Oceanid and the Hydro Hypostasis both made an appearance in the 2.1 special program. In addition, Signora, the eighth of the Eleven Fatui Harbingers, will be available as a weekly boss. Her unique fighting style, which uses both Cryo and Pyro visions, will be an exciting new challenge for Genshin players.
Fishing System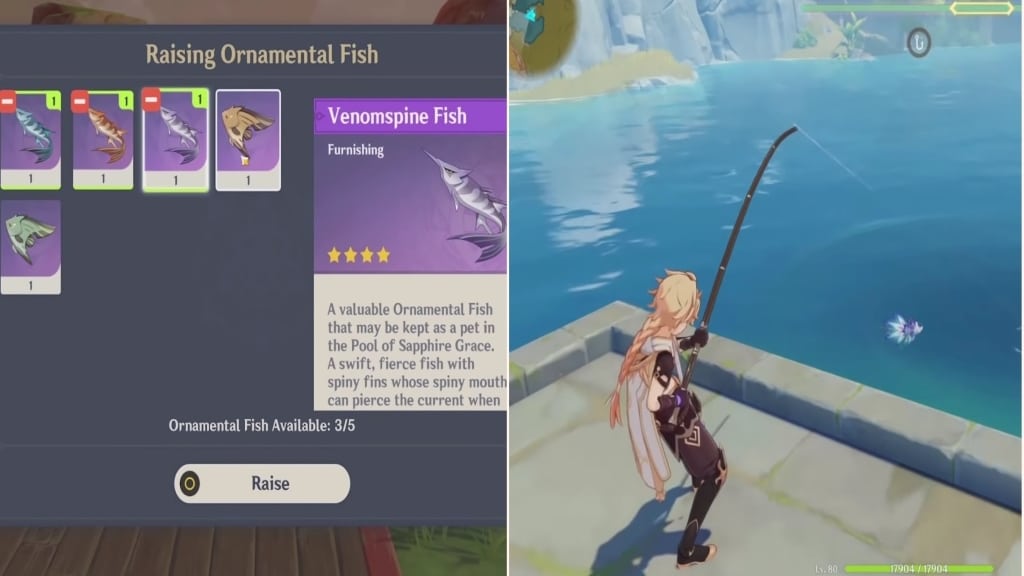 Genshin Impact introduced a new fishing gameplay mechanic in the coming 2.1 update. Here, Travellers will be able to fish in designated areas of water. Each fishing area has a specific bait, so make sure to craft the designated bait before heading out to fish.
You'll need to time your reaction and regulate the tension of the line to reel in the fish, very similar to Stardew Valley's fishing mechanics. Players can capture a wide range of fish and use them as ingredients in dishes or exchange them for rewards.
Travellers can even catch a special kind of fish called Ornamental fish and raise them in their teapot!
Conclusion
The Genshin Impact 2.1 update will be released on the 1st of September. The anniversary stream blessed players with new and exciting things to look forward to in the coming days. We hope you're as excited as we are with the update! We at WhatIfGaming wish everyone the best of luck on their wishes!