Another month has passed since the previous Genshin update- that means new content is on its way! The Genshin Impact 2.2 Special Program Livestream aired on October 3 at 8:00 (UTC-4). Thousands of players immediately tuned in on the stream to hear about the new and exciting additions coming in a few days.
Not only did players get a 2.2 update sneak peek, but they also got to witness a one-of-a-kind online concert that, for many, was an experience unlike any other. The online concert, called the Melodies of an Endless Journey, commemorated the 1st anniversary of the free game. The show lasted for almost two hours and left viewers wanting more. Before we get ahead of ourselves, let's dive into everything the Genshin Impact 2.2 update has to offer!
Upcoming Playable Characters
Thoma Protector from Afar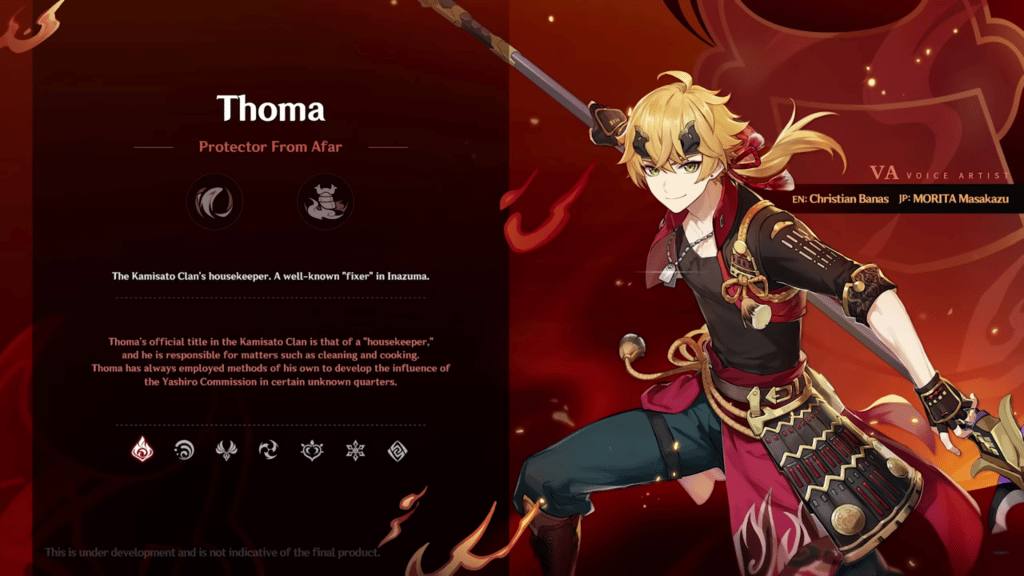 In the past Archon Quests, Genshin players already saw a lot of the upcoming 4-start polearm character, Thoma. Although Travellers first meet Thoma in Inazuma, he's actually born in the City of Mondstandt. Thoma is a jack of all trades and wields a Pyro vision. He is also the designated Housekeeper of the Kamisato Clan. Great at cleaning and cooking- many Genshin players can't wait to bring him home.
Thoma's Elemental Skill, Blazing Blessing, deals AoE Pyro DMG. It also applies Pyro to Thoma and gives him a blazing shield that stacks and blocks incoming damage. He is a perfect protector, indeed. Next, his Elemental Burst, Crimson Ooyoroi, initially deals Pyro damage and summons a scorching Ooyoroi, meaning heavy armour in English.
Banner Reruns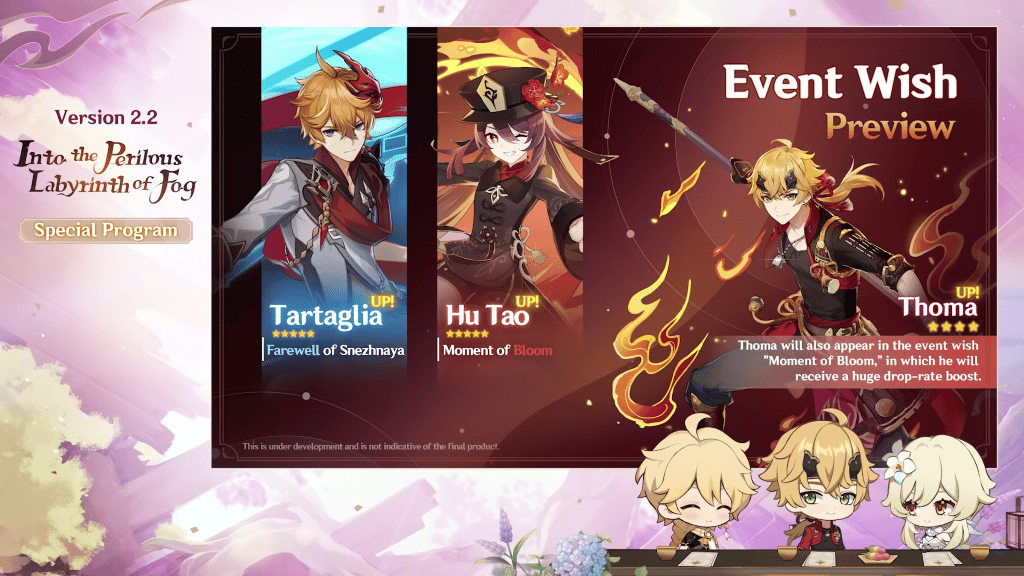 The Genshin Impact 2.2 update will feature two rerun event banners. The Eleventh Harbinger, Tartaglia, known to many as Childe, will come in first. Right after, the 77th Director of the Wangshen Funeral Parlor, Hu Tao, will make an appearance. This is Hu Tao's first rerun banner and Childe's second.
Players can wish for Thoma in Hu Tao's Moment of Bloom banner. He will also receive a substantial drop-rate boost, increasing the chance for Thoma's wanters to bring the 4-star character home.
New Weapons
This update is the best time to wish for players who didn't get the 5-star Childe in the previous banners. Version 2.2 will be featuring four new weapons. One of them is the 5-star bow, Polar Star, said to be Tartaglia's best weapon of choice. Alongside this bow are three 4-star weapons- a polearm, claymore, and bow.
More details about each weapon's specific attributes and stats will be shared in the coming days.
Series III Hangout Event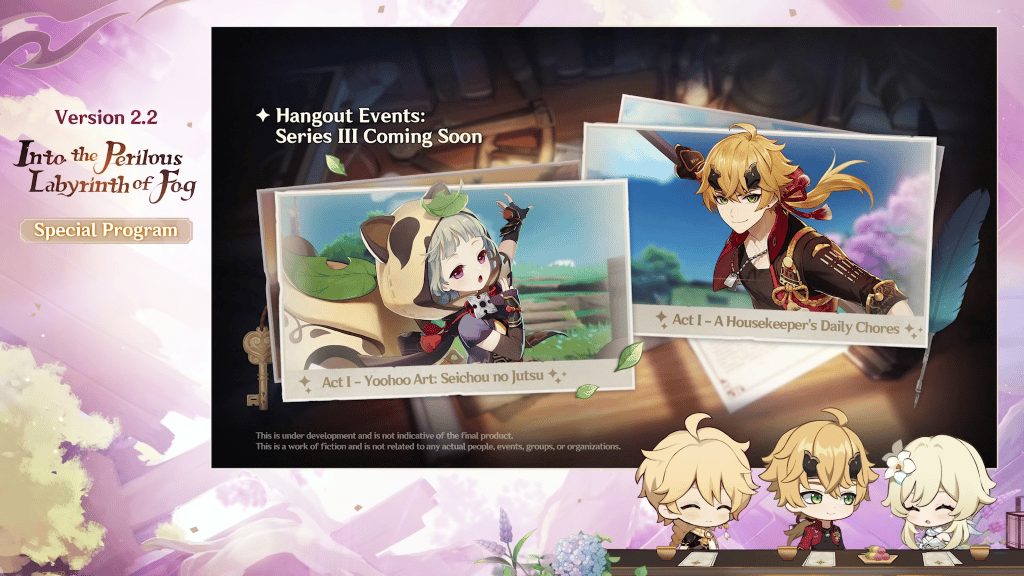 A great spinoff from the main storyline of Genshin Impact is the Hangout Events, where players get to spend a day with their favorite character and unlock different dialogue and endings. Currently, there are five unlockable Hangout Events in the game for Series I and II. One for Bennet, Chongyun, Barbara, Noelle, and Diona.
In the 2.2 update, Sayu and Thoma will get their very own Hangout Event for Series III. Sayu's is called Yoohoo Art: Seichou no Jutsu, while Thoma's is titled A Housekeeper's Daily Chores. Travellers can look forward to learning more about these two characters when the new update releases!
New Inazuma Region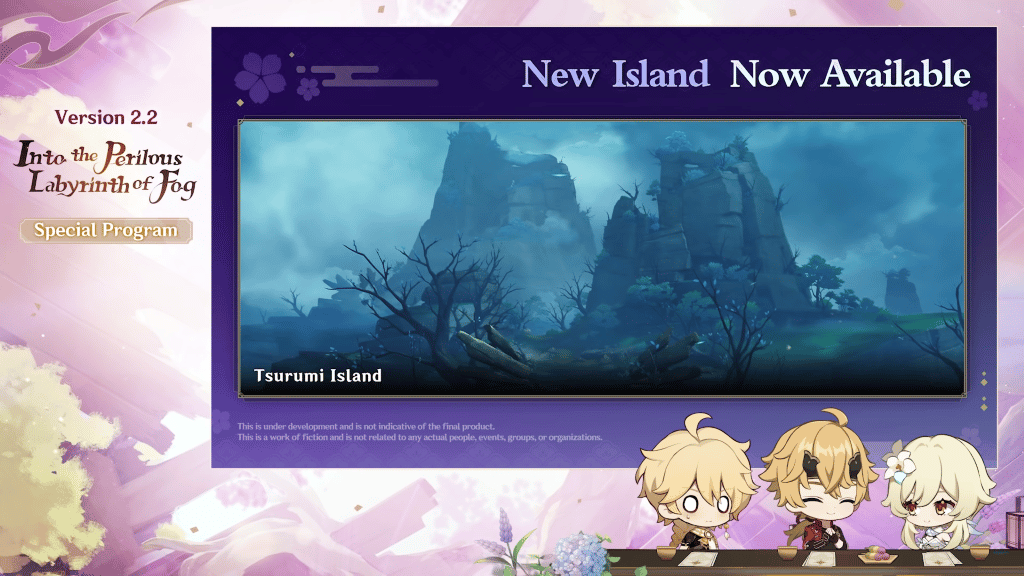 Tsurumi Island is the upcoming Inazuman island to be released in the 2.2 update. In the Special Program livestream, the hosts described this island to have dense fog and poor visibility, which sounds like a problematic island to explore, right? However, adventurers can always look forward to opening treasure chests and solving puzzles while aiming to reach 100% exploration!
New Enemies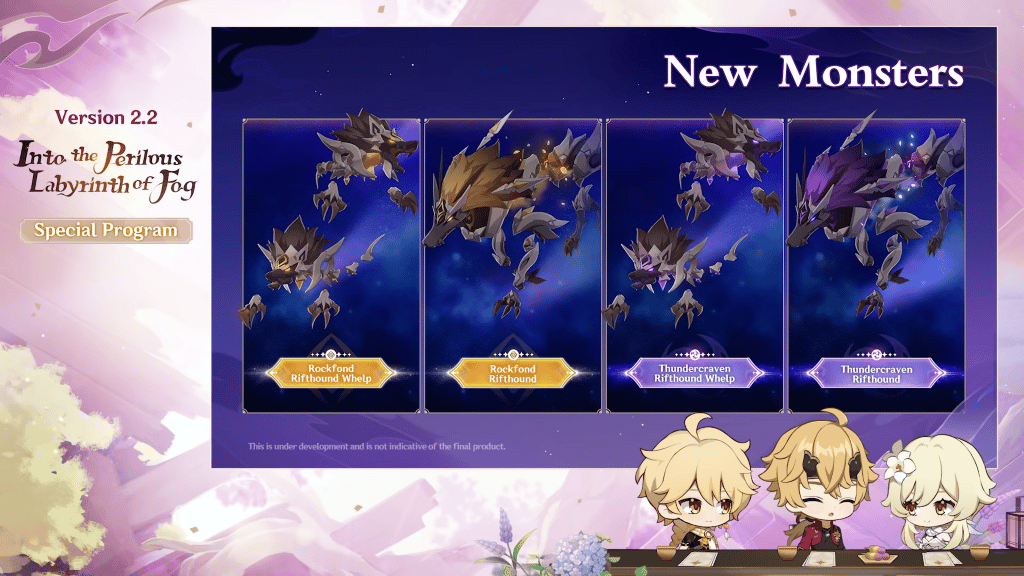 Apart from new weapons and a new island to explore, players also get to battle new enemies in the 2.2 update! The Rifthound Whelp and Rifthounds are monstrous creatures hailing from the Abyss. It is said that during battle, these hound-like creatures can turn invisible. Once these enemies hit the active character, they receive the Corrosion Status, which reduces HP every second. All party members are affected by this status even when not deployed on the field.
Characters like Hu Tao and Xiao, who rely on low health for greater attack damage, will face a challenging time against these new enemies. Characters with shields are also not immune to the Corrosion Status. Yikes!
Fun Events
Labyrinth Warriors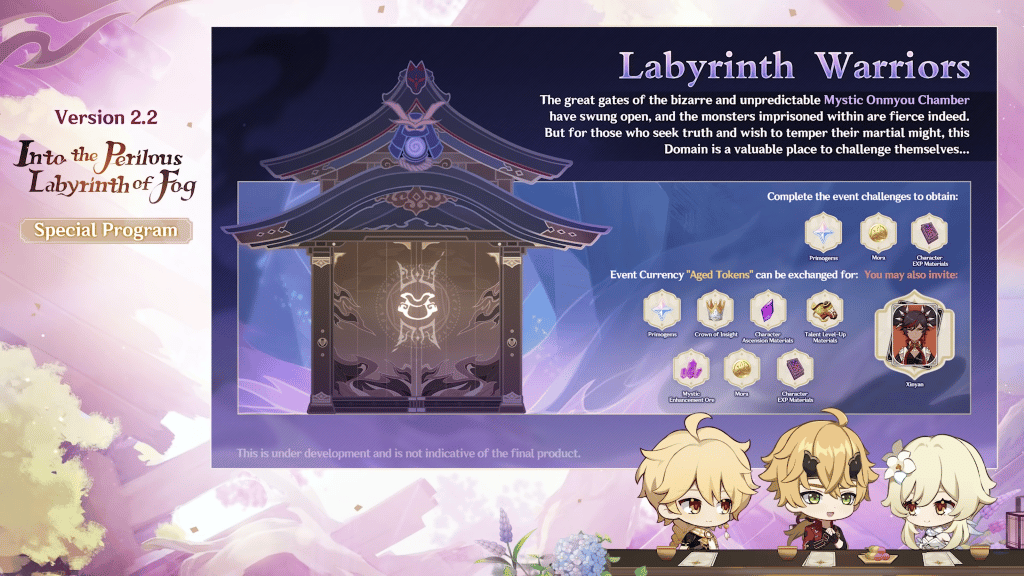 The first exciting event featured in the 2.2 update is called Labyrinth Warriors. In this event, travellers venture into the unpredictable domain Mystic Onmyou Chamber in Inazuma. A mysterious paper guide, Shiki Taishou, will help travellers battle monsters and traverse all five stages of the domain. Childe and Xinyan will be making an appearance during this event.
Shadow of the Ancients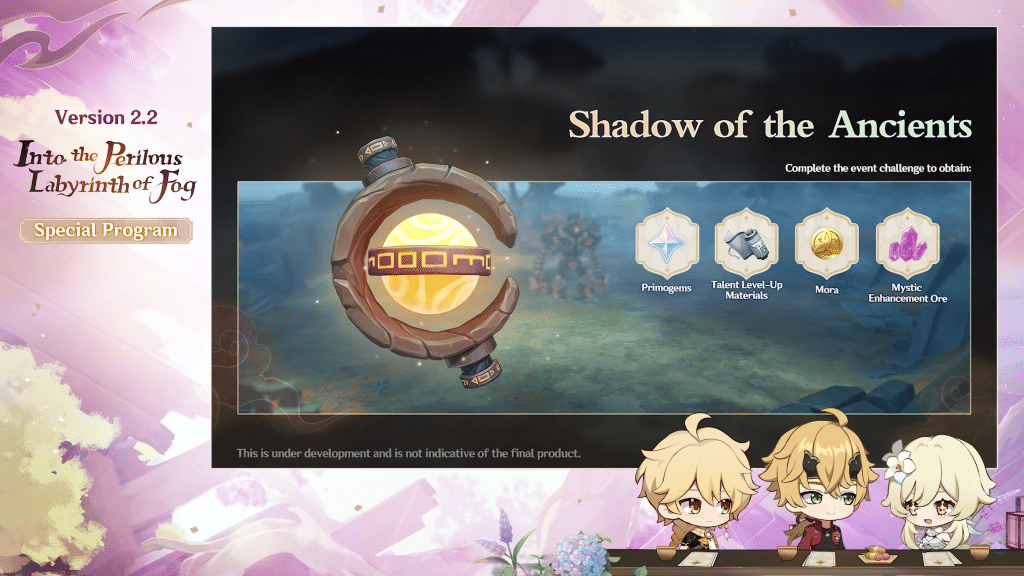 Shadow of the Ancients is an investigation commission where players come face to face with a Ruin Grader with regenerative powers. With the help of the Sumeru scholar Hosseini, players complete the three phases of the event: Investigative Surveys, Data Sampling, and Live Testing.
The different phases have unique gameplay mechanics that will help travellers find out the reason behind the regenerative abilities of the anomalous model Ruin Grader. The intensive research event will test not only your data gathering skills but also your patience.
Tuned to the World's Sounds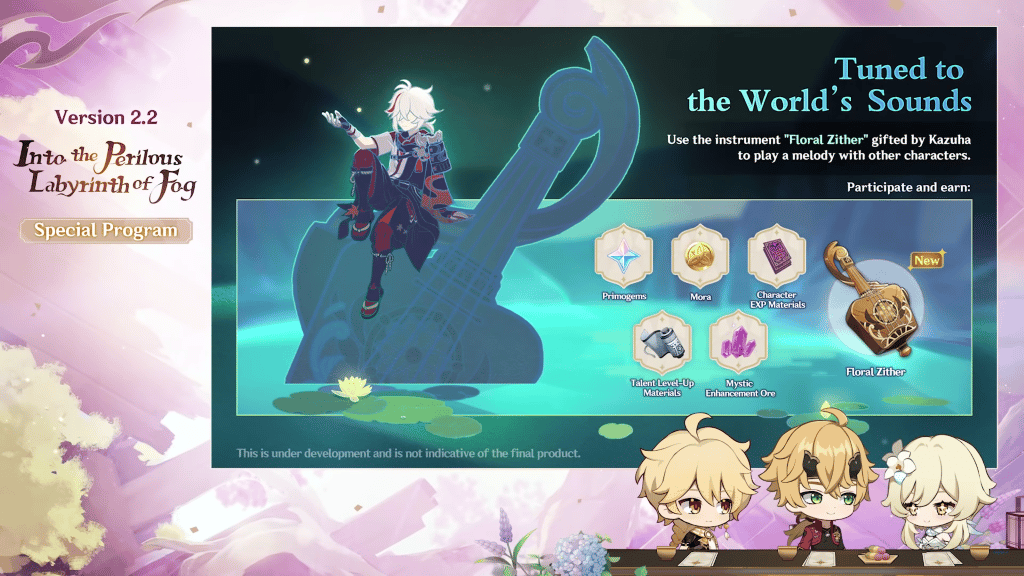 The third event coming to the 2.2 update is called Tuned to the World's Sounds. Travellers will receive a Floral Zither, a four-stringed musical instrument, from Kazuha, which they will use to play different melodies alongside seven characters. These characters are Xiao, Keqing, Kokomi, Ningguang, Zhongli, Raiden Shogun, and Ayaka.
Each character has a unique song that players can play in three levels: normal, hard, and pro. The normal level is unlocked by default, while the other two levels need a high rating to be played. The game's mechanics are quite similar to the popular online rhythm game Osu.
Dreams of Blooms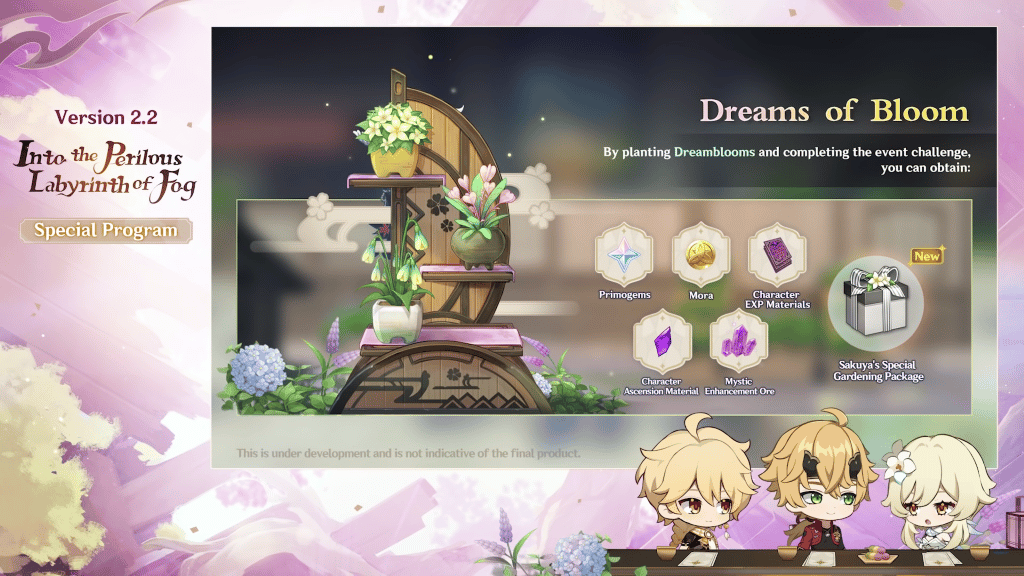 The following 2.2 event is commissioned by the Inazuman florist Sakuya. Every day Sakuya will request materials that travellers then submit to her in exchange for special seeds. Players then can plant the seeds in a Path of Value Luxuriant Glebe in the Serenitea Pot. After a couple of days, the flowers will bloom, and players can send each other their harvest.
Ley Line Overflow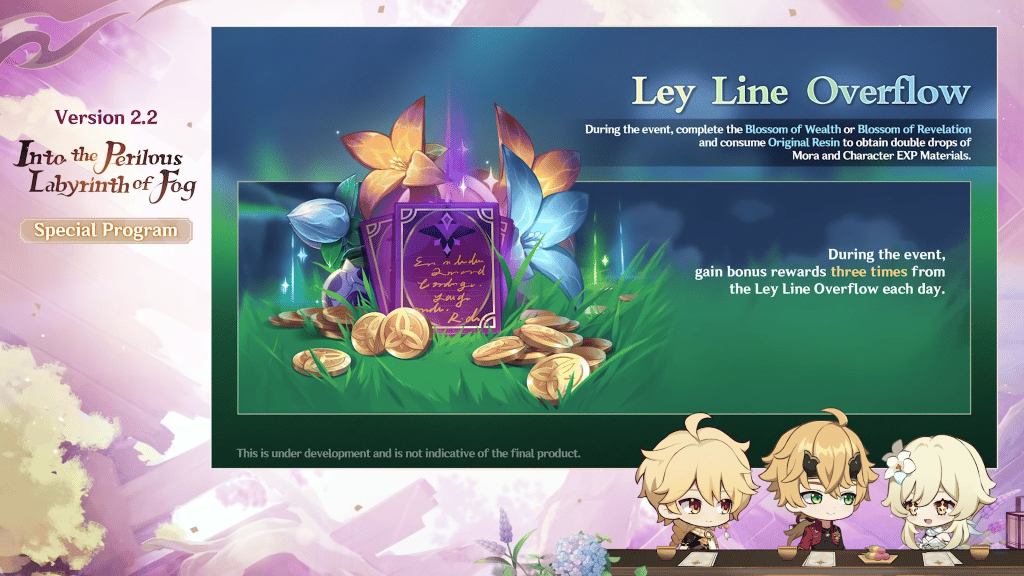 During this event, travellers get the chance to gain bonus rewards three times in a day from both Leylines, Blossom of Wealth or Blossom of Revelation. If you've been running low in Mora and XP books, this event is the best time to stock up on them!
Serenitea Pot Updates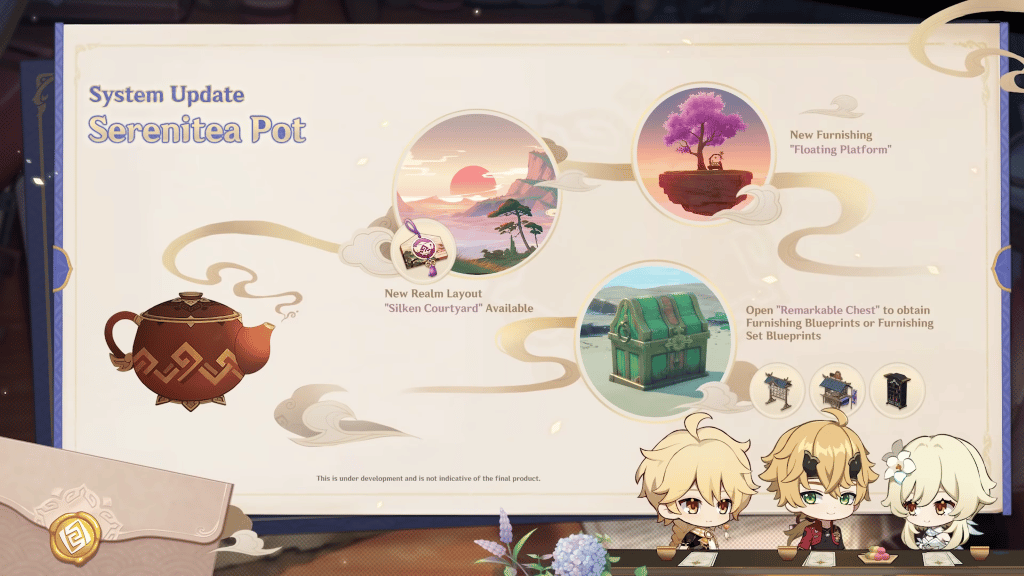 The Genshin Impact 2.2 update also brings with it exciting new features to the Serenitea Pot! Before we jump into the patch notes, be sure to check out our teapot designs if you're lost on what to build in your virtual paradise.
Players will get a new realm layout called Silken Courtyard and a new furnishing called Floating Platform. The Silken Courtyard layout is available for travellers with a Level 40 Sacred Sakura's Favor. The new furnishing is a floating landform with an adjustable height. These landforms are perfect for those wishing to build an adept layout in their Serenitea Pot!
A new method of gaining furnishing blueprints will be introduced in the new update. All over the new Inazuman Island Tsurumi are green Remarkable Treasure Chests. These chests contain furnishing blueprints and furnishing set blueprints.
Online Concert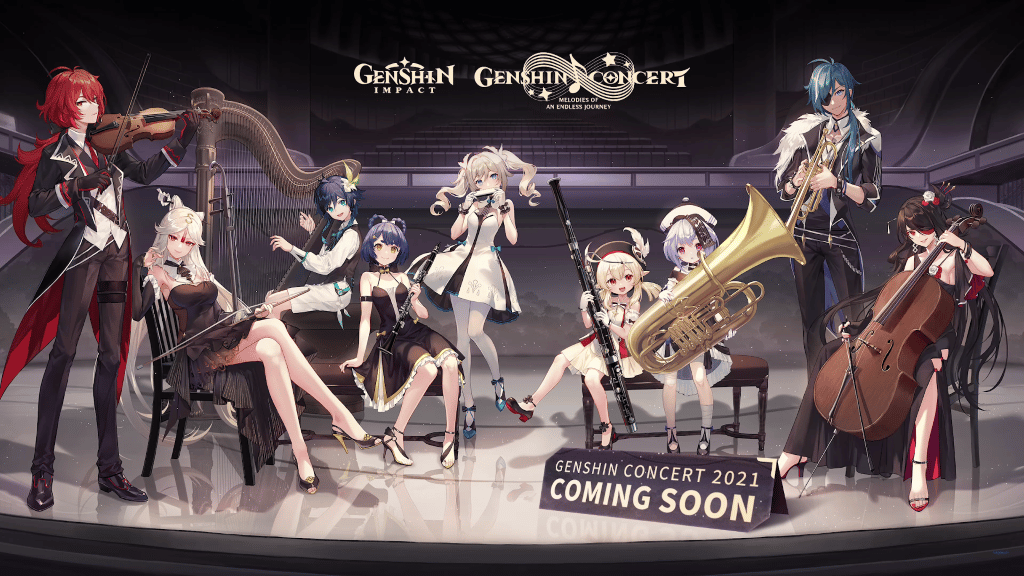 After the 2.2 livestream, players from all over the world got to take part in an extraordinary online concert that celebrated Genshin's 1st anniversary. The concert was a heartwarming experience that took players down memory lane. Talented musicians played music from Mondstadt and Liyue, as well as theme songs of different characters. It was hard not to smile and reminisce throughout the entirety of the program.
MiHoYo played with our heartstrings and made us remember the true meaning of being a traveller in the Genshin universe- enjoying each memory spent with characters that have become a part of our growing family. Down the road, when Genshin has aged and reached its final chapter, its soundtrack will still resonate within the hearts of millions of players.
Summary
What are you most excited about in the Genshin Impact 2.2 update? Although the new content is not as much as the previous update, there are still many exciting events and gameplay travellers can look forward to. Good luck to all Childe, Hu Tao, and Thoma wanters out there! We hope that you'll be able to bring them home.