A few days ago, the much-awaited 2.4 Special Program for the upcoming patch in Genshin Impact went live. Many leaks circulating in the Genshin community for the new patch were confirmed and debunked during the 40-minute live stream. Like we always do, here's a rundown of what's to come in the 2.4 update that will be available in a few days.
Upcoming Playable Characters
Shenhe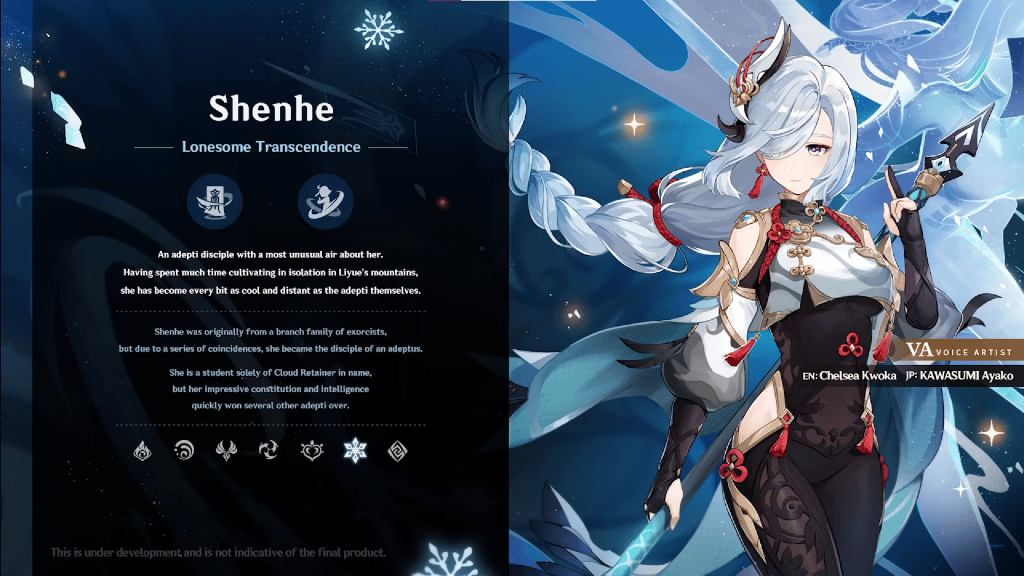 The first character introduced during the live stream was the 5-star Shenhe. She wields a Cryo vision and fights with a polearm. Shenhe is a disciple of the Cloud Retainer and has spent much of her life isolated from humanity in the Liyue Mountains. Her enigmatic aura is her defining character.
Although Shenhe is an adeptus' disciple, she is a mortal and comes from a family of exorcists. The 5-star character is a Cryo support that boosts Cryo DPS's DMG. Her Elemental Skill, Spring Spirit Summoning, deals different Cryo DMG depending on whether the skill is tapped or held to activate. It also boosts the DMG of teammates based on her ATK.
Her Elemental Burst, Divine Maiden's Deliverance, summons a Talisman Spirit that deals periodic bursts of Cryo DMG. Shenhe also has a passive talent that grants active characters a Cryo DMG Bonus. We're only touching the surface on Shenhe's kit here; stay tuned for a detailed build for the adeptus' disciple.
Yun Jin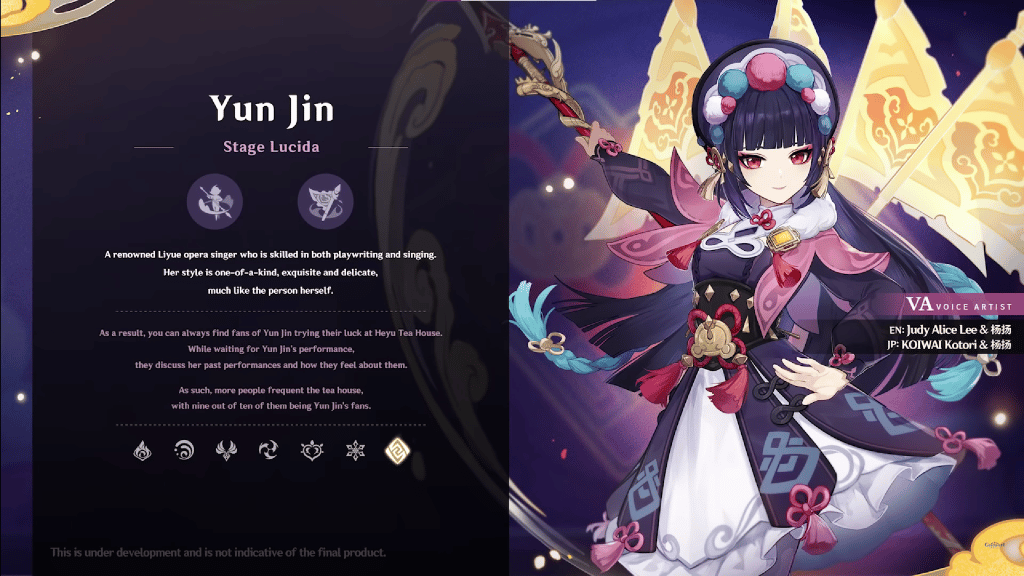 The second new character coming in the 2.4 update is Yun Jin– the director of the Yun-Han Opera Troupe. Yun Jin is a 4-star Geo character that wields a polearm. She is an opera singer who performs at the Heyu Tea House. Much like her singing, Yun Jin's fighting style is unique.
Like Shenhe, Yun Jin is also a support character. Her kit is ideal for Geo DPS's that rely on Normal Attacking to deal DMG. Her Elemental Skill, Opening Flourish, requires the right timing to deal optimal DMG, while her Elemental Burst, Cliffbreaker's Banner, deals AoE Geo DMG. Her Burst provides bonus DMG to active characters' Normal Attacks based on Yun Jin's DEF.
Banner Reruns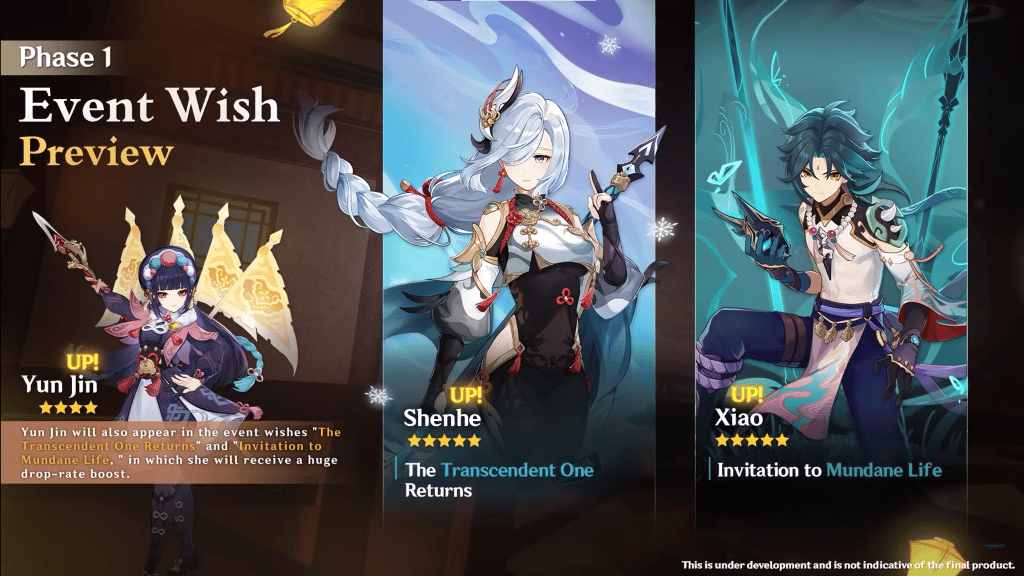 Even before the 2.4 live stream event, there were already speculations that the banner reruns for this patch would be Liyue characters. The 1st phase of the Event Wish Banner will have Shenhe, Xiao, and Yun Jin. The 2nd phase will have Zhongli and Ganyu with their respective banners.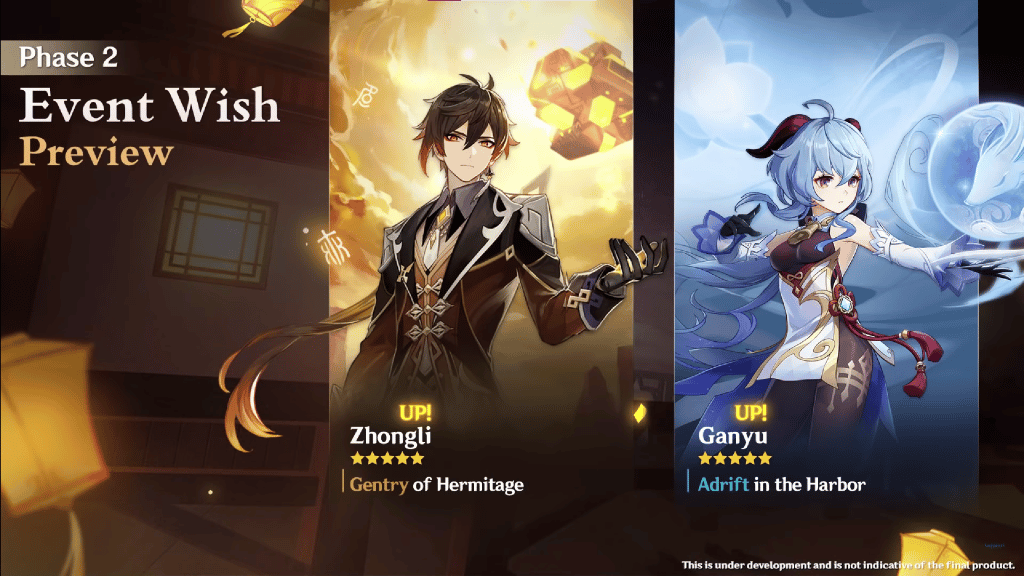 The news was a lot to take in for Genshin fans worldwide, especially F2P players who want these characters but won't have enough gems to wish for all of them. Hopefully, they won't be tempted to cash in a few dollars.
New Archon Quest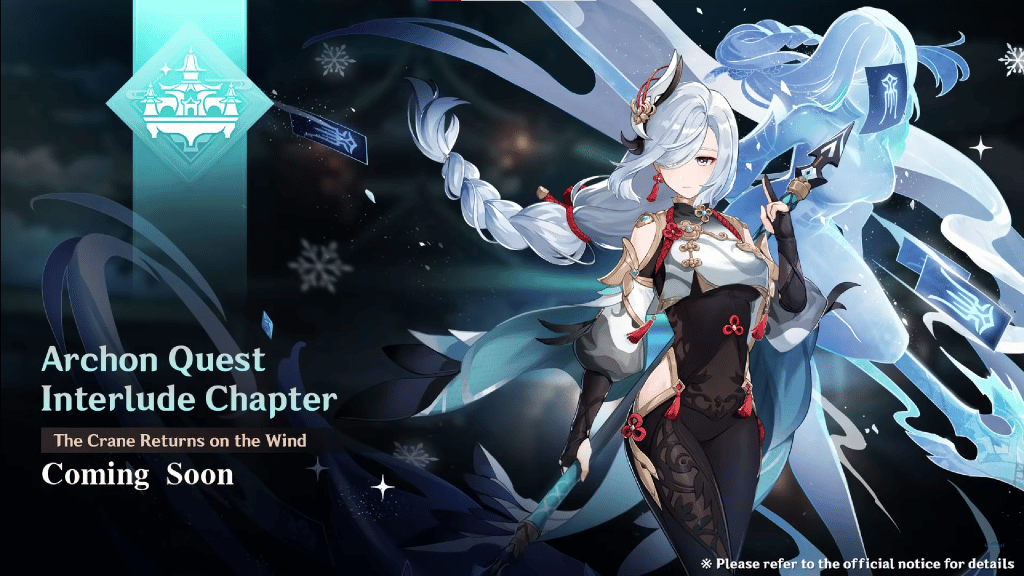 The wait is over. Finally, we're getting a new archon quest this coming update. Based on the teaser trailer, players can expect familiar Liyue faces like Keqing, Xiao, Zhongli, Ningguang, and more to appear. The Archon Quest is dubbed as The Crane Returns on the Wind and has a still picture of Shenhe as the featured image.
As said during the live stream, the Quest focuses on the Jade Chamber's restoration. This magnificent floating palace is Ningguang's home. How will the Traveller help in the restoration of the chamber? We'll find out in a couple of days. It's said that Shenhe and Yun Jin will lend a hand during the Quest.
Series V Hangout Event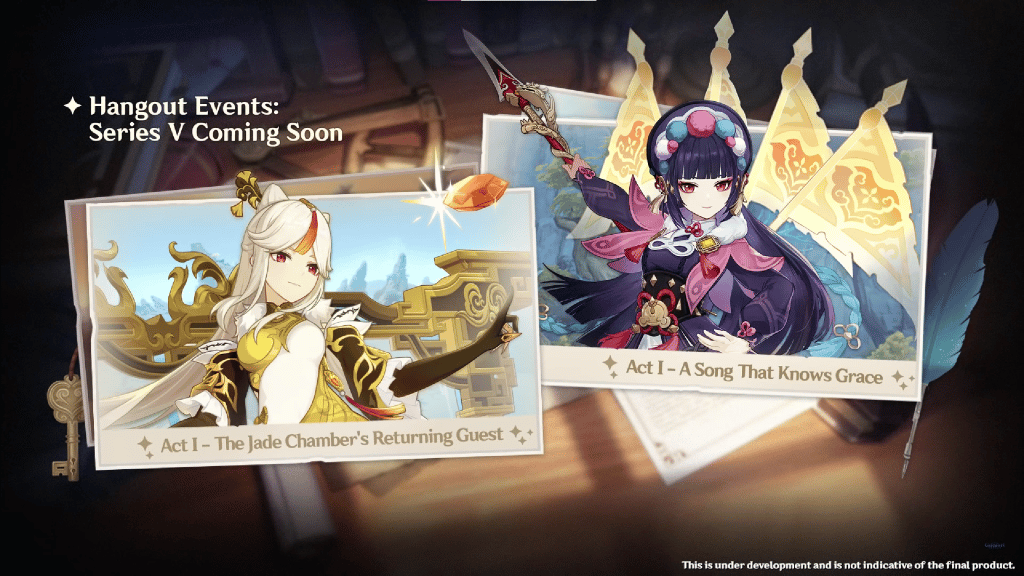 The new patch brings two exciting hangout events for the 4-star Ningguang and Yun Jin. Ningguang's hangout is named "The Jade Chamber's Returning Guest," while Yun Jin's is pegged as "A Song That Knows Grace." Both hangout titles definitely resonate with the characters.
New Weapon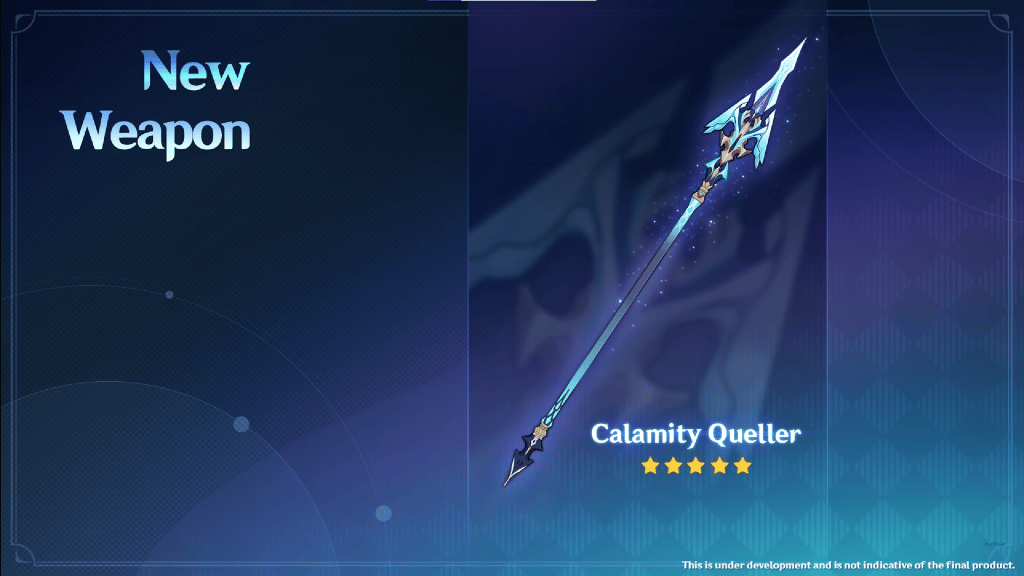 We're only getting one new weapon in this patch, and that is the 5-star polearm Calamity Queller. Not much has been released on the attributes and stats of the upcoming weapon, but we can expect to hear more about it in the coming days before the update.
Fun Events
Lantern Rite Festival
Do you hear that? It's the sound of fireworks glittering the skies of Liyue Harbor. Yup, that's right. It's time for the Lantern Rite Event!
Flameplume Starflowers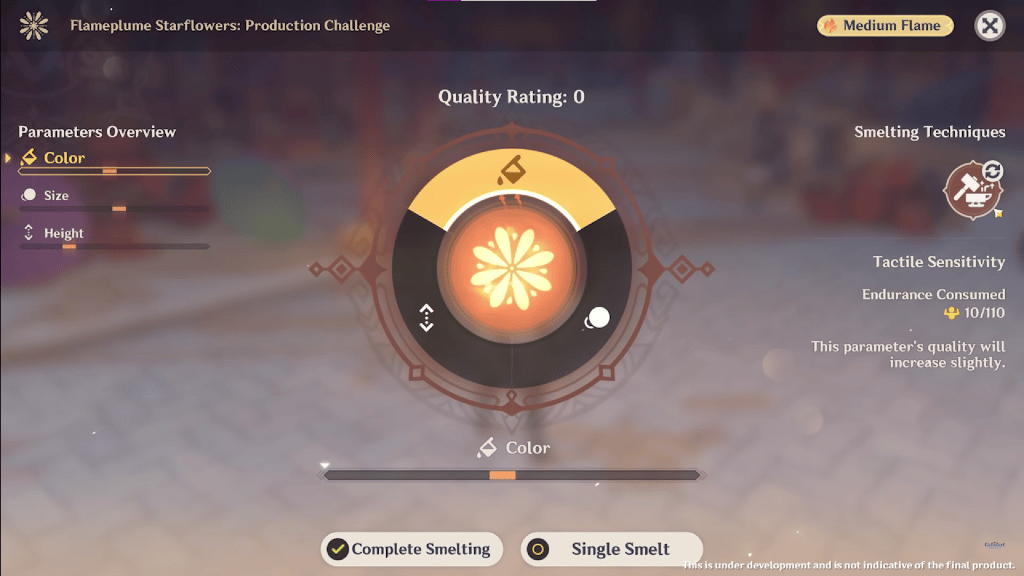 An indispensable activity during this festive period is none other than setting off fireworks. During the Flameplume Starflowers, Travellers will get a chance to make their own fireworks. Players will receive a Launch Table device used to make the firecrackers. The higher the quality of fireworks produced equals better rewards.
Wondrous Shadows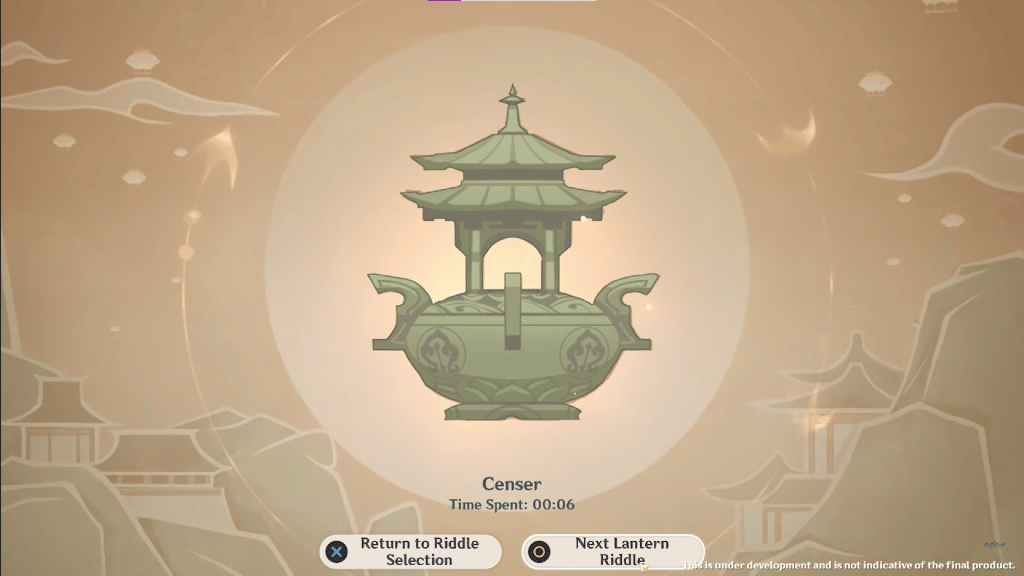 The second event is called Wondrous Shadows. During this event, Travellers will solve Lantern puzzles involving shadow figurines. You'll need to match the figure to the shadow image to get rewards.
The Great Gathering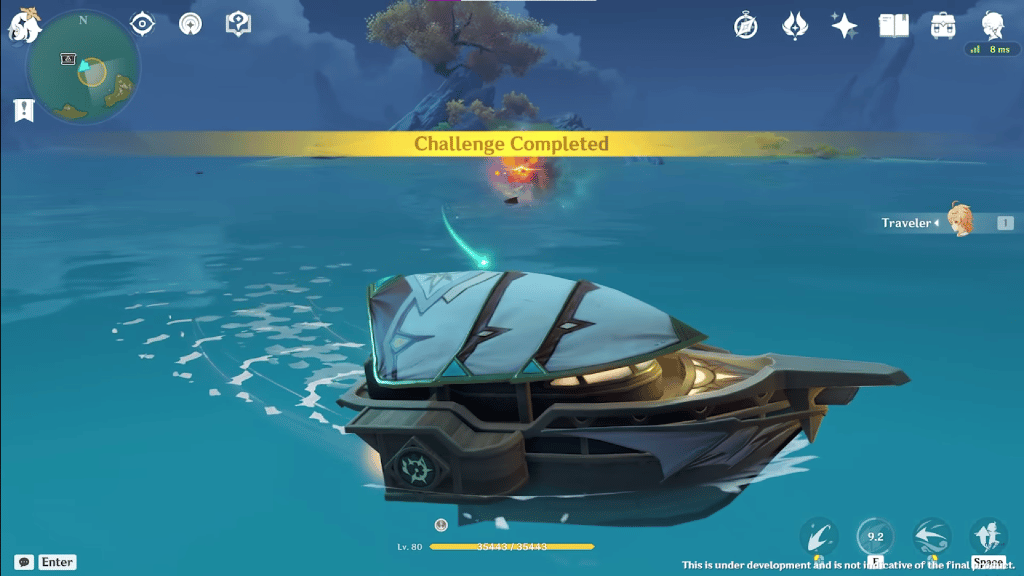 Next is The Great Gathering, a scavenging event filled with a lot of loot. Players will be gathering materials that fell during the collapse of the Jade Chamber. You can salvage the materials on sea via the Waverider, defeat Treasure Hoarder camps on land, or use balloons to move supplies over the ocean.
Prosperous Partnerships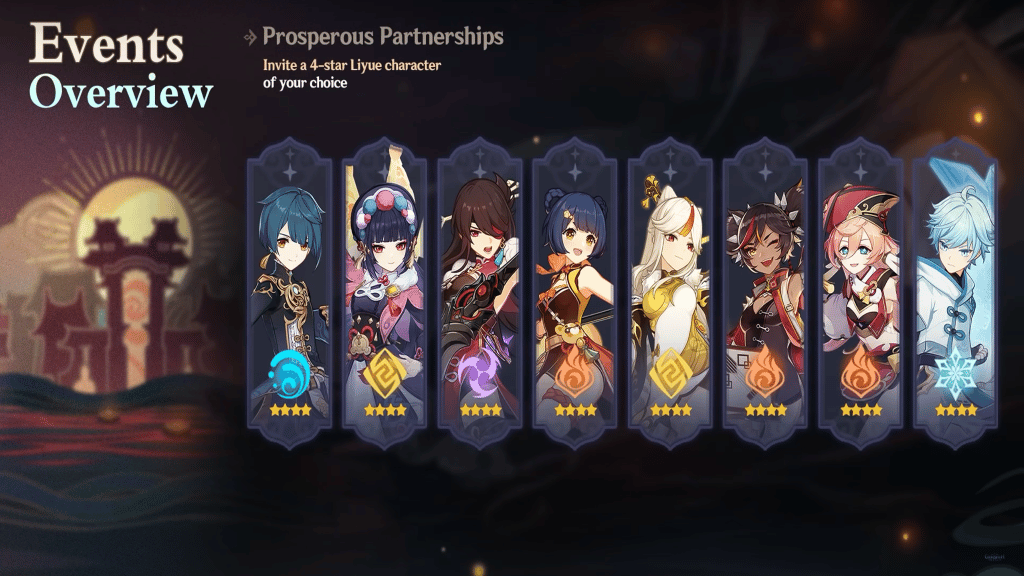 During the previous Lantern Rite Festival, an unforgettable event was the choice to bring home a free 4-star character. This year, that event makes a comeback. After completing the Lantern Rite events, players can choose a 4-star Liyue character of their choice. In the pool of eight characters, Yun Jin is included.
A Study in Potions
Another exciting event to look forward to is the Study in Potions. Here, Travellers will test out different potions that provide various combat effects. Each trial has four floors of combat challenges that give rewards based on the remaining time left after each challenge. A Study in Potions aims to give players a more strategically engaging experience in fighting.
Eight Locales Over Mountains and Seas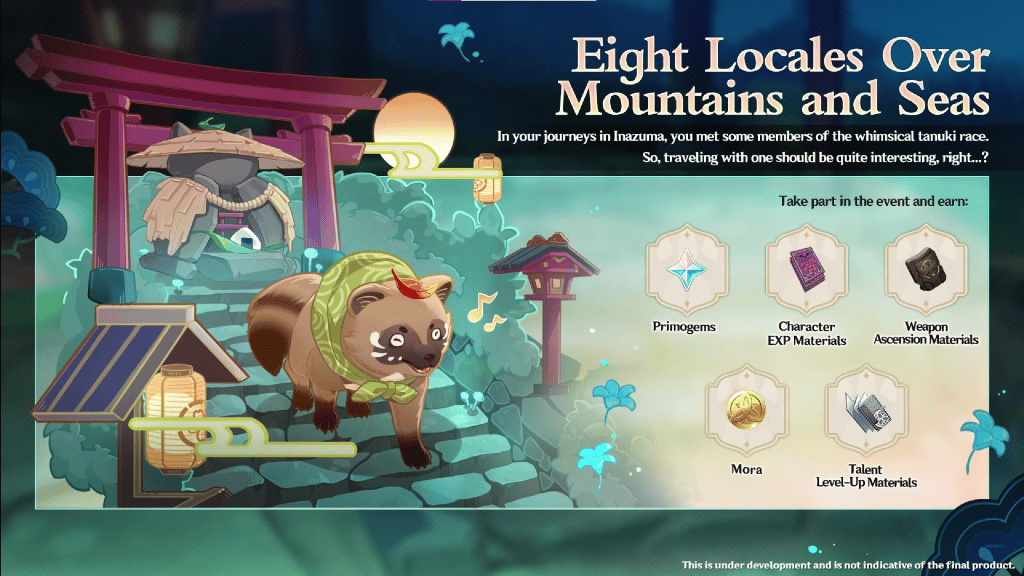 In Eight Locales Over Mountains and Seas, Travellers reunite with little bake-danuki, Kichiboushi. Since this cute creature has spent most of his life in Inazuma's Chinju Forest, we take him on a little adventure around Mondstadt and Liyue. Don't forget to take lots of pictures with Kichiboushi!
Windtrace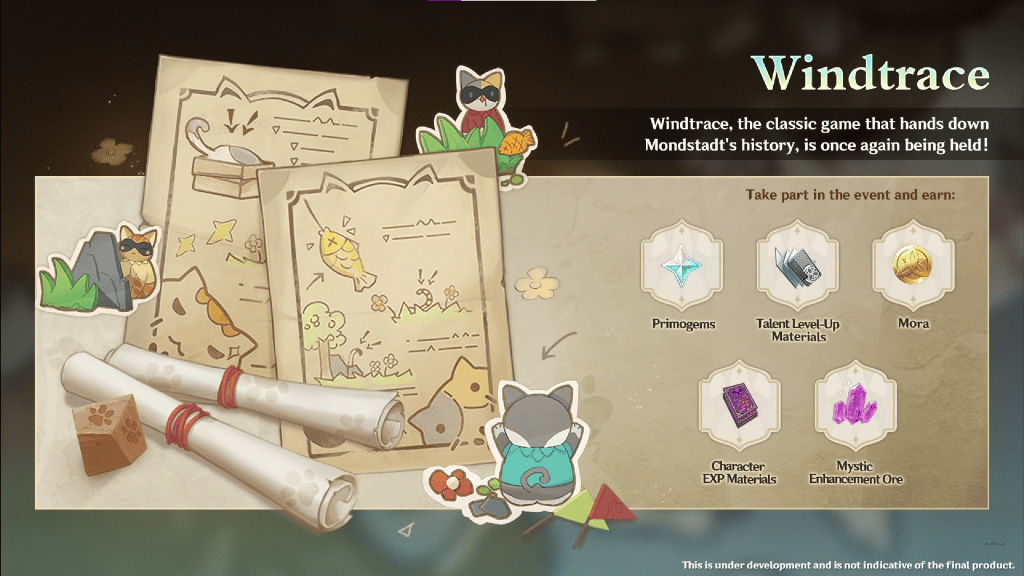 Due to popular demand, the classic Mondstadt game Windtrace is making a comeback. Get ready for another round of hide-and-seek! There will be new maps to test your luck this time around.
New Skins
Ningguang and Keqing are getting new outfits this coming update. Ningguang's character outfit, Orchid's Evening Gown, can be obtained for free by participating in the various Lantern Rite events. On the other hand, Keqing's character outfit, Opulent Splendor, can be purchased in the game shop. It will have a limited-time discount after the new update is launched.
New Enemies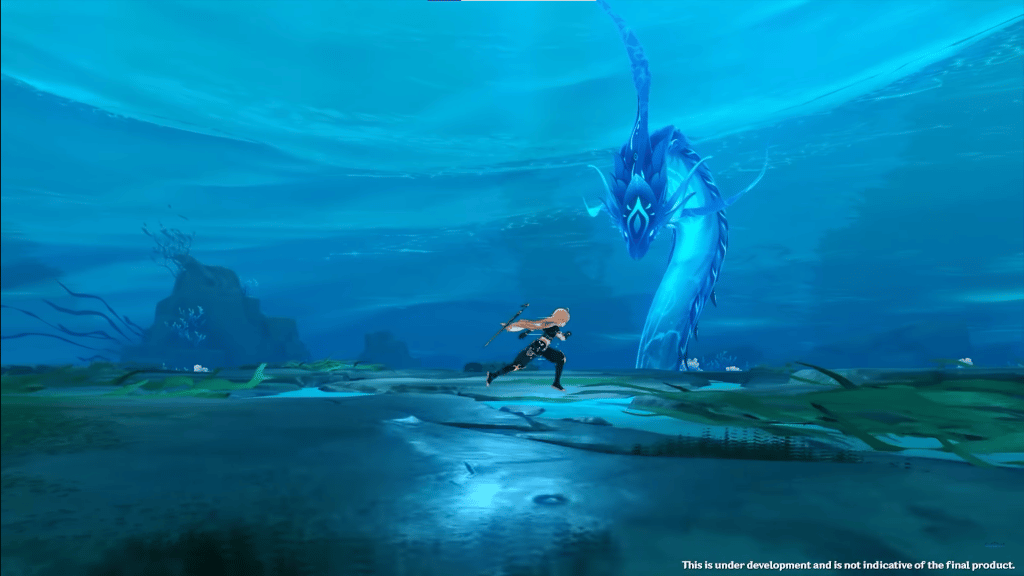 We'll also face a new fearsome ocean-born boss during the Lantern Rite Event. The powerful opponent resembles some celestial beings from previous quests. After defeating the monster, Travellers will obtain rewards.
Bathysmal Vishap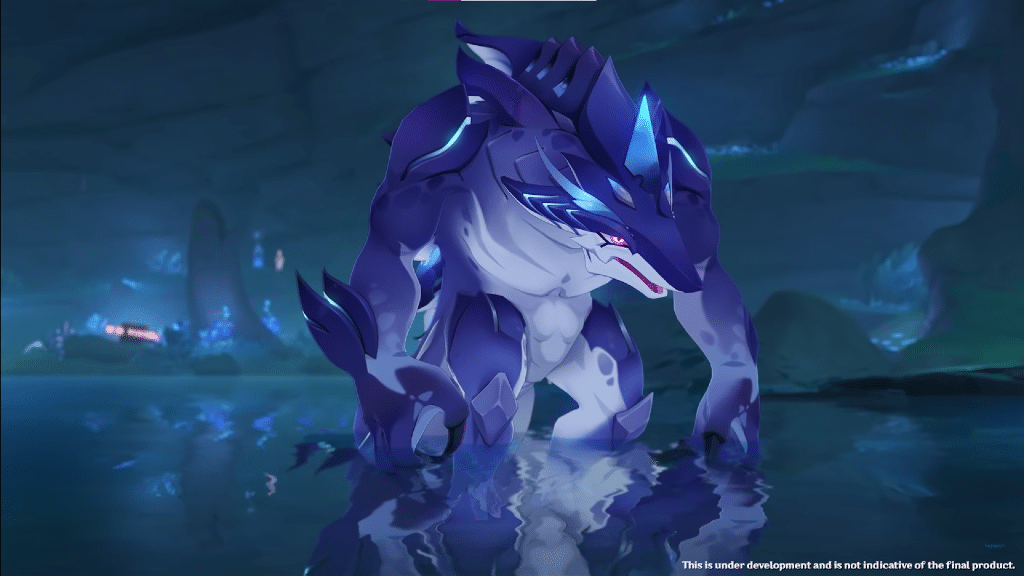 After exploring the new region, Travellers will find the land littered with an ancient species called Bathysmal Vishaps. These creatures live in groups and reside in murky waters. The Vishaps gain strength fighting in groups and are considered bosses in Enkanomiya.
New Region
Enkanomiya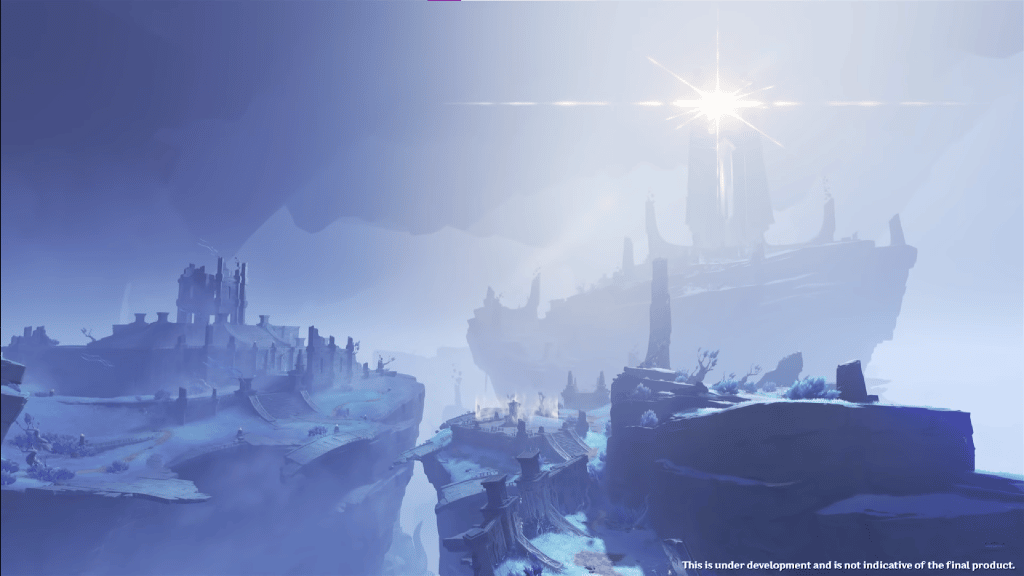 An all-new region is coming in the 2.4 update in the abyss below Watatsumi Island. The ominous land is called Enkanomiya. Because of environmental changes, the entire land of Enkanomiya sunk deep into the abyss. A serpent god guides this civilisation submerged in water. Isolated from the rest of humanity, Enkonomiya holds many secrets and mysteries waiting to be revealed.
Enkanomiya is enveloped in an everlasting blanket of darkness with no light source. The new region is filled with challenging puzzles, chests, and new monsters.
Gameplay Optimizations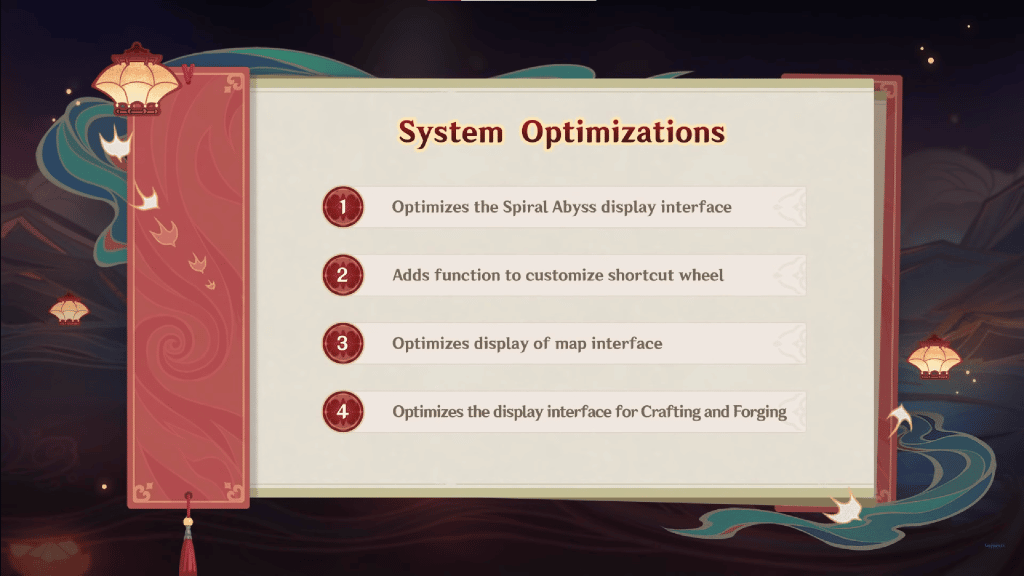 The final portion of the 2.4 Special Program introduced four new system optimisations coming to the game. The first optimisation to the Spiral Abyss adds a real-time progression for the challenge quests. For example, if you've exceeded the time limit on the floor for a number of stars, that option will turn grey.
Next, a new feature will be added for Travellers to customise the shortcut wheel. As more regions are introduced to the game, we can only expect the map to get bigger- meaning more scrolling to get to a specific area. Thankfully, the new update will introduce different area tabs on the right side of the map interface. This means that you won't need to scroll to travel back and forth from Mondstandt and Inazuma. Goodbye, click and drag and hello, click and teleport.
Lastly, the display interface for Crafting and Forging will be changed to fit more items into the screen. This way, you'll be able to find the items more quickly and efficiently.
Conclusion
What are you looking forward to the most in the upcoming patch? The 40-minute live stream was jampacked with exciting things awaiting us in Teyvat. Let us know in the comments below what you're excited for!