Sucker Punch's latest title, Ghost of Tsushima is set to release on July 17th, exclusively for the PS4. It could be the last PlayStation 4 experience after The Last of Us Part 2, and fans are ecstatic. However, a new job listing on Sucker Punch's website hints at there could be plans for a Ghost of Tsushima DLC or a sequel in the works.
Ghost of Tsushima DLC or Sequel – what would you prefer?
Sucker Punch put up a bunch of a job listings via their official twitter handle, one of the job listings was looking for a Narrative Writer.
The Job listing on the website does not indicate how old the listing is, we are going on the date of the listing by the date it was published on Twitter.
Upon opening the page, a very familiar pattern can be seen – the need of a writer with extensive knowledge about feudal Japan.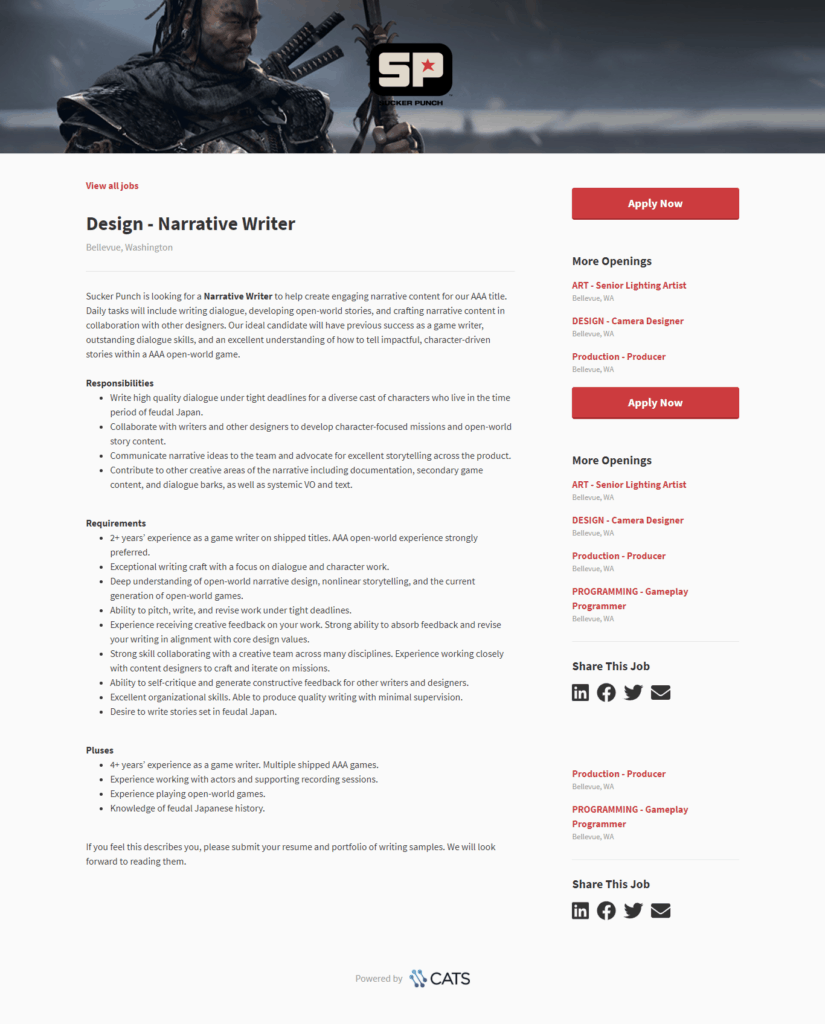 It is entirely possible that Sucker Punch is looking into Ghost of Tsushima DLC, but it can equally be possible that the studio is promptly working on a sequel to the title. Similar to how Guerrilla Games have been working on a Horizon Zero Dawn sequel almost immediately after the release of the first title.
It stands to reason that Sucker Punch is taking a proactive approach with Ghost of Tsushima, and while it looks like the studio has their sights set on working on the new IP further, we can still hold out hope to hear about Infamous for the PlayStation 5.
While Ghost of Tsushima has not yet laid out any plans for a season pass or has talked about DLC in detail, we can hope that the studio will support their new IP even into the next generation.
While we can hopefully expect a sequel to Ghost of Tsushima to eventually sneak its way on to the PS5, fans and the studio alike are still waiting to test the waters with their latest project.
What are your thoughts on the listing? Are you hoping for DLC for the game or are you in the hopes of a sequel being developed? Let us know in the comments section below!