Ghost of Tsushima file size has been revealed, by an early reviewer. It has the second smallest file size so far with Infamous Second Son being less than 30 GB. According to replies, the size includes the confirmed 8 GB Day One Patch.
Ghost of Tsushima File Size – a very decent size for a AAA exclusive
According to a tweet by @DonZiyech it seems that the game weighs in at a small 35.5 GB. This is a relatively small size when you compare how massive The Last of Us Part 2 was.
Here is a better look at the image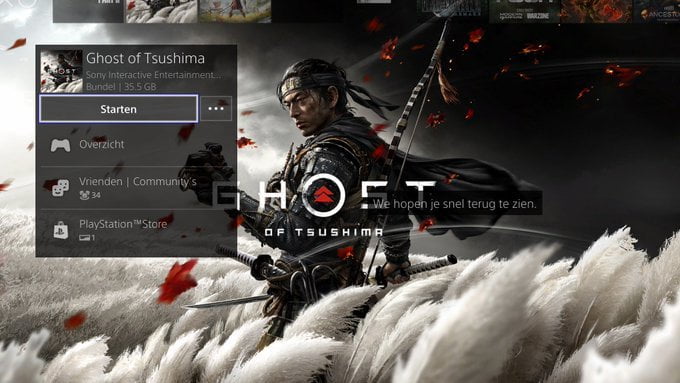 In the parent tweet, Sam confirms that this is the latest file size as of the tweet, and the replies state that this is the size of the patch with the 8 GB day one patch included.
Considering Sucker Punch managed to squeeze Infamous Second Son into a <30 GB file size, it comes as no surprise that they're able to squeeze another open world game into such a small file size.
The game's review embargo lifts on the 14th of July, and pre-load of the game will probably begin around that date, give or take a day or two.
Ghost of Tsushima is expected to drop later this month on July 17th, exclusively for the PlayStation 4.
It will be the last major AAA exclusive that Sony will release for the console, until the PS5 drops in Holiday 2020.
Ghost of Tsushima will place you in the small island of Tsushima, Japan. Based on the 13th century (274) invasion of Mongols in Japan.
After Jin Sakai is one of the last survivors of an invasion of his village, he is looking to exact revenge on the invading Mongol army and stop them from reaching Japan.
This is a brand new IP for Sucker Punch studios as they have previously worked on the Sly Cooper games for the PS2, and Infamous Games on the PS3 and PS4.
While fans are still hoping that the studio does release an Infamous game for the PS5, it seems that the studio could be working on a sequel or DLC for the game.
What are your thoughts on the file size of Ghost of Tsushima? Let us know in the comments section below!