The internet was finally brought to joy a few days ago with Rockstar finally announcing a 'new' entry to the Grand Theft Auto family that didn't have the eye-sore V at the end of it. The studio announced a remaster of GTA San Andreas, Vice City, and San Andreas, set for release later this year. While the other details of the game are scarce, the Grand Theft Auto Trilogy Price Leaked ahead courtesy of a retailer.
Grand Theft Auto Trilogy Price Leaked – The first of many more to come?
A few days ago, Rockstar Games finally announced something that wasn't a GTA 5 announcement.
The announcement was meant with a lot of relief as fans were getting and have gotten frustrated over Rockstar beating the dead horse that is GTA 5 and has yet to share any update or news on GTA 6.
While details are still scarce, we just know that the games are headed for consoles in 2021 and on mobile in 2022.
However, Base.com was kind enough to leak the UK prices of the games, and they are indeed going to cost a very pretty penny.
Spotted by Twitter user Darealbanidcoot
It seems that the games will have no form of Smart Delivery at all. In addition, the games cost an absolutely pretty penny.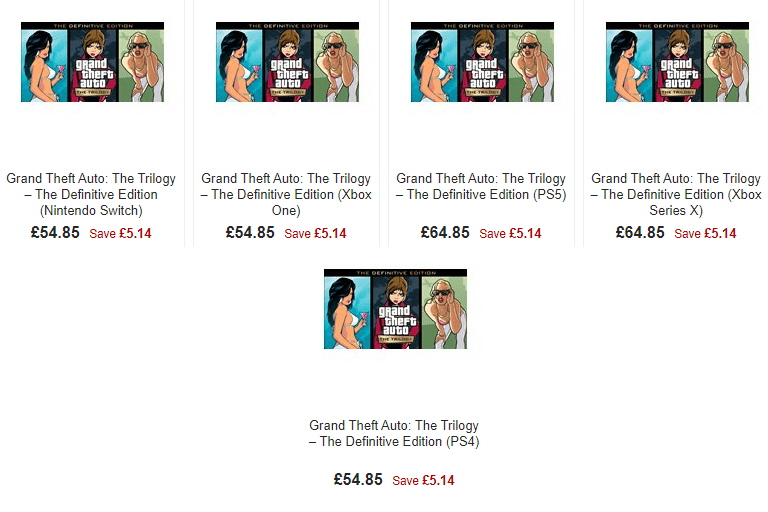 Here are the prices with conversions
Nintendo Switch / Xbox One / PS4: £54.85 / €64.53 / USD$ 74.67
Xbox Series X / PS5: £64.85 / €76.30 / USD$ 88.28
Many fans were expecting to pay for the remasters since Rockstar has made it clear that you will have to buy GTA 5 for the third time on the PS5/Xbox Series X when it releases.
Fans also had to buy the game again on the PS4/Xbox One when it was released and didn't offer PS3/Xbox One buyers any way of upgrading their current game.
For now, this is only a rumor and we will have to wait for the official prices to drop later this year, but let's hope Rockstar has a more sensible approach to pricing games when they do intend to release the games.