It's been almost 25 years since the launch of the first GTA game and the series is still standing strong. Let's take a look at all GTA games in order of release and take a trip down memory lane. From the humble yet controversial GTA to the grand yet super controversial GTA V, we've come a long way.
Looking at all GTA Games in order of release highlights the franchise's mainstays; crime, driving, chaos, and driving through a busy street. All games in the long-running series also give players unprecedented freedom in where to go and what to do. You are free to create your mini-stories in the game, your stunts, and even your own path. This is why GTA stood the test of time.
GTA
Release Date: October 21, 1997
Platforms: PC, PS1, Game Boy Color
GTA was the game that started it all. It featured most of the mechanics that we enjoy and love today. These include things like open-world, driving and stealing cars, crime, violence, and the wanted star rating.
Grand Theft Auto had low-resolution textures but ran fine on most machines. The top-down isometric view wasn't unique to the series but it lent well to the experience. The controls were also not intuitive and it took some while to grow accustomed to them.
The game had Liberty City, San Andreas, and Vice City for you to explore. However, they were all a lot smaller than their 3D counterparts released later in the franchise. The first GTA game in order was an ambitious title that didn't garner a lot of attention back in the day.
GTA London 1969 (EXPANSION)
Release Date: April 30, 1999
Platforms: PC, PS1
GTA London 1969 is an expansion pack that takes place in London. It's the first DLC in the Grand Theft Auto franchise and came with 32 new missions and 30 new vehicles for players to use. It required you to own the original GTA game to play it.
The GTA London expansion packs are the first and only GTA games set in an actual city and the only games set outside of the United States. The story wasn't the main focus of the first couple of GTA games but GTA London 1969 did introduce some characters that show up in the next mission expansion pack.
The city of London was a good change of pace and gamers started speculating where the next GTA would take place.
GTA London 1961 (EXPANSION)
Release Date: June 1, 1999
Platforms: PC
GTA London 1961 is another expansion pack released a few months after GTA London 1969. It's set 8 years before the events of GTA London 1969. It offers a ton of new missions, 22 new vehicles, a new cutscene, and a new multiplayer deathmatch map. The game also has the iconic red double-decker buses for you to hijack and drive around. The expansion also has loads of mini-coopers for you to run pedestrians over with too.
Unlike the previous expansion pack, GTA London 1961 is only available for PC. It requires you to own both the original GTA game and GTA London 1969 to play it. GTA London 1961 is one of the least famous games in the franchise due to the lack of marketing from Rockstar Games.
GTA II
Release Date: September 30, 1999
Platforms: PC, PS1, Game Boy, Game Boy Color, Dreamcast
GTA 2 was set in a "futuristic" city called "Anywhere City". This is the first time a GTA game doesn't tell you the time it's set in. Of course, fans of the series have narrowed down the time from anywhere between 1999 to 2013. There's a line by a radio host that states "Millennium is coming" so it could be the late-nighties.
It follows the story of Claude Speed as he works for multiple gangs as you try to raise your respect level. GTA II is the game that introduced the "wanted star" system that increases based on the number of crimes you commit, among your other actions. The hilarious grenade-flying glitch made traveling around the city a fun activity. GTA II had cheat codes as well, making it a fun game to kill time.
GTA III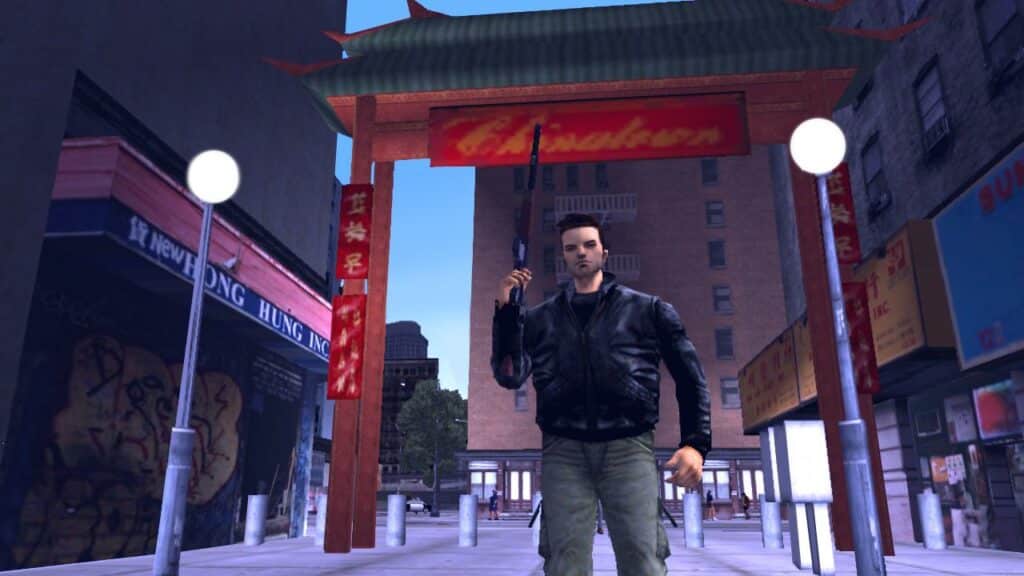 Release Date: October 22, 2001
Platforms: PC, PS2, PS3, Xbox, iOS, Android, Mac OS
GTA III made a huge leap in terms of gameplay and graphics, allowing the franchise to be more popular than ever before. GTA III was the first fully 3D game in the series and it took the world by storm. The interactivity, the freedom, and the ability to cause chaos were never before seen in a videogame.
The game still followed Claude Speed after he got betrayed by Miguel and Catalina. You meet a lot of memorable characters and complete missions for them. Driving around the city listening to multiple radio stations made for some relaxing long drives.
GTA Vice City
Release Date: October 29, 2002
Platforms: PC, PS2, Mac OS, Xbox, iOS, Android, Fire OS
GTA Vice City is the second installment in the franchise with 3D graphics. The neon-soaked 80s are in full swing here. The muscle cars, the drug deals, and rolled-up suit cuffs are all there. The game also had one of the best soundtracks in the whole series. GTA Vice City had cutting-edge graphics for the time and still holds up pretty well today.
The game is set in 1980s Vice City, based on real-life Miami City. This was a time when gangs were prevalent in the city. The game has a very retro feel and took heavy inspiration from the Miami Vice tv show. GTA Vice City quickly became a huge success and became one of the best-selling games of its time.
GTA San Andreas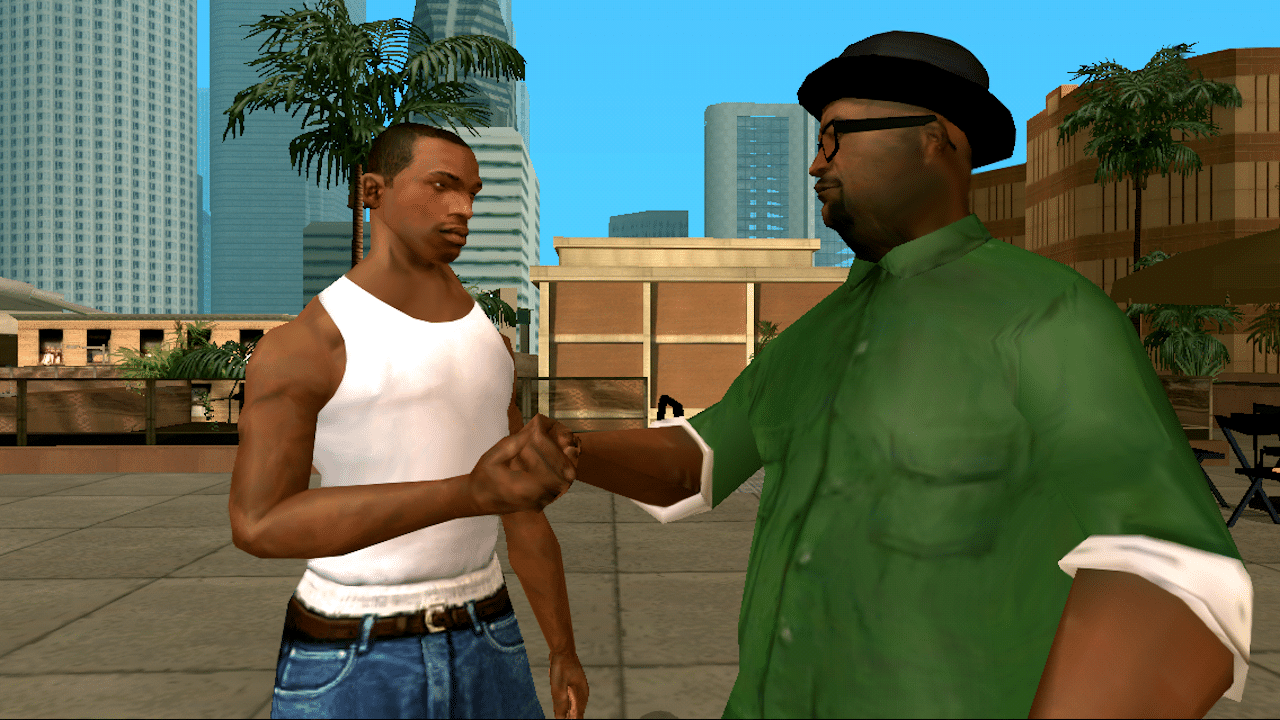 Release Date: October 26, 2004
Platforms: PC, PS2, PS3, Xbox, Xbox 360
San Andreas is a fictional area based in California. The game is set in the 1990s and revolves around the gangster culture of Los Angeles at the time. Carl Johnson and his gang of friends take over the whole city slowly and it is an amazing journey to go through. There is betrail, there is heartbreak, and there is victory in the story.
The game also introduced some light role-playing elements to the series. If you eat too much, you'll gain weight. If you go to the gym, you can increase your muscle mass. Swim for a while and you'll get better at swimming. These RPG-like elements added to the immersion and made you invested in CJ's journey. The RPG flavor was never seen to this extent in the "GTA games in order" list.
During its time, GTA San Andreas was the largest, most complex, and most ambitious GTA game ever created. It featured three different cities, Los Santos, San Fierro, and Las Venturas, among other outdoor settings. That's not all, the game had multitudes of different vehicles for you to drive, ride, or fly. From military jets to scooters, and from armored tanks to jetpacks, you could have it all in this GTA.
GTA Advance (PORTABLE)
Release Date: October 26, 2004
Platforms: Game Boy Advance
GTA Advance was released on the same date as GTA San Andreas. However, unlike previous Grand Theft Auto games, GTA Advance was only available on the Game Boy Advance and not on PCs or consoles. The graphics of the game were serviceable especially considering it was running on a Game Boy Advance. It is also the only game on the "GTA games in order" list that is exclusive to a Nintendo console.
It's set in the early 2000s in Liberty City, right before the events of GTA III. The game follows Mike as he uncovers the mystery of his friend's untimely death. It is also a prequel to the third game in the series and shares a couple of characters from it. As the game wasn't released on other platforms, it quickly became forgotten.
GTA Liberty City Stories
Release Date: October 24, 2005
Platforms: PSP, Android, PS2, iOS
Grand Theft Auto: Liberty Stories is another popular game in the franchise. This was the first time GTA was ported to Sony's popular handheld gaming console. It sold like hotcakes on the platform as it had a new story set in Liberty City. The graphics were incredible at the time and the ability to take GTA on the go was simply sublime.
Liberty City is based on the real-world New York City, and the events in the game were set in the late 1990s. You play as Toni Cipriani, who was forced into hiding after killing a made man. Trying to reclaim his name, Toni Cipriani will do whatever it takes to secure his place in the high ranks of the Leone Family.
GTA Vice City Stories
Release Date: October 31, 2006
Platforms: PSP, PS2, PS3
The final game in the third generation of GTA games is GTA Vice City Stories. The game revisits Vice City and explores the events in 1984, a couple of years before the events of the GTA Vice City game. It is also a direct prequel to the beloved Vice City GTA.
The game follows Victor Vic Lance as he climbs the ladder of the criminal world in Vice City. The map of the game is almost the same as GTA Vice City but the game had some graphical improvements on Sony's handheld. Although some buildings that are featured in Vice City are missing from Vice City Story. That's because it takes two years before the events in Vice City.
GTA Vice City Stories is a standalone game that has all staples of a modern GTA game. The game was well received on the PSP and quickly became one of the best-selling games on the platform.
GTA IV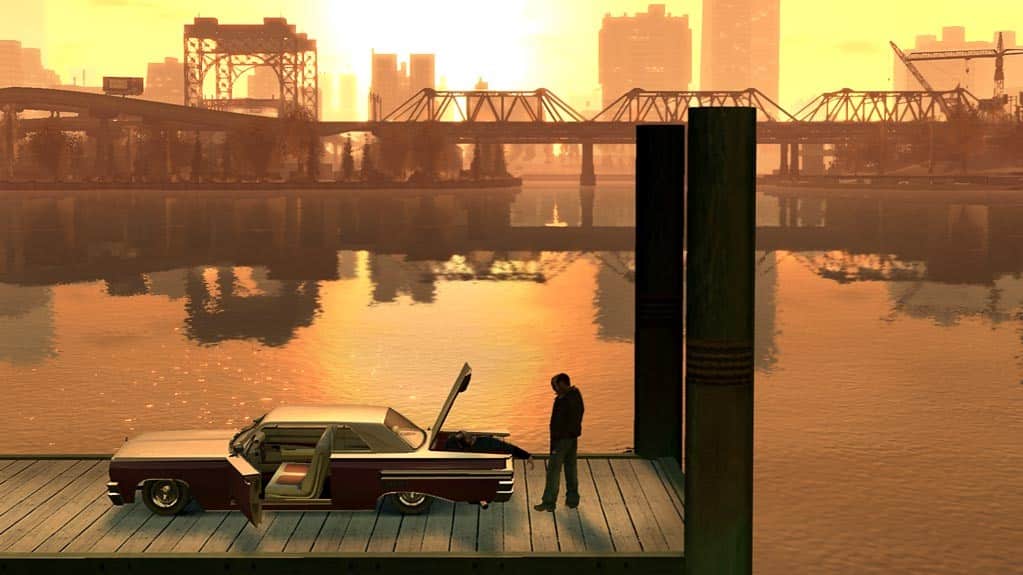 Release Date: April 29, 2008
Platforms: PS3, Xbox 360, PC
In GTA IV, you play Niko Bellic, an immigrant trying to live out the American dream. Unfortunately, this leads Niko on a dark criminal path. The game offers choices that can lead you toward one of three different endings. It's still set in Liberty City but offers better graphics, better AI, more weapons, and better in-game mechanics overall.
The new RAGE Engine bought in some state-of-the-art advancements to the franchise. The in-house engine was capable of producing stunning visuals complete with a meaty physics system. The ragdolls were superbly rendered and animated. You could shoot someone on any part of the body and they'd react accordingly. The driving was a little floaty at first but you got accustomed to it really fast.
The physical damage to the vehicles as you drove through the city was realistic and great to look at. Some physics engine stuff that was in GTA IV is missing from GTA V too. For example, water would react realistically to a helicopter, pushing wind downwards, this relatively little detail is missing from GTAV.
The Lost and Damned (EXPANSION)
Release Date: February 17, 2009
Platforms: PC, PS3, Xbox 360
GTA IV's first expansion is The Lost and Damned and it actually took the story of the main game forward. Rockstar did something genius and interwove the narrative of the main game with the two expansions they released later on. So you've already met the main protagonist of the first expansion in GTA IV.
Johnny is a seasoned biker in a biker gang who is thrust into a bloody gang war by the club's president. You run missions for several characters and take out rival gangs in satisfying combat. The game has a big focus on classic motorcycles and you get to ride your own in the expansion. The whole map is open for you to explore from the get-go here as well.
The Ballad of Gay Tony (EXPANSION)
Release Date: October 29, 2009
Platforms: PC, Xbox 360, PS3
Rockstar released another DLC episode titled "The Ballad of Gay Tony" a few months after the first expansion. It was the last DLC for GTA IV and featured another new protagonist in the series. The story revolved around Luis Fernando Lopez, a retired Dominican militia officer turned assassin.
Luis Fernando Lopez works for mafia boss Tony "Gay Tony" Prince, whose trust he has to earn. The Ballad of Gay Tony's story and missions all happen at night. This is a unique aspect of the expansion and brings back some memories of Vice City. You also have to run a nightclub in the expansion, a feature that wasn't explored to its full potential.
The expansion added several new activities for you to partake in. There are added vehicles, weapons, and a brand-new story in the expansion. The Ballad of Gay Tony is a must-play if you want to tie up the story of GTA IV. It acts as an expansion to Grand Theft Auto IV but doesn't require a copy of the game to run. You aren't bound by the developers to play these GTA games in order but it'd help if you did.
GTA Chinatown Wars (PORTABLE)
Release Date: March 17, 2009
Platforms: Nintendo DS, PSP, Android, iOS
GTA Chinatown Wars' story revolves around Huang Lee and a stolen family sword in Liberty City. The isometric view of the game combined with a unique cel-shaded look made GTA Chinatown Wars stand out from the rest of the games. The game ran well on handhelds and had buttery smooth gameplay. While the controls were a little hard to understand at first, if you've played any old GTAs, you'd be right at home.
It's a fun and complex game filled with hundreds of missions, tons of great vehicles and weapons, and everything else you're looking for in a GTA game. The primary draw of the game was running a drug business, making drugs, delivering them, and making a profit. This feature would later on become the staple of running your crime empire in GTA Online.
GTA V
Release Date: September 17, 2013
Platforms: PC, PS3, PS4, PS5, Xbox Series X and Series S, Xbox One, Xbox 360
GTA V is known as one of the most successful games in history. It's Rockstar's "Golden Child" and remains the premier and best GTA game almost 10 years after its release. The graphics, the story, and the memorable characters all make it one of the best experiences in gaming. The RAGE engine is back in full force here as well, the game looks and runs beautifully.
You get to follow and play as Michael Townley, Trevor Philips, and Franklin Clinton. GTA V is the first game in the series to introduce multiple protagonists. You are free to switch between the characters during free roam. All of them have unique personalities, ambitions, and missions. They also have their own abilities as well, Michael can slow down time like Max Payne, Franklin can slow down time during driving, and Trevor can enter an enraged state.
With a whopping $265 million budget, Rockstar Games was able to deliver a Grand Theft Auto gaming experience like no other. The storytelling, cinematography, and graphics are all top-notch. In many ways, even after a whole decade, GTA V still manages to look stunning on modern machines.
GTA Online
Release Date: October 1, 2013
Platforms: PC, PS4, PS5, Xbox Series X and Series S, Xbox One
Unfortunately, GTA Online doesn't have a storyline that you can follow. Instead, it allows you to participate in heists, robberies, and other in-game missions. It allowed you to play outside of the traditional GTA storyline and pretty much do whatever you wanted. Check out the 30 best weapons to get ahead in GTA Online.
There are even dedicated "roleplay servers" that allow you to join a GTA Online community and play as a citizen within that world. These servers are only available on PC though, still, they are incredibly entertaining to play in or just watch on Twitch.
GTA Online is the place to hang out with your friends after a long day. Just driving around and shooting stuff with friends is a blast. GTA Online knows this and is constantly providing more toys for you to play with. Flying bikes that shoot rockets? Yes GTA Online has them. Almost 9 years after its release, both GTA V and GTA Online still get regular updates and even get improvements for current-gen consoles and hardware.
GTA Trilogy – Definitive Edition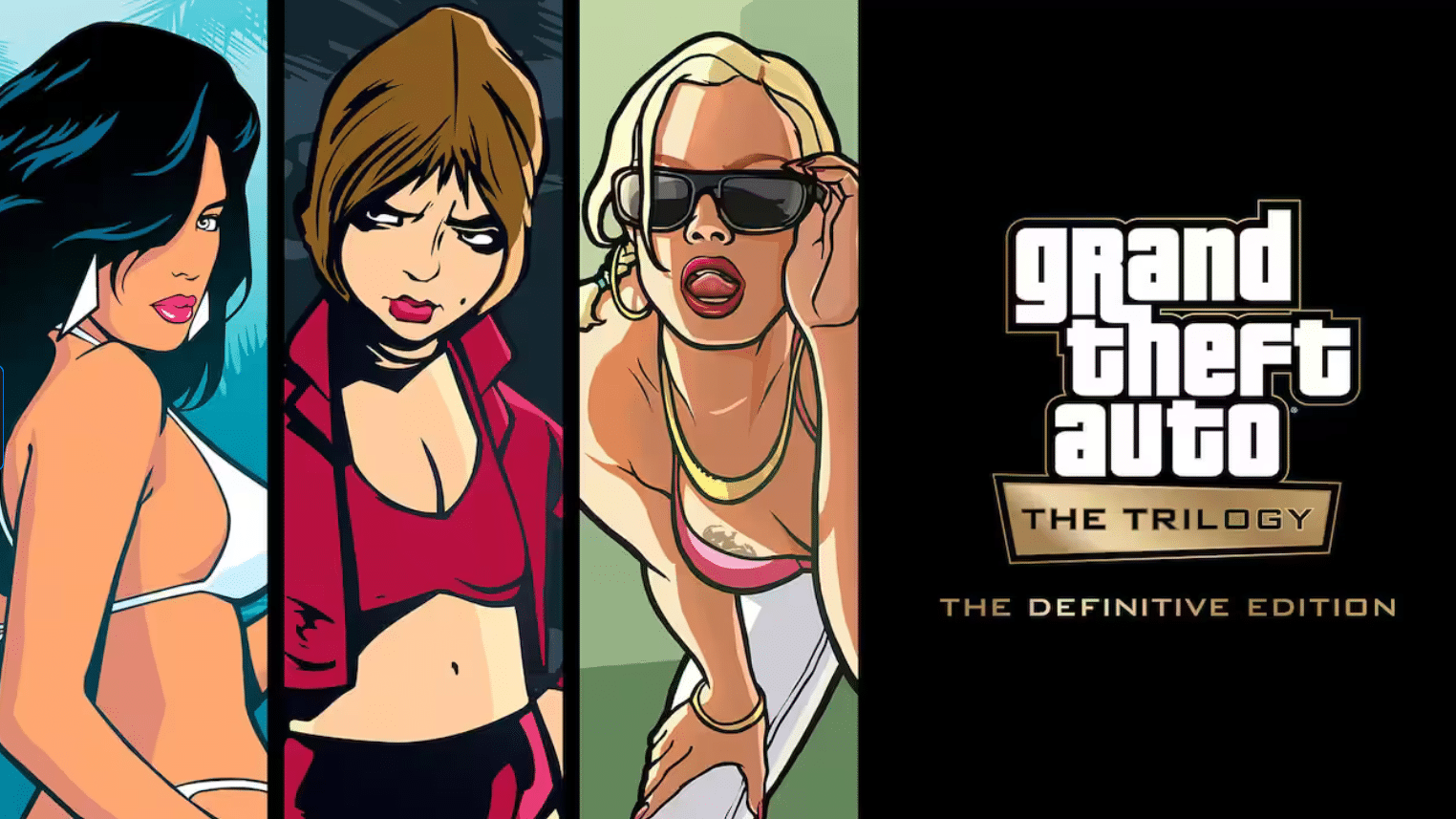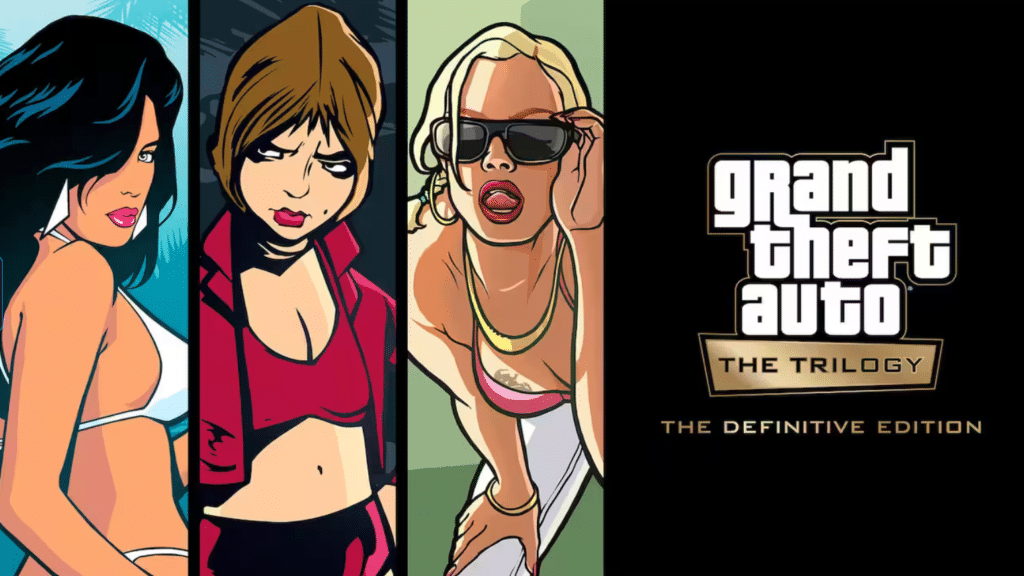 Release Date: November 11, 2021
Platforms: PS4, PS5, Xbox One, Xbox Series X/S, Switch, PC
The Definitive Edition of the golden GTA Trilogy is the last GTA game to be released by Rockstar. The remaster isn't made by Rockstar though and it shows. The package contains three games; GTA III, GTA Vice City, and GTA San Andreas. All of the games received some graphical updates to bring them up to speed with modern gaming.
However, the games were not well received as the graphical upgrades were not up to standards. Thankfully, the developers have patched major issues with the games and they run a lot better than they did at launch. If you are looking to play the games again or are just joining the franchise now, the Definitive Edition is a great place to start playing.
The games are available in a package or as separate games depending on the platform of your choice. So if you only want to play GTA Vice City again, you can purchase it at a lower price. Overall, the games retain their old-school charm, however, if you are looking for a proper remake, you'll be left disappointed. We recommend that you play these three GTA Games in order to get the best experience.
Conclusion
These were all the GTA Games in order of their release date. The franchise has been around for 25 years now, and it's still going strong. There's no question that GTA is definitely one of the most successful game series in history. Nothing beats an open-world sandbox-type game filled with violence, crimes, and RPG elements, even though many have tried.
What's next? Learn everything about GTA 6 and get hyped for it. GTA games are definitely among some of the best PC games to play with friends, especially the online version.