Halo Infinite Campaign File Size has been revealed by the official Xbox Game Pass app releasing the size of the week a near week before the official release of the campaign. Thankfully, this is one campaign that is light on storage and won't need much space.
Halo Infinite Campaign File Size has been revealed – your storage is safe
Halo Infinite Campaign Size has been revealed early by the Xbox Game Pass App. The notification is appearing for some users on Xbox Game Pass mobile app.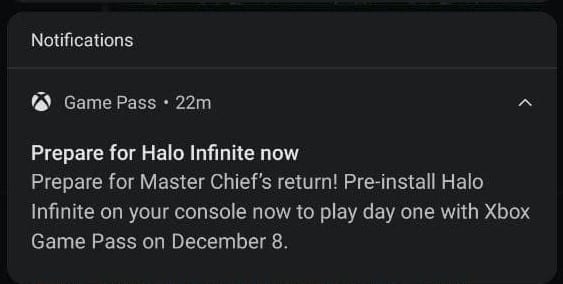 Here are the screenshots showing the size of the game and being pre-loaded an Xbox Series S.
Currently, many people are reporting that the installation doesn't start for them, and many people are also unable to start the installation from the Xbox Store on their console, but this means that pre-load should be imminent for players.
28GB for Halo Infinite is a relatively modest install size, considering how most games today are double or even triple of the size.
The Multiplayer alone is 18GB on Xbox Series consoles, so this is also a big saving on storage for fans of the series who are looking to make the most of their storage while being able to enjoy a game that they have been eagerly waiting for.
Halo Infinite is set to launch on December 8th for the PC, Xbox One, and Xbox Series console family. It will be a free game for all Xbox Game Pass users, and will see the iconic return of Master Chief taking on an entirely new threat.
With the game physical copies already out in the wild, you will have to exercise caution when going through your favorite places of information. Whether its YouTube or Reddit.
What do you think of the Halo Infinite Campaign File Size? Let us know in the comments section below.