The Halo Infinite Campaign Unlocks leave a lot more to be desired, but they are there, none the less. While there is nothing that immediately can be carried over into multiplayer like an armor set, there are still a lot of cool cosmetics for people to unlock and bring with them to the multiplayer.
Halo Infinite Campaign Unlocks – something better than nothing
Some dataminers have already found out what the campaign unlocks for the game are which you can take with you to multiplayer. It is a mix of emblems, coatings, and charms. While it is disappointing that you don't get an armor set to take into the multiplayer like you would in the previous games, you're still getting something over nothing.
According to reddit user u/Rad_Randy, who came across the discovery on the /r/haloleaks subreddit.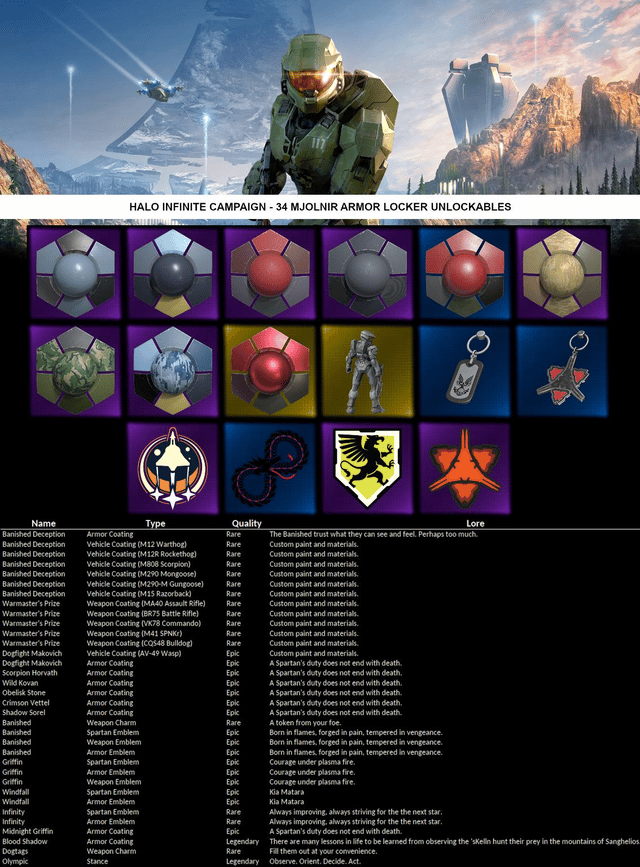 In addition, these are the unlocks taken from the comments section: (courtesy of Elite1111111111)
9 Armor Coatings
7 Vehicle Coatings (1 for each vehicle, all the same except for the wasp)
5 Weapon Coatings (All the same for various weapons)
4 Spartan Emblems (I think that's the Nameplates)
4 Armor Emblems (matching the Spartan ones)
2 Weapon Emblems (matching some of the Spartan ones)
2 Weapon Charms
1 Stance
It is not yet known how you can unlock these, but they could be tied to challenges in the game or other conditions, but for now, the campaign is going to launch in two days, so perhaps dataminers or achievement seekers will be able to put out guides before then.
If you are excited about Halo Infinite's campaign, find out how you can make the prepare yourself the best way by following our post.
What are your thoughts on the unlocks? Are they enough for you or were you hoping for more? Let us know in the comments section below.