You might find this surprising, but the question of "How big is Apex Legends?" is different from version to version, even though it's practically the same game… with minor alterations between the versions.
For example, the mobile version of Apex Legends has the Legends Fade and Rhapsody in its roster, with no trace of them in the regular version.
However, on the flip side, the mobile version of Apex doesn't have access to some of the best maps in Apex Legends. You win some, you lose some. Regardless, here's the file size of Apex Legends on each specific platform.
Apex Legends File Size (PC, Console, Mobile)
Apex Legends File Size on PC?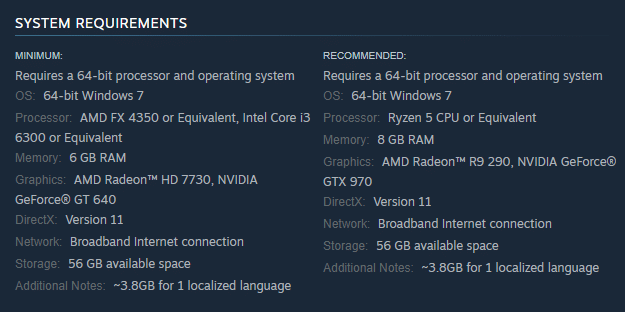 According to Steam, Apex Legends requires 56 GB to run, with an extra 3.8 GB per localized language installed. Not the biggest file size, but also not the smallest one either.
Here's a smart tip. Make sure to install Apex Legends on an SSD drive if you have one. Apex is known for having excruciatingly long loading times, so anything you can do to shorten said loading times is desirable in the end.
Apex Legends File Size on Xbox
Since Apex is available on both Xbox One and Xbox Series X/S. You'd think that the file size between them would be the same, but you'd be mistaken on that one.
Apex Legends on Xbox One requires 73 GB to work, and 83.5 GB to work on the Xbox Series X/S. The reason for this discrepancy? Nobody knows really, though it's probably something funny like "shinier lighting" or whatever.
Apex Legends File Size on PlayStation
You can play Apex on both PS4 and PS5, however, the size discrepancy between the two consoles is shockingly big.
On PS4, Apex Legends is only 57.11 GB big, while on PS5 it's 80GB. This just goes to show how much more advanced the PS5 is compared to the PS4.
Apex Legends File Size on Portables
There are currently 3 portable platforms that can run Apex Legends: the Nintendo Switch, IOS, and Android.
Nintendo Switch – 24.4 GB
iOS – 3.3 GB
Android – 2.8 GB