Biomutant is an open-world action-adventure game from THQ Nordic and Experiment 101. The game was delayed multiple times over the years and is now out on PC and consoles. The reception has been a mixed bag, with the critic's score at 67% on Metacritic, and a Mixed rating on Steam. Either way, Biomutant is an impressive effort from a team of only 20 developers. There are some extra settings in the PC version, but not everything can be adjusted in-game. If you want to adjust the Biomutant FOV, here is how you can do that.
Make sure you check out our tips, and best class guides to ensure you get the most out of your Biomutant experience. Despite the lukewarm reception, the game has managed to be a hit on Steam, with over 55K concurrent players on launch day. We are extensively covering Biomutant, and we recommended checking out our dedicated section for it.
Adjust the Biomutant FOV
The field of view allows you to adjust the observable areas gamers will see. To adjust this in Biomutant to your liking, you need to make a simple edit in the configuration file. You can do so by following the steps below.
Open Windows Run by pressing the Windows + R keys together, or simply searching it in Windows Search
Here, enter the following address
%LOCALAPPDATA%\Biomutant\Saved\Config\WindowsNoEditor\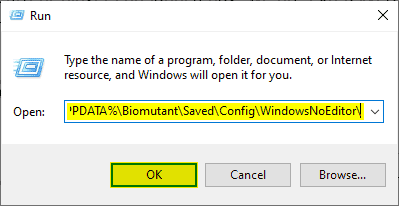 Press Enter, and it will open the WindowsNoEditor folder
Here, open the GameUserSettings.ini using a text editor like Notepad
Now, find the FieldOfView value, and add your desired FOV value next to it
For Example: FieldOfView=90
After that, the in-game FOV will be adjusted as well. You can keep changing the value here, and it will work every time. Keep in mind that going beyond a certain value might make the game look a bit weird, so you will have to experiment to find a sweet spot based on your resolution, and aspect ratio.
To adjust the FOV in recent titles like Mass Effect Legendary Edition, make sure you check out our guide as well.
We hope this guide helped you adjust the Biomutant FOV. Let us know if you have any questions in the comments below.