Are you a CS:GO player trying out Valorant but don't know what sens to use? Here's how to convert your CS:GO sens to Valorant.
CS:GO, and Valorant are two very similar games. Even though one has a more military and realistic approach, while the other has skills and a fictitious approach, they're still tactical shooters at the end of the day.
These two tactical shooter games require teamwork, precise aim, great movement, and insane game knowledge to be the best. They both have their own unique style that can appeal to different types of people.
It's hard to say which one's better, but they're both definitely fun to play and worth trying out. If you're a hardcore CS:GO player and curious what the game will look like with a few more skills and some fun abilities, you should definitely try out Valorant. Plus, there are also some amazing Valorant skins that you'll enjoy as well.
Don't worry, though. You won't be starting from scratch. Some skills transfer from CS:GO to Valorant flawlessly. I mean, just take a look at the professional Valorant scene; most players used to play CS:GO or some other FPS game.
The first thing you have to do is find the right Valorant sensitivity. You can start by simply converting the sensitivity that you use on CS:GO directly to Valorant.
Here's how to convert your CS:GO sens to Valorant Sens.
Convert Your Sensitivity from CS:GO to Valorant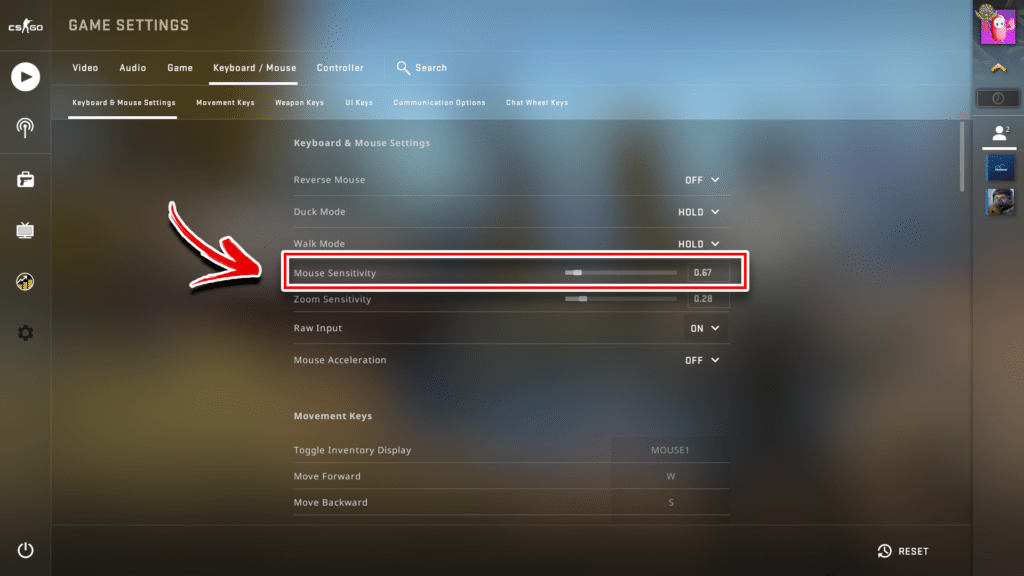 There are a few different methods that you can use to convert your existing CS:GO sens to your Valorant sens.
Doing it manually
The first method is to simply do it manually. If you enjoy math or computing, you can try doing it for yourself. It's very easy, you can even use a calculator if you want more precise measurements.
Everyone agrees that converting your CS:GO sens to Valorant sens requires division. All you have to do is divide your CS:GO sensitivity by 3.18181818, and voila! You already have your Valorant sensitivity.
If you're unsure what your CS:GO sensitivity is, you can easily check it in the settings by clicking on the cogwheel icon from the main menu. Next, go to "Keyboard/ Mouse," and you should be able to find the "Mouse Sensitivity" setting under "Keyboard & Mouse Settings."
Get the sensitivity you're using there and then simply divide it by 3.18181818. This should feel exactly the same as your CS:GO sensitivity, and you should have little to no trouble adjusting your aim.
Just make sure to always use the same DPI, or else everything will feel different.
Using Game Sensitivity Converters
If you're lazy or just don't feel like computing your own sensitivity, you can always use game sensitivity converters. These sites do all the work for you, all you have to do is input the correct values, and they automatically give you the converted sens.
Here are a few of our recommended game sensitivity converters and how to use them.
Gaming Smart has a clean and easy-to-use interface. It gives you everything you need and goes straight to the point. There don't offer any other features or services, but their converter does support a lot of games and isn't exclusive to FPS games only. They also have guides such as the best PCs or FPS gaming mice for Valorant.
All you have to do is select CS:GO as the game you are converting from, enter your CS:GO sens, and your current DPI. Next, select Valorant as the game you are converting to and enter your desired DPI. You should instantly get a result under "Converted Sensitivity," and you can now use that as your Valorant sens.
Next up, we have Aiming.Pro. Aiming.Pro is actually a professional aim training service. They offer smart and personalized workouts that can drastically help you improve your aim and get better in different FPS games. They claim that their smart workouts can help you improve your aim by up to 32% faster than any other aim trainers.
Their smart workouts and aim trainer services are paid. You have to subscribe to gain access to top-tier game trainers, access premium courses, and create other drills and playlists. Luckily, their mouse sensitivity calculator is completely free to use.
The converter has two modes. The basic mode only requires you to input the game you are converting from, the sensitivity you are using, and the game you are converting to. It will then show you the result that you can copy and paste into Valorant.
You can also use the advanced mode if you'd like to see your cm/360° or inches/360°, which can be helpful when trying to plan your mousepad space.
SensConverter is another great website to use when converting your in-game sensitivity. It supports over 70 different games, features a clean UI, and is very easy to use. Additionally, they also have an eDPI calculator, which can be very helpful when trying to find out the best aim sensitivity you want to use.
To convert your CS:GO sens using SensConverter, just input CS:GO and your sensitivity. Next, select Valorant under the "Convert to" option, and you should be good to go. You can also enter your mouse DPI if you want to find out the cm/360° or inches/360° values for your sens.
Mouse-Sensitivity is one of the more robust and thorough options when it comes to converting your game sensitivity. It can be a little intimidating to those who only want to know their CS:GO to Valorant sens, which is why this website is only for those hardcore FPS gamers.
It supports numerous games and continues to add different games per day. The calculator takes into consideration your monitor size and resolution, the type of aim (hipfire, zoom, etc.), and FOV type, among many others.
Aside from the converted sensitivity, it also gives precise measurements such as 360° distance, max discrepancy, pixel ratio, the default FOV of your game, and other more technical stuff. It's definitely a little intimidating, but it can be very useful if you're trying to fine-tune your aim and your sensitivity.
Our last choice is SensitivityConverter this is another simple yet effective game mouse sensitivity converter. It's very easy to use, it's not intimidating, and it just lets you convert and copy your sensitivity from one game to another.
It supports a number of games. Select CS:GO as your "From game," type in the sensitivity you use and your mouse DPI. Next, select Valorant as your "To game," and you should automatically see the results. There's also a copy button that you can use to copy and paste the sensitivity values from the site directly to your game.
And those were all the different ways that you can use to convert your CS:GO sens to Valorant sens. Keeping your sensitivity the same across similar games can help you get a more consistent aim and be able to jump from one game to another without feeling awkward or weird.
It definitely helps to convert your sens if you like playing multiple games while also constantly building your muscle memory.