Necromunda Hired Gun is a first-person shooter from Streum On Studio and Focus Home Interactive. It is set in the Warhammer universe and takes players to the hive city of Necromunda. The reception has been positive for the most part, and the gunplay has been praised by critics and fans. There are some technical issues at the moment, which the developers are aware of. If you want to disable the Necromunda Hired Gun Mouse Smoothing, here is how you can do that.
While stuttering is still a big problem in the game, you can check out our guide to reduce it substantially. The game currently has Mostly Positive reviews on Steam, and it's essentially due to the technical issues currently in the game.
Disable Necromunda Hired Gun Mouse Smoothing
Mouse smoothing is a feature that usually never helps in games. It causes a weird unresponsive effect and can impact your aim quite a bit. Thankfully, Necromunda Hired Gun is developed on the Unreal Engine, and we can disable this using a quick edit. To do this, follow the steps below.
Open Windows Run by pressing the Windows + R keys together, or simply searching it in Windows Search
In Windows Run, add the following address as shown below
%LOCALAPPDATA%\Streumon\Necromunda\Saved\Config\WindowsNoEditor\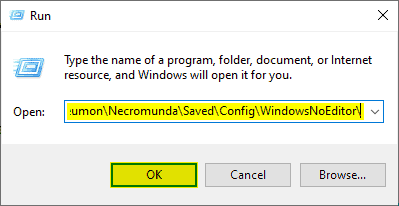 Here, open the Input.ini file in a text editor, like Notepad
Add the following lines in the file at the end
[/Script/Engine.InputSettings]
bEnableMouseSmoothing=False
When you launch the game again, you will notice how the aim is far more responsive this time. If you still want to go back to the previous setting, you can simply remove the line you added in the Input.ini file. However, we recommend keeping it off as it improves the general gameplay experience.
We hope more developers add these options in-game because for first-person titles it should be essential. If you want to disable the mouse smoothing in Outriders as well, make sure to check out our guide for that.
We hope this guide was helpful. What do you think of the game? Let us know if you have any questions in the comments below.