Aliens: Fireteam Elite is a co-op third-person PVE shooter from Cold Iron Studios. The game is set in the iconic Aliens universe and is a love letter to the films. It's a solid title, getting positive reception from players, and critics alike, and is available on multiple platforms. The PC version runs very well and isn't very demanding either. If you want to, however, disable the Aliens Fireteam Elite Vignette Effect, here is how you can do that.
Currently, the game has Very Positive reviews on Steam and had a peak player count of 11k concurrent players. The developers have also promised free season updates, and there will be no microtransactions either. Hopefully, the game can keep the momentum up, and we see more of it in the future.
Disable the Aliens Fireteam Elite Vignette Effect
Since the game is developed on Unreal Engine 4, there are a few settings we can customize outside of the in-game settings. If the vignette effect bothers you, there is a way to get rid of it. To do this, follow the steps below.
Open Windows Run by either pressing Windows + R keys together, or by searching for it in Windows Search
Enter the following address, and press OK
%LOCALAPPDATA%\Endeavor\Saved\Config\WindowsNoEditor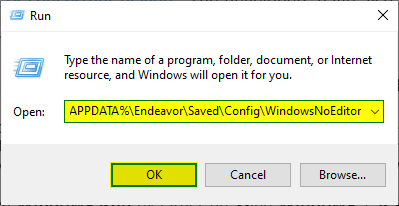 Here, open the Engine.ini file using a text editor like Notepad or Notepad++
Add the following lines at the end of the file
[SystemSettings]
r.Tonemapper.Quality=0
Save the file (Ctrl+S), and exit out
When you launch the game again, the effect will be disabled. If you don't like how the game looks now, and prefer to leave the effect enabled, you can simply remove these lines from the file, and save it again.
Though, the game does look clearer when you have this setting disabled. Maybe the developers will add the setting in the Graphics settings in the future, but for now, this is the only way.
We hope this guide was helpful, and you were able to disable the Aliens fireteam elite vignette effect on PC. If you have any questions, feel free to ask them in the comments below.