The Ascent is an action RPG from Neon Giants, and Curve Digital. The game is set in a Cyberpunk location, with some incredible next-gen visuals. The game runs great for the most part but there are a few missing features on the PC version. If you want to go further and improve your visual quality, we have some recommendations. If you want to disable The Ascent chromatic aberration effect on PC, here is how you can do that.
The title is available through both Steam and MS Store on PC. It is also available on Microsoft's subscription service Game Pass, on both PC and consoles. It hasn't been confirmed for PS4 or PS5, but we expect it eventually come out on those after the exclusivity period has passed.
Disable The Ascent Chromatic Aberration
Since The Ascent is developed on Unreal Engine, there are a few things we can tweak manually. One of these is a post-processing effect called Chromatic Aberration.
The game doesn't let you toggle it off in the Graphics Options, but it is a bit noticeable in-game. If you want to turn it off and improve how the game looks, here is how you can do that.
Open Windows Run by either pressing Windows + R keys together, or by searching for it in Windows Search
Enter the following address, and press OK
%LOCALAPPDATA%\TheAscent\Saved\Config\WindowsNoEditor\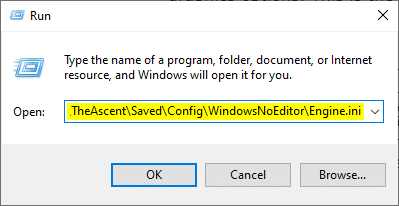 Here, open the Engine.ini using a text editor like Notepad and Notepad++
In this file, add the following lines
[SystemSettings] 
r.SceneColorFringeQuality=0
Save (Ctrl +S) the file and exit out
If you want to enable the effect again, you can simply remove the lines from the file, and save it again.
If you want to disable film grain, make sure to check out our other guide as well. The game's ultrawide implementation is a bit imperfect as well, and you can fix that by going through this guide.
We hope this guide was helpful, and you were able to disable The Ascent chromatic aberration effect on PC. If you have any questions, feel free to ask them in the comments below.