Dead Island 2 looks and runs great on PC, and it's one of the best ports of the year. While it has a bunch of settings to customize, including FSR 2.0, there are a few graphical options that we would've liked to adjust as well. If you want to disable the Dead Island 2 chromatic aberration effect on PC, here is how you can easily do that.
Disable the Dead Island 2 Chromatic Aberration Effect
Chromatic Aberration is a post-processing effect that adds a blur to the edges of different objects in a scene. Many PC titles now allow you to disable it from the in-game settings, but it's still not a standard setting yet. While there isn't an option to disable it in Dead Island 2, you can get rid of it with a minor tweak.
Open Windows Run by either pressing Windows + R keys together or searching for it in Windows Search.
Enter the following address, and press OK
%LOCALAPPDATA%\DeadIsland\Saved\Config\WindowsNoEditor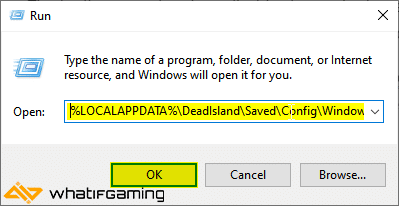 Here, open the Engine.ini file using a text editor like Notepad, or Notepad++
Now, add the following lines at the bottom of the file
[SystemSettings]
r.SceneColorFringe.Max=0
r.SceneColorFringeQuality=0
Now, save the file (Ctrl+S), and exit out.
That's all you need to do, and the next time you launch Dead Island 2, the chromatic aberration effect will be completely disabled. We're hoping that the developers add an option in-game to turn it off so players don't have to go through this.
If you want to re-enable the effect, simply follow the steps again, and remove the lines you added. If you're running into any crashing issues, make sure to check out our handy guide. Some PC users have also reported controller issues, and we have a few suggestions for those too.
We hope this guide was helpful and you were able to disable the Dead Island 2 chromatic aberration effect on PC. If you have any questions, feel free to ask them in the comments below.