The Dark Pictures Anthology: The Devil in Me is a narrative-driven horror game from Supermassive Games and Bandai Namco Entertainment. It is out now on PC and consoles, and we thought it was the strongest entry in the series yet. The PC version has similar options that were present in previous entries, and while you can adjust quite a bit, there are a few omissions. If you want to disable the Devil in Me Film Grain effect, here is how you can easily do that.
Disable the Devil in Me Film Grain Effect
Film grain is a post-processing effect that is used in a variety of titles and is used to enhance the cinematic presentation of scenes. Sadly, most games don't have this option to disable, which isn't different in The Devil In Me. Thankfully, since this is an Unreal Engine 4 title, you can turn this off by editing the configuration file.
Open Windows Run by either pressing Windows + R keys together or searching for it in Windows Search.
Enter the following address, and press OK
%LOCALAPPDATA%\TheDevilInMe\Saved\Config\WindowsNoEditor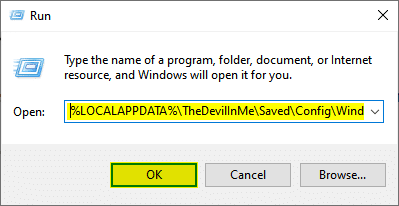 Here, open the Engine.ini using a text editor, such as Notepad, or Notepad++
Once opened, copy and paste the following lines
[SystemSettings]
r.Tonemapper.GrainQuantization=0
Save the file (ctrl+s) and exit
After you're done with this, film grain will be completely removed from the game. The game looks a lot better this way, in my opinion, and darker scenes are more readable. Though, it all comes down to taste because many players like to leave it on as well.
Turning Film Grain Back On
If you want to turn the setting back on, you can do that by following the steps above again and by removing the r.Tonemapper.GrainQuantization=0 line from the Engine.ini file.
If you're using an ultrawide monitor, make sure to check out our guide on how you can fix the issues with its implementation as well.
We hope this guide was helpful and you were able to disable The Devil In Me film grain effect on PC. If you have any questions, feel free to ask them in the comments below.