After being a Switch exclusive for a while, No More Heroes 3 is out now on PC, and other consoles. All titles in the series are out now on the PC platform, but the quality of ports is one of the biggest problems with these releases. While better than the last few releases, No More Heroes 3 still lacks various options that we expect from modern PC releases. If you want to disable the No More Heroes 3 Motion Blur effect, here is how you can do that.
Disable the No More Heroes 3 Motion Blur effect
Okay, look, many people are warming up to better implementations of motion blur, especially per object motion blur. It's a nice way to ensure some level of fluid gameplay without sacrificing visual clarity. Unfortunately, many titles still use the regular type of motion blur, which usually comes down to preference for most gamers.
No More Heroes 3 doesn't have an in-game setting to adjust this, so to turn it off, you need to edit a configuration file, which is super easy.
Open Windows Run by either pressing Windows + R keys together or searching for it in Windows Search.
Enter the following address, and press OK
%LOCALAPPDATA%\No More Heroes 3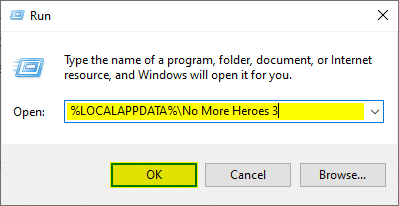 Here, open the Engine.ini file using a text editor like Notepad, or Notepad++
Now, add the following lines at the bottom of the file
[SystemSettings]
r.MotionBlur.Max=0
r.MotionBlurQuality=0
Save the file (Ctrl+S), and exit out
After you've saved the setting, motion blur will be disabled in-game. This will remove it from gameplay, in-game cutscenes, or any other part as well.
Turning Motion Blur back on
If, for whatever reason, you want to turn the setting back on, simply follow the steps above and remove the r.MotionBlurQuality=0 and r.MotionBlur.Max=0 lines.
Players that want to disable depth of field in No More Heroes 3 can follow our other guide as well.
We hope this guide was helpful and you were able to disable the No More Heroes 3 motion blur effect on PC. If you have any questions, feel free to ask them in the comments below.