Outriders is the latest title from first-person veterans, People Can Fly. Published by Square Enix, Outriders is a bit different from what the studio is known for, and is a cooperative third-person shooter. The developers launched a demo a while back, and because of that, players got to experience quite a bit of the game beforehand. Now, it's already climbing Steam charts and was the biggest launch for Square Enix on the platform. There are tons of customization options for PC players, and it's great that the developers put so much time into those menus. However, if you want to disable the Outriders mouse smoothing, here is how you can do that.
A Demo is still available for download, and if you're unsure about the game, you can always try that. These demos go a long way, and recent Steam festivals have allowed players to check out upcoming games, and add to their wishlists.
Disable Outriders Mouse Smoothing
Mouse smoothing is a feature, where your hardware tries to predict your mouse motion. Generally speaking, this is something that should be left off, if you're gaming. It isn't helpful and can cause some annoyance. To disable it in Outriders, follow the steps below.
Make sure Outriders isn't running
Open Windows Run by either searching for it in the Windows Search bar or simply pressing Windows + R keys together
After that, enter the following address in Windows Run. As shown below.
%LOCALAPPDATA%\Madness\Saved\Config\WindowsNoEditor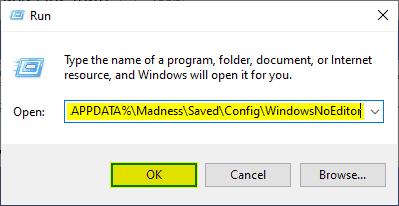 Here, open the Input.ini file using a text editor like Notepad, or Notepad++
Add the following in the file
[/Script/Engine.InputSettings]
bEnableMouseSmoothing=false
Now, press "Ctrl + S" to save the file
Exit the file
Launch the game again, and mouse smoothing will be disabled now. Maybe after a few updates, the developers will add the option in-game too. For now, though, this is the only way to do this. Previously, we wrote a guide on how you fix the stuttering issues in Yakuza 6. Be sure to check that out if you're playing that too.
Outriders is already the biggest launch for Square Enix and is doing far better in numbers compared to Marvel's Avengers. Good word of mouth from previews and the demo has really helped, and the lack of microtransactions encouraged a lot of players to give it a shot.
We hope this guide was helpful. If you have any questions, feel free to ask them in the comments below.