Scarlet Nexus is a new action RPG developed and published by Bandai Namco Entertainment. It's been out for a few days now and has been received positively from fans and critics alike. While the game runs fine, for the most part, the port itself is pretty basic. This seems to be a trend for many Bandai Namco titles, but it's nothing too intrusive or broken. If you want to disable the Scarlet Nexus Vignette effect, here is how you can do that.
We have extensively covered Scarlet Nexus, and have written multiple guides for it. Interested players can follow those to get ultrawide support, disable chromatic aberration, and more. Scarlet Nexus has a lot going on for it and runs very well on not just PC, but consoles as well.
Disable the Scarlet Nexus Vignette effect
By default, the game has an almost constant Vignette effect that can be a bit distracting. It's obviously done as an artistic choice, and a lot of players might even prefer to leave it on. If you are not one of those, you can easily disable it as well. Since Unreal Engine 4 games are highly customizable with simple configuration edits, here is how you can do that.
Open Windows Run by either pressing Windows + R keys together, or by searching for it in Windows Search
Enter the following address
%LOCALAPPDATA%\ScarletNexus\Saved\Config\WindowsNoEditor\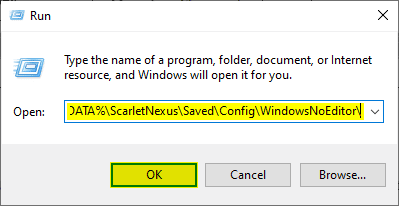 Here, open the Engine.ini file using a text editor, like Notepad
At the bottom, enter the following lines
[SystemSettings]
r.Tonemapper.Quality=0
Note: If there is already a SystemSettings heading, simply paste the r.Tonemapper.Quality=0 line below it.
Save the file, and exit out
In case you want to enable that effect again, open the file again, and simply remove the lines.
The game does look much better without it, so we recommend keeping the effect off. Keep in mind, that this doesn't have an impact on performance, so if you're looking to gain some extra frames, this will not help you.
We hope this guide was helpful, and you were able to disable the Scarlet Nexus vignette effect. If you have any questions, feel free to ask them in the comments below.