Shadow Warrior 3 is a first-person shooter in the iconic series from Flying Wild Hog and Devolver Digital. The title is out now on PC via Steam and GOG as well as Xbox, and PlayStation platforms. It is also available through PS Now, and if you have subscribed to it, you can now play it as well. If you want to hear our detailed thoughts on it, make sure to check out our Shadow Warrior 3 review (spoiler warning: we liked it a lot). For the most part, Shadow Warrior 3 is a great port and runs well without any major hitches. There is occasional stuttering, which seems to be pretty common with Unreal Engine 4 titles. It does lack some settings though, which is a shame. However, if you want to disable Shadow Warrior 3 Chromatic Aberration effect on PC, here is how you can do that.
Overall, the reception has been positive from critics, and users alike, with Shadow Warrior 3 sitting at a Metacritic score of 72.
Disable the Shadow Warrior 3 Chromatic Aberration effect
Chromatic Aberration is a visual effect that many developers use in their games. It comes down to preference, but many gamers prefer to keep this visual effect. While some games provide the option to toggle it in Graphics settings, this isn't the case with Shadow Warrior 3. To disable it, you'll need to follow the steps below.
Open Windows Run by either pressing Windows + R keys together, or by searching for it in Windows Search
Enter the following address, and press OK
%LOCALAPPDATA%\SW3\Saved\Config\WindowsNoEditor\
Here, open the Engine.ini file using a text editor like Notepad, or Notepad++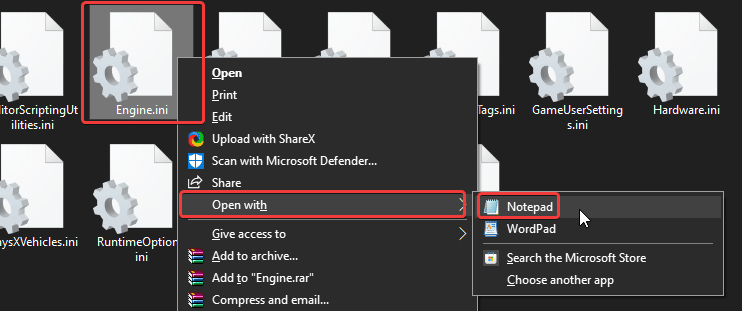 Now, add the following lines at the bottom of the file
[SystemSettings]
r.SceneColorFringeQuality=0

Save the file (Ctrl+S), and exit out
When you launch the game again, Chromatic Aberration will be completely removed from the game.
If for whatever reason you want to turn it back on, simply remove the lines you added in the Engine.ini file.
If you are running into crashing issues at launch, or even during gameplay, make sure to check out our handy guide for that as well.
We hope this guide was helpful, and you were able to disable the Shadow Warrior 3 Chromatic Aberration effect on PC. If you have any questions, feel free to ask them in the comments below.