Starfield is available for PC users who purchased the premium edition, and while the PC version is okay for the most part, there are a few missing settings. TAA, or Temporal anti-aliasing is used in a vast majority of modern releases, and it's no different with Starfield. If you want to disable the Starfield TAA setting though, here is how you can do that since the in-game settings don't allow it.
Disable the Starfield TAA Setting
To disable TAA in Starfield, you need to make a custom configuration file and use a command. It's very simple, and I'll walk you through the process.
Head over to the following location
C:\Users\[YOUR USERNAME]\Documents\My Games\Starfield
Here, create a text file and paste the following content inside it
(If you already have the StarfieldCustom.ini file created, just add the following lines)
[Display]

bTemporalAA_idTech7=0
Now, save this as StarfieldCustom.ini and make sure you select All files in the "Save as type"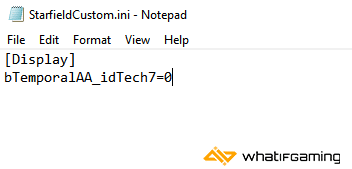 That is all you need to do, and the next time you launch Starfield, TAA will be turned off completely. Now, keep in mind that you will notice more shimmering, and jagged edges, but if you're playing at resolution beyond your native one, the game will look much better, and sharper.
Additionally, if you're running into any crashing problems, make sure to check out some of my suggestions to address those.For those who want to go the extra mile and back up their data, here is the Starfield save file location on your PC.
We hope this guide helped you disable the TAA setting in Starfield. Let us know if you have any questions in the comments below.