Tales of Arise is an action RPG from Bandai Namco Entertainment. It is the latest entry in the long-running Tales series, and one of the best entries yet. The game has received high scores from critics and fans alike with a Metacritic score of 87. Thankfully, the PC runs very well apart from some minor issues. If you want to disable Tales of Arise Chromatic Aberration, here is how you can do that.
The game currently has a Very Positive rating on Steam, and thousands of players are in the game as we write this. There is a huge demand for Japanese titles on Steam, and it's become abundantly clear with every release.
Disable the Tales of Arise Chromatic Aberration
Chromatic Aberration is a visual effect that developers use in their titles for artistic purposes. Not everyone is a fan of this, and usually, there is a way to disable it. Since Tales of Arise is developed on Unreal Engine 4, we can easily turn this option off by doing a minor edit in the configuration file. Here is how you can do that.
Open Windows Run by either pressing Windows + R keys together, or by searching for it in Windows Search
Enter the following address, and press OK
%LOCALAPPDATA%\BANDAI NAMCO Entertainment\Tales of Arise\Saved\Config\WindowsNoEditor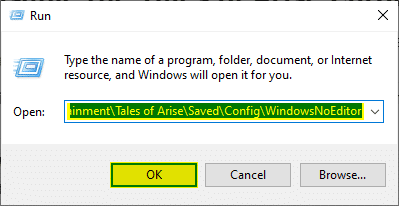 Here, open the Engine.ini using a text editor like Notepad and Notepad++
In this file, add the following lines
[SystemSettings] 
r.SceneColorFringeQuality=0
Save (Ctrl +S) the file and exit out
Now, when you launch the game again, the chromatic aberration effect will be disabled completely. If you want to enable that effect again, follow the same process as above, and remove the lines you added to re-enable it.
Hopefully, the developers will add an option in some future updates so players can easily toggle the visual effect in-game. However, we doubt that will happen, as many developers believe that these effects add to the experience.
We hope this guide was helpful, and you were able to disable the Tales of Arise chromatic aberration effect on PC. If you have any questions, feel free to ask them in the comments below.