Resident Evil Village is a direct sequel to Resident Evil 7 and the latest entry in the long-running franchise. This is a cross-gen title, and available on a variety of platforms including PC. It's developed on the RE Engine and runs well on multiple PC setups. Now, even though the PC version runs very well, it isn't perfect. There are some technical issues and a lack of proper support for specific peripherals. If you want to download and install the Resident Evil 8 PS4 Button Prompts Mod, here is how you can do so.
Mods have allowed PC gaming to reach its full potential. Modders have at times fixed all sorts of performance issues and have added quality of life improvements to games that really needed those. Cyberpunk 2077 was a recent game that had a lot of mod support, and dedicated users are still releasing new mods for it, every day. Thankfully, Resident Evil titles also support mods, which is why the game can be further improved.
Resident Evil 8 PS4 Button Prompts Mod
The PC version of Resident Evil 8 doesn't have PS4 controller prompts, and that is a bit disappointing. There are a lot of PC users that prefer the dual-shock 4 over the Xbox controller. A lot of developers have added full support for both, and even the Nintendo Switch Pro Controller.
To fix this, NexusMods user boycalledjames has already created a mod for the PS4 button prompts. You can install that by following the steps below.
Download Fluffly Manager
First, to install Resident Evil 8 mods, you will need the Fluffy Manager
You can download that from here (you will need to sign-up on NexusMods to download this)


Simply extract the files using Winrar or 7zip to get started
Download and install the mod
Now, for the mod itself. Follow the steps below.


Now, launch Fluffy Mod Manager (Modmanager.exe) that you downloaded earlier
Select Resident Evil Village from the list of games, and it will automatically detect the executable

Now, drag the PS4 Button Mod-6-1-0-1620132498.rar file you downloaded, into the mod manager window (Make sure Resident Evil Village is selected).
You can also copy the mod file into the following location to do the same
Fluffy Manager 5000-18-2-245-1620230872\Games\RE8\Mods
Click on Mods list, and manage the mod you just dragged
The mod will show up, and all you have to do is toggle it On, as shown below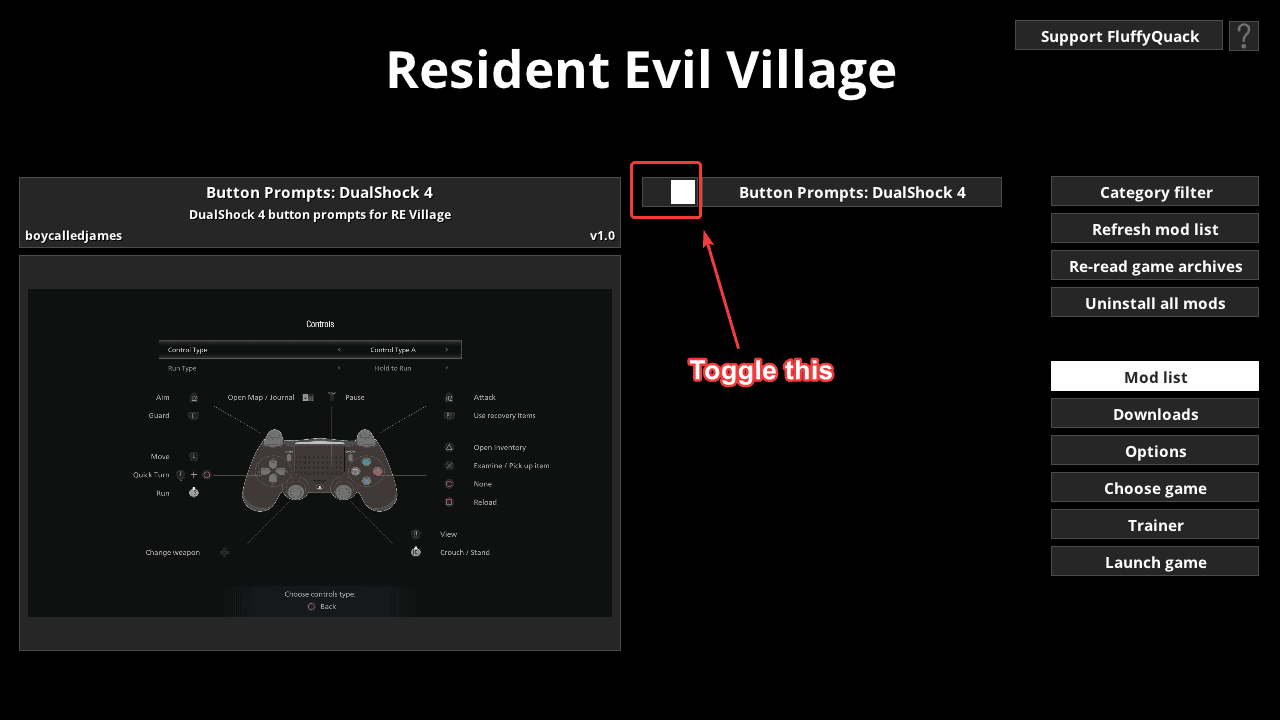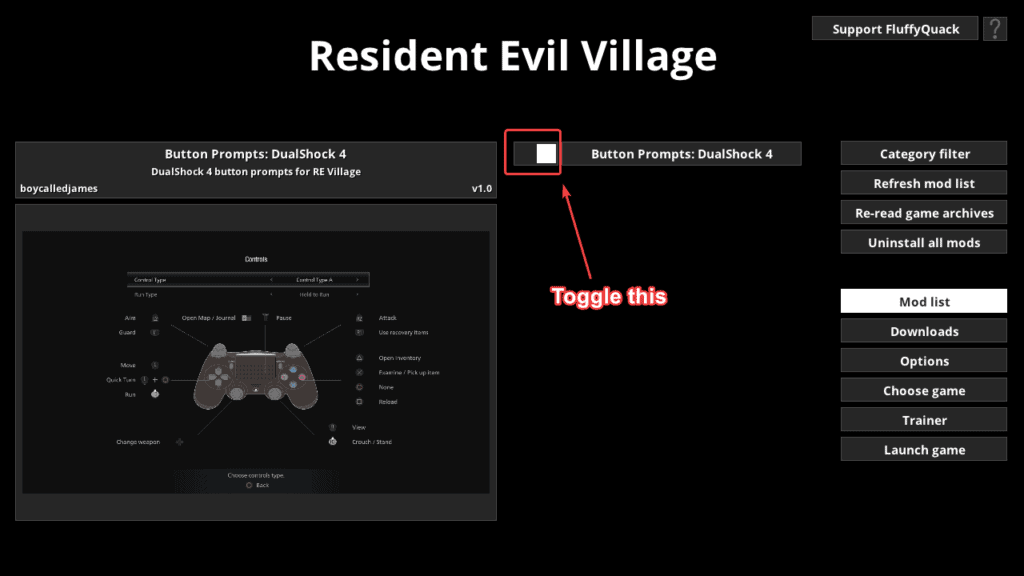 An update in the bottom right will confirm if the mod has been installed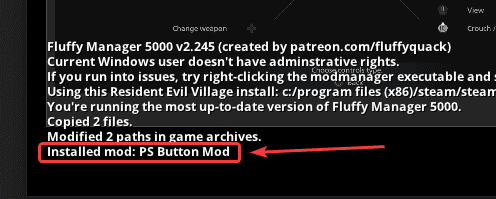 That's all you need to do to get the mod running properly. When you launch the game again, the Xbox button prompts will be replaced by PS4 ones, as shown below.
To read additional details about the fluffy manager, head over to the following link. This will give you an idea of what to expect on updates. We also recommend checking out our guide for fixing black screen errors, if you are running into those as well.
We hope this guide was helpful. Let us know if you have any questions in the comments below.