Forspoken is now available on PC through Steam, Epic Games Store, as well as the Microsoft Store. Forspoken has a lot of graphical settings to adjust, and it's a surprisingly decent port in my experience so far. Even though it's a demanding title, with technologies like DLSS and FSR 2.0, you can get pretty decent performance with minor image quality loss. Some users couldn't locate the DLSS setting in Forspoken, so here is how you can enable it.
Enable the Forspoken DLSS Setting
The DLSS and FSR 2.0 options are greyed out by default, but you can turn either on by selecting the Custom Preset in Graphics Setting.
Here are the detailed instructions on how you can do that.
Launch Forspoken
In the Main Menu, select Settings
Navigate to the Graphics
Now, change Image Quality Presets to Custom under Presets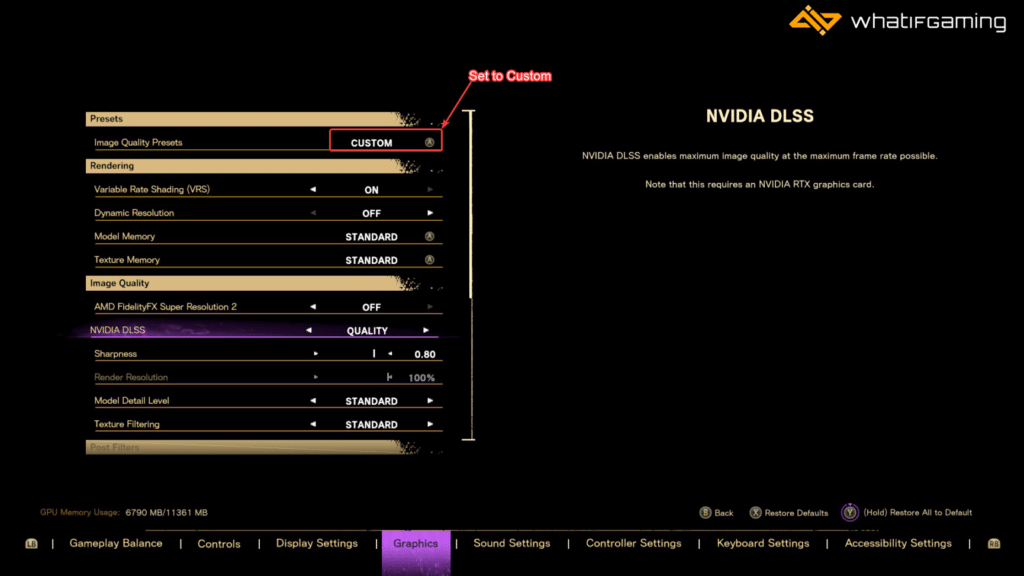 After setting it to Custom, NVIDIA DLSS and AMD FSR 2.0 will be unlocked under Image Quality. You can also adjust the Sharpness related to both.
In my experience, setting DLSS to Quality increased my framerate quite a bit, and there wasn't a major reduction in image quality either. If you have a supported GPU, I highly recommend trying both DLSS and FSR 2.0 to get better performance.
GPU Drivers
Please ensure you have the latest GPU drivers to get the most out of these features.
If you are running into any crashing issues, make sure to check out my guide for that, and if you can't get your controller to work properly, I have a guide up for that as well.
We hope this guide helped you enable the Forspoken DLSS Setting on your PC. Let us know if you have any questions in the comments below.