The King of Fighters XV is the latest entry in the long-running fighting game franchise from SNK. The last game SNK released in the series came out 6 years ago, and it's nice to see SNK supporting various platforms including PC. Fighting games are fairly active now on PC, and it's nice to see developers finally acknowledge the platform. While the port itself doesn't have performance problems, there are some technical limitations holding it back. If you want to enable the King of Fighters XV Vsync option, here is how you can easily do that.
Currently, the game has Very Positive reviews from Steam users, and thousands of players are in-game. Despite the minor issues, players seem to be satisfied with the latest entry, and what it adds to the series. There are some new characters as well, and the roster at the moment is pretty big too.
Enable the King of Fighters XV Vsync option
Multiple users have reported that they are running into issues with screen tearing in-game. This is a common issue in games that don't have the option to turn on Vsync. This can be minimized by using third-party software like RivaTuner, but if you want to simply enable Vsync, here is how you can do that by editing the configuration file.
Open Windows Run by either pressing Windows + R keys together, or by searching for it in Windows Search
Enter the following address, and press OK
%LOCALAPPDATA%\KOFXV\Saved\Config\WindowsNoEditor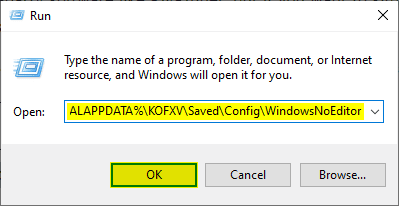 Here, open the gameusersettings.ini file using a text editor like Notepad or Notepad++
In this file, edit search for the following variable (Ctrl+F), and change its value to true, as shown below
Original
bUseVSync=false
Edited
bUseVSync=true
Now, save the file (Ctrl+S), and exit out
The next time you launch the game, vsync will be enabled, and you won't run into any screen tearing again. If you want to disable the setting again, simply change the variable from true to false again.
We hope that the developers add this fairly basic option in-game so that players don't have to edit configuration files to enable it. If you are looking to improve your performance as well, make sure to check out our guide that explains how you can enable the DirectX 11 mode.
We hope this guide was helpful, and you were able to enable the King of Fighters XV Vsync option. Share your thoughts, and questions in the comments below.