Nier Replicant is a remaster of the original Nier that came out in Japan only. It features a different protagonist than the one playable in the western release and other changes. The remaster has been something PC players have been asking for years now, and Square Enix finally delivered. Sadly, similar to Nier Automata, the PC port isn't that great. It lacks a lot of features you would expect from a modern title and has a bunch of technical issues. If you want to fix the Nier Replicant Ultrawide issues on PC, here is how you can do that.
We have previously covered other issues of the game, including stuttering problems with the controller, and the FPS issue as well. Nier Automata hasn't been patched in years, and we hope Replicant doesn't share the same fate. This is incredibly disappointing on Square Enix's end because a lot of their titles are usually optimized well for PC, but both Nier games have mediocre ports.
Fixing the Nier Replicant Ultrawide Issues
Nier Replicant is another modern PC title that sadly doesn't have ultrawide support. This is frustrating for users, as a lot of PC gamers are moving to ultrawide setups, to get the most out of their hardware. You can still fix this by manually editing the executable using a hex editor. Follow the steps below to do so.
Download and install HxD
First, you need to download and install the HexEditor
Locating the executable
Open Steam
Right-click on Nier Replicant in your library, and then Manage, and finally Browse local files
This will take you to the location, and you can locate the executable here
It is called NieR Replicant ver.1.22474487139.exe
Launch and use HxD
Now, launch HxD
Simply drag the NieR Replicant ver.1.22474487139.exe into the application, and a bunch of hex values will show up
Press CTRL+R, and then select Hex-Values
After this click on Search Direction "All"
For this guide, we will be targeting 2560×1080. You can view the hex values for other popular resolutions below.

CD CC CC 3F for 1440×900
00 00 A0 3F for 1280×1024
26 B4 17 40 for 2560×1080
8E E3 18 40 for 3440×1440
39 8E 63 40 for 3840×1080
9A 99 19 40 for 3840×1600
00 00 A0 3F for 4120×1024
39 8E 63 40 for 5160×1440
AE 47 A1 40 for 5292×1050
AB AA AA 40 for 7680×1440
In the search Window, you want to enter 39 8E E3 3F and replace it with 26 B4 17 40 for 2560×1080
Click on Replace All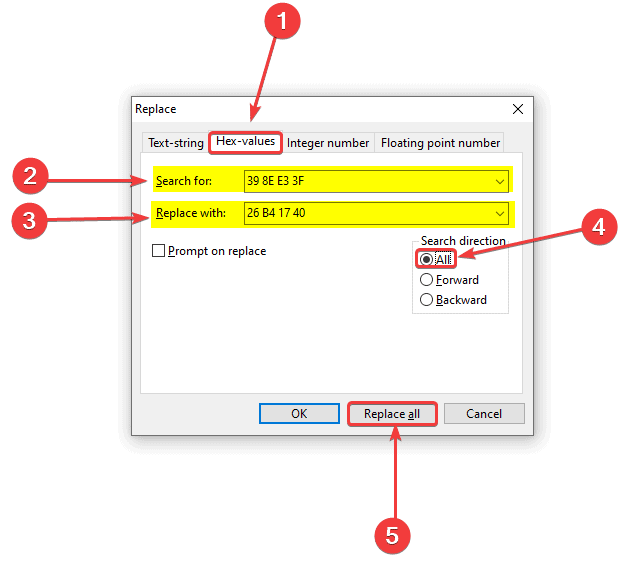 Remove Black Bars
Moving on, press Ctrl + F to bring up the Search Window, and click on the Hex-values tab
Set Search Direction to All, and then click Search All
Here, enter the 00 00 10 41 00 00 50 41 00 00 80 41 00 00 00 00, as shown below
Press OK, and this will take you to where the value is in all the hex-values

Now, you want to replace the 80 41 part with either of the values below, depending on your aspect ratio
AC 41 for 21:9
00 42 for 32:9
40 42 for 48:9
Simply, copy the value, for example AC 41, and highlight 80 41 in the result

Right-click and select Paste insert, as shown below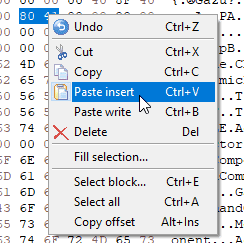 It will update to the one you paste, as shown below

That's it! Save (Ctrl + S) the file and exit out.
We hope this guide was helpful. If you have any questions, feel free to ask them in the comments below.