AEW Fight Forever is the first proper AEW licensed wrestling title from Yuke's and THQ Nordic. The title is out now on PC and a variety of consoles, and we had a lot of fun with it. The PC version runs great for the most part, but there are a few technical problems that players have reported. If you are running into the AEW Fight Forever fatal error, here is how you can fix that.
Disable Monitoring Tools' Overlay (MSI Afterburner, RTSS)
If you have something like MSI Afterburner or RTSS Rivatuner Statistics Server running to monitor performance, then it is recommended to disable the overlay. For some reason, the game has stability issues with performance monitoring overlays. You don't need to fully close it from the background, but at least turn the overlay off.

For most players, this will fix the problem entirely, and you'll be able to play the AEW Fight Forever normally, without the fatal error.
If this didn't fix it for you though, here are a couple of additional suggestions.
Verify Game Files
It's always a good idea to make sure your game files are in order, and the easiest way to do that is by letting Steam scan through them. This is done through the client itself and allows Steam to redownload and install any potentially broken or missing files.
Open Steam and navigate to your library
Right-click on AEW: Fight Forever in your library
Click Properties
Select the Installed Files tab
Click on Verify Integrity of game files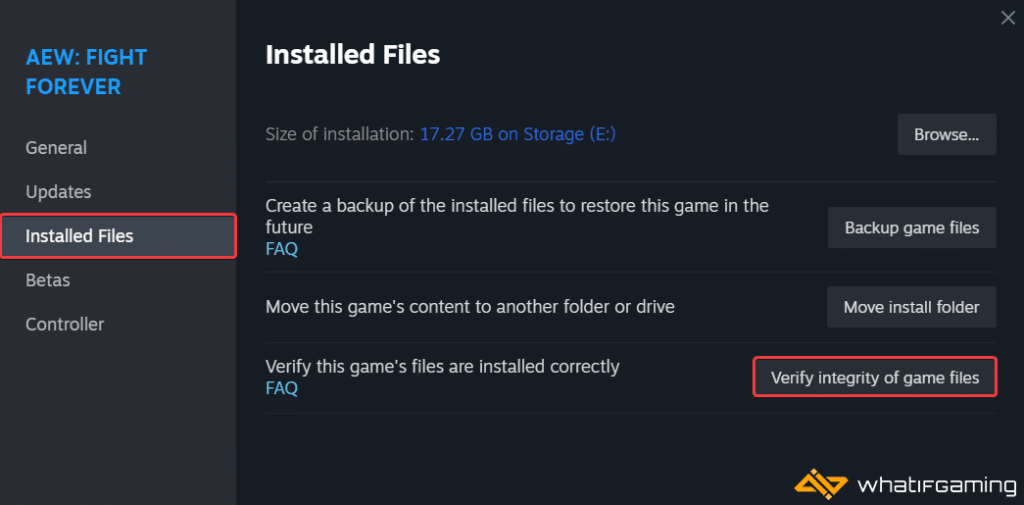 Update GPU Drivers
Even though the game isn't that demanding, I still recommend updating your GPU drivers, especially if you haven't in a while.
You can get the latest ones from the links below.
We hope this guide helped fix the AEW Fight Forever Fatal Error on PC. Let us know if you have any questions in the comments below.