Battlefield 2042 is the latest entry in the first-person shooter franchise from Electronic Arts and DICE. This is one of the rare years where we are getting a Call of Duty, Battlefield, and Halo title weeks apart from launch. There is a lot of variety for players to choose from, and it's never been a better time to get into these multiplayer shooters. Battlefield 2042's reception has been positive for the most part, but the PC version has some technical problems. Players running into the Battlefield 2042 DirectX Error, you can try the following suggestions to improve their experience.
Currently, the game isn't out yet officially, but early access is available for EA Play members, as well as players that pre-ordered the Gold or Ultimate edition. It's still unclear how the players are receiving it, but it doesn't seem to be too positive when it comes to performance.
Fixing the Battlefield 2042 DirectX Error
Multiple users have reported that they are running into a crash during gameplay, with an error mentioning DirectX. These complaints are more common for users with AMD GPUs based on Steam forums. To fix these crashes, the following suggestions are recommended.
Update your Windows
Multiple users have confirmed that updating Windows fixed this issue for them. To simply do this, follow the steps below.
In Windows Search type "Update", and click on Check for Updates
This will take you to the Windows Update section, and you can make sure you are on the latest version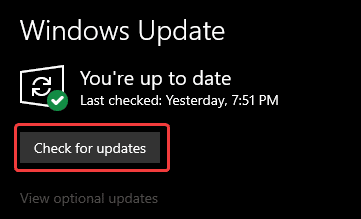 Restart your PC to ensure the updates are installed.
Turn off Future Frames Rendering
In your Battlefield 2042 display settings under Advanced, turn off the Future Frames Rendering option. A few users have noted that disabling this option fixes the DirectX error as well.
Manually update your GPU Drivers
Ensure that you are on the latest drivers of your GPU which add support for Battlefield 2042. You can get the latest ones from the links below.
Update DirectX and Visual C++ Redistributables
Ensure that both DirectX and Visual C++ Redistributables are on the latest version.
We hope this guide helped fix your Battlefield 2042 DirectX error. Let us know if you have any questions in the comments below.