Call of Duty Vanguard is out now on PC and multiple consoles. The title is the latest entry in the long-running first-person shooter Call of Duty franchise from Activision. This entry has been developed by Sledgehammer Games, who have already dipped their toes into the World War II setting for the franchise. The reception has been positive overall, and while the game runs great across all systems, there are some bugs and technical issues. If you are running into the Call of Duty Vanguard Dev Error 5573, here are a few things you can try.
PC players can only purchase the game through Activision-Blizzard's client, Battle net. This makes it harder for players to express their problems without traditional forums as Steam provides.
Fixing the Call of Duty Vanguard Dev Error 5573
If you are a Call of Duty Warzone player, you might have already run into this error. There are solutions available online for it, and it usually happens only on PC. However, the new title also shows this, and not just on PC, but both Xbox and PS consoles as well. Thankfully, there are a few things you can try to fix this problem.
Switch to Base Skins for your Operator
Now, until Activision fixes this problem, it is recommended that you switch to base outfits/costumes for your operator. This is a weird solution, but it has been working for everyone that has tried it. If you already have the base outfits, look at the Emblem, and Calling Cards, and make sure those are set to Base as well.
These options are available in the Customize menu of the Operator. We have verified that this has worked for both Xbox, and PS users.
We'd like to thank Reddit user u/J_x_I for providing this solution on the subreddit.
Repair Game files (PC Users)
During the Download and Installation, it is possible that some files might get corrupted. To ensure everything is in order.
Open Battle net
Select Call of Duty Vanguard
Here, next to the Play button, select the Gear icon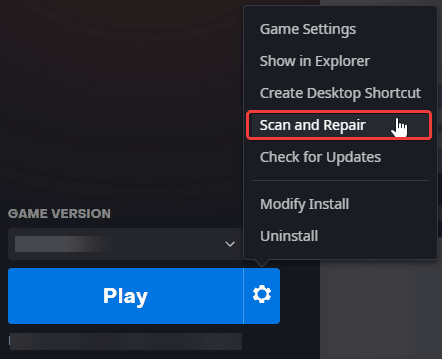 Select the Scan and Repair option
After the process is complete, the client will download any missing or corrupted files.
Manually update your GPU Drivers (PC Users)
Ensure that you are on the latest drivers of your GPU which add support for Call of Duty Vanguard. You can get the latest ones from the links below.
Update DirectX and Visual C++ Redistributables (PC Users)
Ensure that both DirectX and Visual C++ Redistributables are on the latest version.
To learn more about Call of Duty, make sure your read about its cross play capabilities.
We hope this guide helped fix the Call of Duty Vanguard Dev Error 5573 issue. Let us know if you have any questions in the comments below.