Romero Games, the game studio founded by gaming legend John Romero, has released Empire of Sin with Paradox Interactive. This is a highly anticipated strategy game where you manage multiple mobs during the prohibition era. It is available on multiple platforms including PC, Nintendo Switch, and Xbox One. Some PC users have reported that they are running into the Empire of Sin infinite loading problem. Here is how you can fix it.
The game has launched with mixed reviews, with a Metacritic score of 67, and a mixed rating from Steam users. Paradox Interactive strategy games generally tend to do well on Steam, and this will most likely catch up as well.
Fixing the Empire of Sin infinite loading problem
This is one of the more common issues players are facing, whereupon launching the game it hangs indefinitely on the first loading screen. The developers are aware of this and are working on an update to address it. For now, you can follow the fixes below and get the game running properly.
Download the Visual Studio 2017 Redistributable
The developers have weighed in and provided the following solution for now
Head over to the following link, and it will initiate a download for the Visual Studio 2017 Redistributable
After the download is complete, simply run the file
This will initiate the installation
Update your GPU Drivers
Ensure that your GPU drivers are updated to the latest ones. These not only add support for new games but improve performance across the board in most cases as well. You can download these at the links below.
Update your Windows
The last thing you can do is make sure your Windows doesn't have any pending updates. You don't necessarily have to be on the latest build version, but ensure all essential updates are installed regularly. To update your Windows, follow the steps below.
Open Windows Settings
Navigate to Update and Security
Here, under Windows Update, you will see the status of your updates
Click on "Check for Updates" to refresh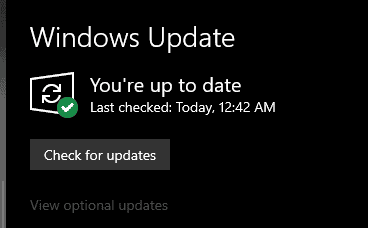 After following these, Empire of Sin should start working normally and get past the infinite loading screen.
We hope this guide was helpful, and you aren't facing the problem anymore. If you have any questions, please ask away in the comments below.