Endling: Extinction is Forever is a survival adventure game from Herobeat Studios and HandyGames. This is a pretty emotional title, and players take on the role of the last mother fox on Earth who has to take care of her cubs in an incredibly hostile world. The title runs well on PC, and there aren't any technical issues apart from the usual minor bugs. It is missing a few options for PC users though. If you want to fix the Endling Extinction is Forever Ultrawide issues, here is how you can do that.
Fixing the Endling Extinction is Forever Ultrawide issues
Currently, the ultrawide implementation in Endling isn't ideal. There are issues with the field of view at 21:9 and wider resolutions. Thankfully, Rose from the widescreen gaming community has created a fix that
Head over to the following Github link
Scroll down a bit, and download the latest zip of the patch under Assets by clicking. As of writing, it is version 1.0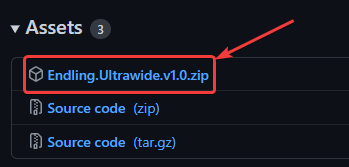 This will download the zip file which you need to extract using Winrar or 7zip
Extract the file into the following location inside the game's directory
\Endling\Binaries\Win64\
This is all you need to do, and the next time you launch the game, the field of view will be correctly displayed.
Screenshots
This is how the game looks after the patch has been applied.

All credits for the fix to go Rose, and you can consider supporting them at Patreon or BuyMeCoffee.
If you wish to remove this patch, you can simply delete the files from the folder itself. There are a total of 3 files, one of which is a ReadMe. After deleting those, the game will revert to its original state.
We recommend checking the Github page for more updates, and see if there are even more improvements in any latest version. For now though, this is the best way to play it.
Check out our other ultrawide guides for recent releases like Tunic, Dying Light 2, and God of War.
We hope this guide was helpful, and that you were able to fix the Endling Extinction is Forever Ultrawide issues on PC. Let us know if you have any questions in the comments below.