Far Cry 6 is the latest entry in the first-person open-world series from Ubisoft. It features a new location and cast of characters taking players to the island of Yara. The open world is huge, the action is plenty, and in typical Far Cry fashion, there is a lot to do. The title is out on multiple platforms, including PC via Ubisoft Store, and the Epic Games Store. While the game runs well, for the most part, there are some technical missteps. If you want to fix the Far Cry 6 FOV issue on PC, here is how you can do that.
Ubisoft hasn't been releasing their titles on Steam, and it's most likely due to the 30% cut Steam takes from each sale. Maybe they will consider going back to the store in the future, but for now, PC gamers have to either buy the title from Epic or directly through Ubisoft.
Fixing the Far Cry 6 FOV Issue
In Far Cry 6, no matter what FOV value you set it to, the game goes back to the default value when you are in a vehicle, on a horse, or are swimming. This can create a pretty jarring effect, and the FOV doesn't feel consistent at all.
Thankfully, Reddit users /u/killer-m & /u/Wintermance have come up with a fix that completely removes the issue, and ensures a consistent FOV is maintained.
Download and install HxD
First, you need to download and install the HexEditor
Fixing the FOV using HxD
Now, launch HxD
Press Ctrl+O to bring up the file browser
Head over to the following location where Far Cry 6 is installed
Far Cry 6\bin\
Here, select the FC_m64d3d12.dll file
Once opened in HxD, you will see a bunch of values
Press CTRL+R, and then select the Hex-Values tab
After this click on Search Direction "All"
In the Search for section, enter 84 D2 74 19 F3 0F 10 05
In the Replace with section, enter 84 D2 74 00 F3 0F 10 05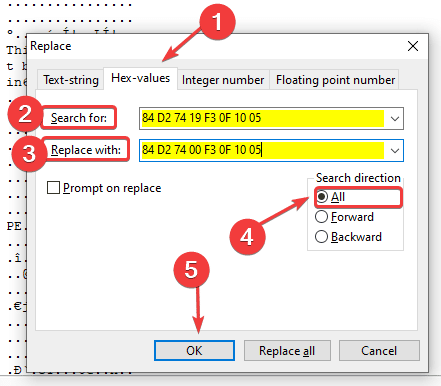 Press OK
Save the file by pressing Ctrl+S, and exit out of HxD
Launch the game
After you launch the game again, you will notice how the FOV remains maintained throughout gameplay no matter what you do. It is possible that you might have to re-do these steps if there is an update, but usually, that isn't the case.
We hope developers deploy a fix for this, as console players have to face the same problem.
If you are playing other recent PC titles, make sure to check out our guide to fix the controller issues in Nickelodeon All-Star Brawl.
We hope this guide was helpful, and you were able to fix the Far Cry 6 FOV issue on PC. If you have any questions, feel free to ask them in the comments below.