One of the biggest titles from last year, is Genshin Impact, which came out last September on PC, PS4, PS5, and mobile devices. Its success has carried over to 2021, and there seems to be no indication of it winding down anytime soon. The latest 1.4 update was announced a few days, and it will bring a lot of new features, and characters. The game made around $800 million last year, and the studio has over 2400 employees as of 2021. Despite the constant stream of content though, Genshin Impact still has a lot of technical problems that users face. These are mostly tied to network issues, though, and it can be hard to pinpoint what exactly is causing it. If you are getting Genshin Impact 403 Network Busy error, here is how you can fix that.
We have extensively covered Genshin Impact, and the various errors users can face in-game. These could be the "Game Verification" one of the more recent "Network Return" error. Most of these errors show up on PC anyway, as that is the platform with the highest level of customization.
Fixing the Genshin Impact 403 Network Busy Error
This is another common network error that is mostly related to issues with DNS. Multiple ISPs have also blocked access to Genshin Impact in North America, and that can be very annoying. For now, though, you can try the following methods to fix it in the meantime. This error isn't exclusive to PC and can show up on Android as well.
Download the DNS Resolver Application
Follow the steps below
Head over to the following link and download the DNS Resolver application
After it is downloaded, install it using the executable
Open the DNS Resolver, and click on the Settings icon at the bottom right
Here, select 1.1.1.1 with WARP and 1.1.1.1
See which of the two settings (1.1.1.1 or 1.1.1.1 with WARP) work for you
If you are on a mobile device, you can download DNS Resolver from the following links
Manually set up DNS
If that didn't work for you, you can manually set up your DNS settings as well. We recommend Google DNS, as it has been most successful with Genshin Impact. To set it up, follow the steps below.
In Windows Search, type in Settings
Here, click on Network and Internet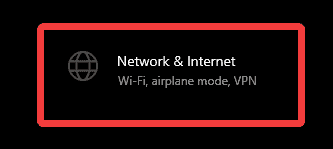 Now, in the Status section, click on Change adapter options under Advanced network settings
Next, right-click on the available Network, and select Properties
Now, select Internet Protocol Version 4 or Internet Protocol Version 6 in the Networking tab, and click on Properties
After this, in the new window, check Use the following DNS server addresses, and enter the following values
For IPv4: 8.8.8.8 and/or 8.8.4.4.
For IPv6: 2001:4860:4860::8888 and/or 2001:4860:4860::8844
After you are done, simply restart your PC, and launch the game again. If nothing works for you, then you might have to reinstall the game, and we recommend doing that manually using our detailed guide.
We hope this guide was helpful. If you have any questions, feel free to ask them in the comments below.