Genshin Impact has been out for a while and is quite arguably one of the biggest releases of the year. It's availability on multiple platforms, and the free-to-play model has allowed it to earn millions on a daily basis. It is available for gamers on PC, PS4, PS5, and mobile devices including Android and iOS. With the recent 1.2 update out, there are some bugs and technical issues players are running into. If you are running into the Genshin Impact 9910 error code, here is how you can fix that.
Most of these errors are expected with new updates, and for the most part, the solutions aren't that complicated either. For the most part, though, the game runs very well on each platform, and the new update brings a lot of new exciting content.
Fixing the Genshin Impact 9910 Error Code
Plenty of people on forums have been complaining about this issue, and this is what the error prompt looks like.
Now, to fix this, you can follow the steps below.
Head over to where your game is installed, and navigate to the following location
Program Files\Genshin Impact\Genshin Impact Game\
Here, you want to try running the game using the GenshinImpact.exe
For most people, the game started working normally after running it directly through this executable instead of the launcher. However, if you are still running into the same problem, you can additionally try the steps below.
Right-click on GenshinImpact.exe, and select Properties
Now, click on the Compatibility tab, and then check "Run this program as an administrator"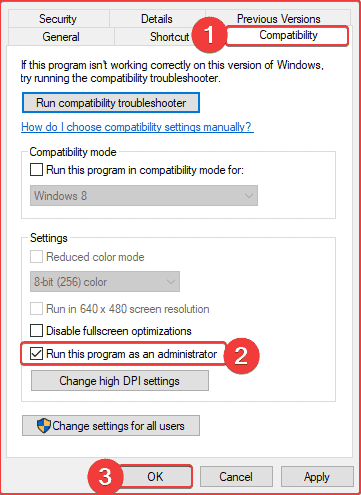 Click OK and relaunch the game
If you are still running into this error, you can try reinstalling the game, but for most people, the above two methods should be more than enough. Make sure the game is updated, and you are on the latest version of your game and GPU drivers.
We hope this guide was helpful. If you any questions, feel free to ask them in the comments below.