Genshin Impact has become a phenomenon in not only the gacha genre but gaming as a whole. It has brought many people from the west to explore these types of games and continues to make millions on a daily basis. This is because of its approachable gameplay, mechanics, and similarity between titles like Breath of the Wild. Despite the massive success and low requirements, however, the game does have some technical problems. Players have to jump through multiple hoops at times to get the game running properly, and it can be a bit frustrating. If you are running into the Genshin Impact Network Return error, here is how you can fix that.
Once the game starts running though, there's not a lot to complain about. The performance is solid, and there aren't many bugs either. Most players usually run into issues with updating the game, and we recommend a manual update in that case.
Fixing the Genshin Impact Network Return Error
This is a common network error that players can run into. This isn't something to worry about however, as it usually requires a few troubleshooting steps one has to take. To fix this, try the following methods.
Check if your VPN isn't blocking the game
First off, if you are using a VPN to play the game, please try checking in its setting if Genshin Impact has been blocked. This is a common occurrence, and sometimes the VPN can consider Genshin Impact as a false negative. Each VPN has different ways to handle this, so it's best you check out the FAQ of the VPN you are using.
Download the DNS Resolver Application
Follow the steps below
Download and install the DNS Resolver application
Open the application, and click on the Settings icon
Here, select 1.1.1.1 with WARP and 1.1.1.1
See which of the settings work for you
Add an exception to the firewall
First, click on the Start button in Windows, and search for "Allow an app through windows firewall"
Click the "Change Settings" button

After this, click the "Allow another app" button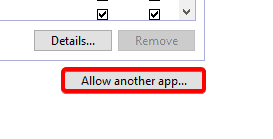 Click "Browse"
Find and select the launcher.exe file in the following location
C:\Program Files\Genshin Impact\ (or wherever you have Genshin Impact installed)
Click "Add"
Repeat this for the GenshinImpact.exe, which is usually in the following location
C:\Program Files\Genshin Impact\Genshin Impact Game\ (or wherever you have Genshin Impact installed)
Restart launcher and try again
If the game still doesn't work, you can try restarting your modem device, or contact your ISP. This is definitely a network error and is related to your VPN, proxy, and host files.
We hope this guide was helpful. If you have any questions, feel free to ask them in the comments below.