Gotham Knights is an open-world action-adventure game from WB Games Montreal and Warner Bros. Interactive Entertainment. The title is out on PC and current-gen consoles, but the launch hasn't exactly been smooth, with performance issues across all platforms. The PC version doesn't provide enough settings, and the support is also limited. If you want to fix the Gotham Knights Ultrawide black bars issue, here is how you can do that.
Fixing the Gotham Knights Ultrawide black bars issue
Gotham Knights technically supports ultrawide resolutions, but the implementation is imperfect. While everything looks fine during gameplay, you'll get the usual black bars at the sides during cutscenes. If you've followed our guides before, you'll know that this is a trend among many modern PC releases and something that can be quite distracting.
Thankfully, Rose from the widescreen community have already released a fix for the problem. Here is how you can install the patch.
Head over to the following Github link
Scroll down a bit, and download the latest zip of the patch (191 KB) under Assets by clicking. As of writing, it is version 1.0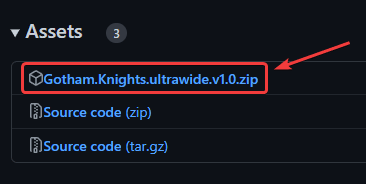 This will download the zip file, which you need to extract using a compression tool like Winrar or 7zip
Extract the file into the game's directory next to the Shipping executable (where you have installed it)
\Mercury\Binaries\Win64\
This is all you need to do, and the next time you launch the game, it will run perfectly without the annoying black bars while maintaining the correct field of view.
Check out the screenshot below to see how the game looks without the black bars.
All credits for the fix go to Rose, and you can consider supporting them at Patreon or BuyMeACoffee. They've tested this patch at 2560×1080, 3440×1440, 3840×1080, 5120×1440 and 5760×1080.
Check out our other ultrawide guides for recent releases like Scorn, Uncharted Legacy of Thieves Collection, and Return to Monkey Island.
Gotham Knights isn't exactly in an ideal state at the moment. Even on higher-end PCs, players can't maintain a steady framerate. Tay-tracing support is lackluster with how poorly optimized it is. It's also locked at 30 FPS on Xbox Series X and PS5, which, again, isn't something we're used to seeing anymore.
We hope this guide was helpful and that you were able to fix the Gotham Knights Ultrawide issues on your PC. Let us know if you have any questions in the comments below.