Guardians of the Galaxy is an action-adventure game from Eidos Montreal and Square Enix. The game is based on the comic book characters, that the MCU recently adapted for multiple films as well. This entry, however, has its own take on the characters, the world, and lore. The title is available on multiple platforms including PC via Steam. The release isn't perfect though, and there are some technical issues holding it back. If you are running into any kind of Guardians of the Galaxy Controller issue, here is how you can fix that.
The game just launched on PC, and we'll get impressions as the day progresses. Based on the reviews, the game does have its fair share of bugs, and technical issues might be present, so we will have to see how it fares, and what patches the developers have planned.
Fixing the Guardians of the Galaxy controller issue
Now, Steam has a pretty robust controller system that detects everything and allows you to configure as you go. However, developers have to ensure that their game is working fine with Steam Input, and it is enabled. In the case of Guardians of the Galaxy, multiple users have reported that they're getting incorrect button prompts for the controller they have plugged in.
To fix this, follow the steps below.
Open Steam, and then your library
Here, right-click on Marvel's Guardians of the Galaxy
Select Properties

Here, click on the CONTROLLER section
Under override, select Enable Steam Input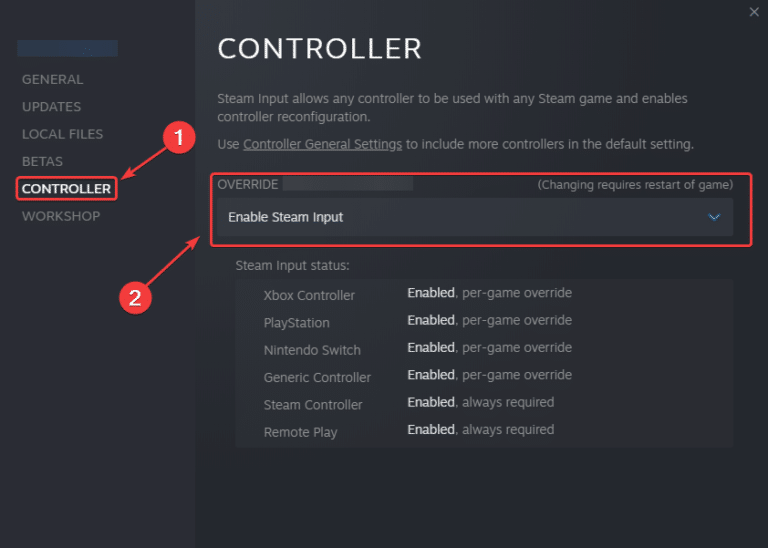 After you are done, launch the game again, and the issue will be fixed. Multiple users have reported that this fix has worked for them, and it should work for most controllers. Steam supports all sorts of controllers whether Xbox, PlayStation, or Nintendo Switch Pro Controller.
Hopefully, the developers can patch this up, so players don't have to do the extra work to get the proper button prompts for the controllers they have plugged in.
While you're here though, make sure to check out our guides to fix controller issues in both Tails of Iron, and Nickelodeon All-Star Brawl as well.
We hope this guide helped fix the Guardians of the Galaxy controller issue. Let us know if you have any questions in the comments below.