Guilty Gear Strive is one of the best entries in the long-running fighting game franchise from Arc System Works. It features high-quality stylized visuals, with some of the best animations in the industry. Announced back in 2019, Guilty Gear Strive is now out on consoles, and PC via Steam. The PC release has been met with a lot of praise, especially because it supports a rollback netcode, unlike many other fighting game titles. You can further improve how the game looks by the Guilty Gear Strive Blurry Visuals issue.
Steam users are happy with the title, and it has a 'Very Positive' rating right now. The game also had an all-time peak of over 30K players according to Steam Charts, which is quite an achievement for a fighting game on PC. Arc System Works has been releasing their titles on PC for some time now, and it's great to see their games do well.
Fixing the Guilty Gear Strive Blurry Visuals issue
This isn't a very common problem, and most users that have set their graphics settings to max probably won't notice it too. For users that feel that their game looks a bit off, meaning there's blur, or a bloomy effect, they can follow the steps below to improve how it looks.
First, launch Guilty Gear Strive
Open the Display Settings, and you will see a bunch of options here
Here are our recommendations to make the game look much better, and remove any blurry/bloomy visuals
Set the value of Effect Quality to Best
This is the most important part, and you will definitely see an improvement in how the game looks, after changing the value. If you can, try going for MSAA, which is a bit costly when it comes to performance, but absolutely worth it for better visuals.
Turn off Motion Blur. This is pretty self-explanatory, but at times players tend to ignore it.


Optional: Increase Resolution Scale through configuration files
This is an optional method and will run the game at a higher internal resolution than the one you have set it to. Normally this is called the "Resolution Scale" in a lot of modern titles, but since the game doesn't have this in its option, we will have to edit a configuration file.
Note: This will be demanding, and can lower your performance quite a bit if you don't have the hardware for it.
Open Windows Run by either pressing the Windows key + R together or by searching for it in Windows Search
Now, enter the following location
%LOCALAPPDATA%\GGST\Saved\Config\WindowsNoEditor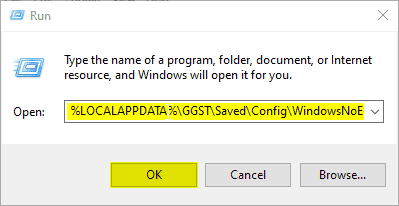 Press Ok
Here, open the GameUserSettings.ini file using a text editor, like Notepad
Here, change the value of sg.ResolutionQuality from 100, to something like 130, or 150
Save the file and exit
While you are here, make sure you check out our guide for No More Heroes as well, which fixes all sorts of controller issues.
We hope this guide was helpful. If you have any questions, feel free to ask them in the comments below.