Halo Infinite is the latest entry in the iconic first-person franchise from 343 Industries and Xbox Game Studios. The game was delayed for more than a year and had troubled development, but despite the odds against it, the game has managed to impress critics, and fans alike. The game is fairly demanding too, but dynamic resolution goes a long way to ensure smooth gameplay for a variety of systems. While the game doesn't have a lot of technical issues, and it's a fairly sound PC release, some users have still reported some problems. If you are running into the Halo Infinite crash at launch issue, here are a few things you can try to fix that.
This guide won't be too different from our guide for the multiplayer competent. For most users, the required prerequisites should help out, and ensure a smooth launch.
Fixing the Halo Infinite crash at launch issue
Multiple users have reported on Steam that they are running into a crash while trying to launch the game. Unfortunately, the launch yesterday wasn't as smooth, and servers were under a lot of load. Since Halo Infinite is on Xbox Game Pass as well, that meant tons of subscribers were downloading it.
Verify Game Files (Steam)
If you are on Steam, you can verify your game files. During the download and installation process, many network and disk issues can corrupt existing files. This can lead to crashes both during gameplay, or at startup.
Open Steam, and navigate to your library
Right-click on Halo Infinite in your library, and click Properties
Now, in the LOCAL FILES tab, select Verify Integrity of local files…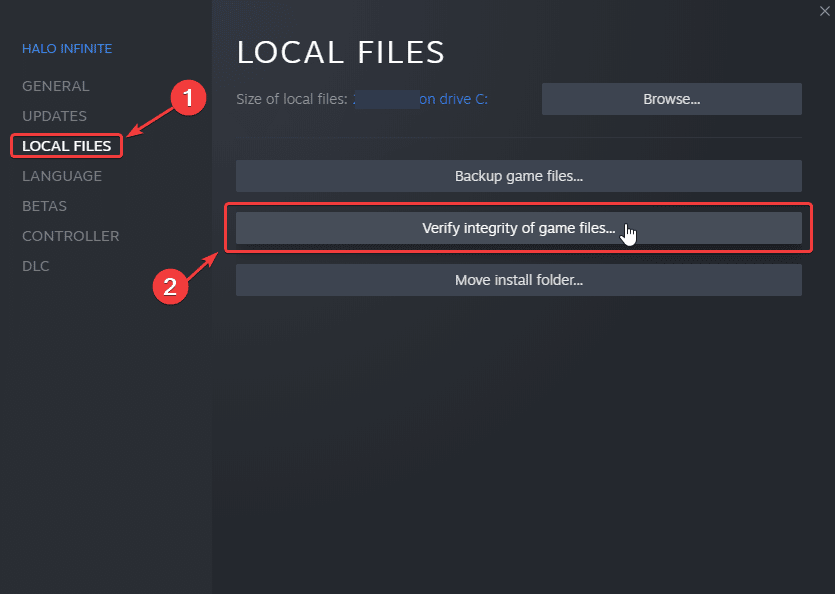 Manually update your GPU Drivers
Ensure that you are on the latest drivers of your GPU which add support for Halo Infinite Multiplayer. You can get the latest ones from the links below.
Run the game as an admin (Steam)
There is a small chance that Windows' permissions might be interfering with the game. To fix that,
Open Steam and then your library
Here, right-click on Halo Infinite
Click Manage
Then select Browse local files
This will take you to the location Halo Infinite is installed in
Right-click on HaloInfinite.exe and select Properties
Click the Compatibility tab
Check "Run this program as an administrator"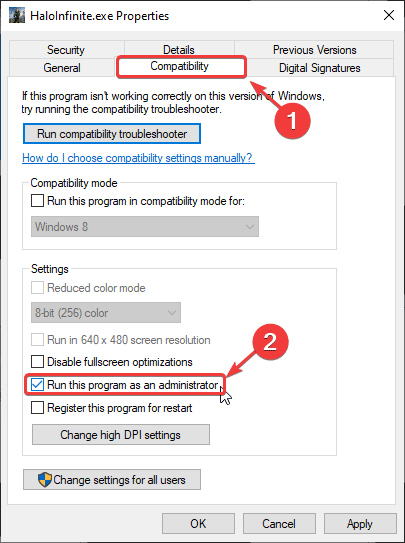 Update the Game Pass application
Open Windows Store
Here, click the Library icon at the bottom left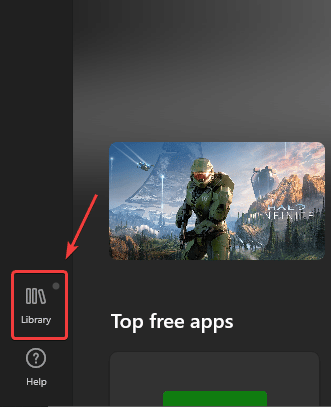 Now, in the list of applications, click on Update next to the Xbox

Reinstall the game (Xbox App)
Unfortunately, the Xbox application on PC doesn't allow users to verify files. The application isn't as feature-rich as Steam, meaning users might need to reinstall the game if none of the above methods worked.
Now, many users are complaining about performance issues on some GPUs, and hopefully, future updates can improve optimization. For now, we highly recommend checking out the dynamic resolution feature. You can try setting the minimum and maximum framerate according to your monitor's refresh rate.
We hope this guide helped fix the Halo Infinite crash at launch issue. Let us know if you have any questions in the comments below.