Hellblade Senua's Sacrifice is an action-adventure game from Ninja Theory and originally came out back in 2017. It was released on PC, and PS4 at launch, but made its way to other platforms, including the Nintendo Switch over the past few years. Ninja Theory announced an update for PC sometime back, which was supposed to enhance it further, with features like ray-tracing. Now that update is out, but it isn't perfect. If you want to fix the Hellblade Senua's Sacrifice Ultrawide issues, here is how you can do that.
The update also adds NVIDIA's DLSS support, as well as AMD'S FSR. Both these techniques will allow users to improve their performance with minimum quality loss. Hellblade is a gorgeous game, that looks stunning, especially at higher settings.
Fixing the Hellblade Senua's Sacrifice Ultrawide issues
Hellblade does have ultrawide support, but it isn't perfect. If you play at any ultrawide resolution, you will run into issues with the Field of View.
Now, Rose from the Wide Screen Gaming Community has released a tool that can fix that. If you have been following our guides before, you'll see them mentioned multiple times. Their work is really appreciated and fixes a bunch of issues for ultrawide users.
To install the tool, follow the steps below.
Head over to the following link
Select the Hellblade.Senuas.Sacrifice.Enhanced.Ultrawide.zip file

It will start downloading
Now, unpack the file using a compression software like Winrar or 7zip
Launch Hellblade Senua's Sacrifice Enhanced – Ultrawide.exe
If it gives a security warning, simply click on More Info, and select Run anyway
Now, launch the game, and use the commands shown below to adjust the FOV according to your preference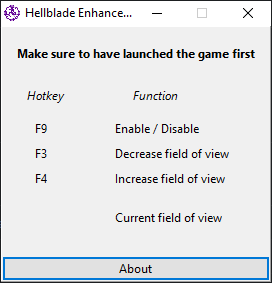 Make sure to enable it with F9.
That's about it, and you can see the results below, in an image shared by the author.


While you're here, make sure to check out our ultrawide guide for Guardians of the Galaxy too, which came out recently.
We hope this guide was helpful, and you were able to fix the Hellblade Senua's Sacrifice Ultrawide issues. If you have any questions, feel free to ask them in the comments below.