Hello Neighbor 2 is a stealth horror game from Eerie Guest and tinyBuild. After quite some time, the game is finally available after the 5 day early access period. Just like the original title, Hello Neighbor 2 features tons of gameplay variety and intelligent AI that you need to outsmart. Players can explore an entire town and interact with different residents as well. While the PC version runs fine, there are still some options missing. If you want to fix the Hello Neighbor 2 Ultrawide issue, remove black bars, and fix the FOV, here is how you can do that.
Fixing the Hello Neighbor 2 Ultrawide Issue
Hello Neighbor 2 doesn't have proper ultrawide support. This means that you'll get black bars in cutscenes, and the field of view will not be adjusted properly if you play at ultrawide resolutions. Thankfully, Rose from the widescreen community have already released a fix for the problem.
Here is how you can install the patch.
Head over to the following GitHub link
Scroll down a bit, and download the latest zip of the patch (192 KB) under Assets by clicking. As of writing, it is version 1.0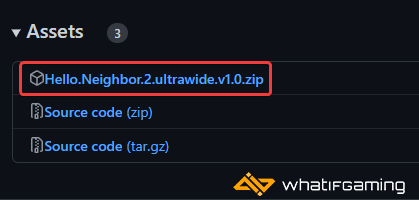 This will download the zip file, which you need to extract using a compression tool like Winrar or 7zip
Extract the file into the game's directory in the following locations
Steam
\HelloNeighbor2\Binaries\Win64\
Microsoft Store (Game Pass for PC)
\Content\HelloNeighbor2\Binaries\WinGDK\
Please ensure that you are playing, and set the Window Mode to Borderless for proper scaling
That's all you need to do, and the next time you launch the game, it won't have any black screens, and the FOV will be correct as well. Here is a screenshot showcasing the patch in action.


All credits for the fix go to Rose, and you can consider supporting them at Patreon or BuyMeACoffee. They've tested this patch at 2560×1080 and 5120×1440.
Check out our other ultrawide guides for recent releases like The Devil In Me, Uncharted Legacy of Thieves Collection, and Gotham Knights.
We hope this guide was helpful and that you were able to fix the Hello Neighbor 2 Ultrawide issues on your PC. Let us know if you have any questions in the comments below.