Monster Hunter Stories 2 is an action RPG developed and published by CAPCOM. It is the second Monster Hunter title to come out this year, after Rise. Unlike Monster Hunter Rise, Stories 2 is available on multiple platforms including PC, and the Nintendo Switch. The PC port is serviceable for the most part but lacks a lot of modern features one would expect. If you want to fix the Monster Hunter Stories 2 Ultrawide issue, here is how you can do that.
We also have a guide that improves performance and reduces stuttering significantly. If you are running into that, make sure you check out our guide for that as well. The game received positive reviews from critics, and over 18K players are in-game on Steam right now.
Fixing the Monster Hunter Stories 2 Ultrawide issue
The game does not come with either ultrawide or multi-monitor support. This is disappointing because CAPCOM regularly releases their games on PC, and it would be nice if they would add this basic feature, as more and more players move to ultrawide setups.
The current solution for this problem is imperfect. We won't be using hex edits like we normally do, but simply edit the configuration file.
Keep in mind that, while the game will run in ultrawide mode, the UI elements will be misplaced. It might also occasionally show black bars. However, compared to what the game looks like by default, this is still much better.
Follow the steps below to do this.
Head over to where the game is installed. If you want to do this using Steam, here is how you can do that.

Open Steam, and then your library
Right-click on Monster Hunter Stories 2, and then Manage
Select Browse local files next
Here, open the config.ini file using a text editor like Notepad, or Notepad++
Now, under the [DISPLAY], edit the following values

Resolution (to your desired resolution)
Aspect (to your desired aspect ration)

As an example, we are setting the resolution to 3440×1440 and the keeping the aspect ratio at 21:9. It will look like this.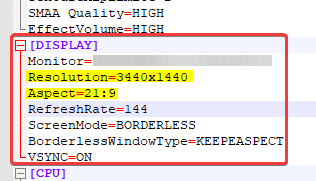 After you are done, save the file, and exit out.
Now, the game will definitely look better, but as we mentioned earlier, there will be some issues with the UI. Until a better solution is found, this is what you will be using. We will update this guide if there is any development by the WideScreenGaming community.
We hope this guide was helpful, and you were able to fix the Monster Hunter Stories 2 Ultrawide issue. If you have any questions, let us know in the comments below.