Neon White is a fast-paced FPS title from Ben Esposito, Angel Matrix, and Annapurna Interactive. The title is out now on PC and the Nintendo Switch. We had a wonderful time with it; you can read our review here. There weren't any technical or performance issues during my playthrough, and the title runs very well too. Though, if you are running into the Neon White crash at launch issue, here are a few things you can do to fix that.
Fixing the Neon White crash at launch issue
In my 12 hours of the playthrough, I didn't run into any technical, or performance issues, but it seems a few users are running into crashing at launch. This is pretty common, and usually indicates something either corrupted or missing on the user's end. Here are a few things you can try.
Verify Game Files
As always, you first need to make sure your files aren't corrupted or missing. It's possible that during the download or installation process, something may have gone wrong, and you're stuck with corrupted or broken game files.
Open Steam, and navigate to your library
Right-click on Neon White in your library, and click Properties
Now, in the LOCAL FILES tab, select Verify Integrity of local files…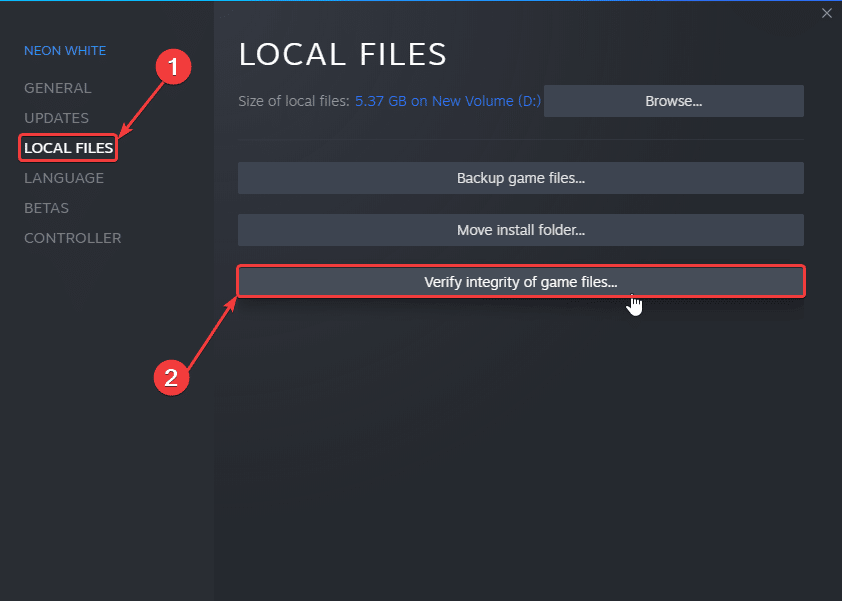 This will initiate a scan, and check all your files.
After the scan is complete, any missing or corrupted files will be downloaded and installed.
Add an exception to your anti-virus
Your anti-virus software might be interfering with the game, and flagging it as a threat. To ensure
We have listed some popular ones and their respective FAQ pages.
Manually update your GPU Drivers
Ensure that your GPU drivers are updated, as this will ensure that you get the most out of your hardware for newer titles.
Update DirectX and Visual C++ Redistributables
Ensure that both DirectX and Visual C++ Redistributables are on the latest version. You can get these from the links below.
We hope this guide helped fix Neon White Crash at launch issue. Let us know if you have any questions in the comments below.