The Pedestrian is a 2.5D side-scrolling puzzle platformer from Skookum Arts. It's a unique platformer that makes use of the 3D space for its presentation, and blends in the 2D movement for the general gameplay while creating an extremely detailed background full of various elements. It's one of the most cleverly presented titles of 2020 and has now made its way to Xbox Game Pass as well. Over the years, the Wide Screen Gaming community has been adding support for various PC titles, and now with the Game Pass release, it's the turn for The Pedestrian. If you want to fix the Pedestrian Ultrawide issues on the PC, here is how you can do that.
Ultrawide monitors are becoming fairly common now, and many PC users enjoy the wide-screen presentation. More and more titles are slowly supporting these resolutions, but in most cases, the PC community has to find different ways to add support. It will still be a while before it becomes a normal and expected feature in PC releases.
Fixing The Pedestrian Ultrawide Issue
By default, The Pedestrian adds black bars to the sides when players use 21:9 and wider resolutions. There are already guides out there to manually fix this using HxD, but Rose from the Wide Screen Gaming Community has released a tool that works for both Steam and the Xbox Game Pass release.
Rose's contributions to the community are immense, and they continue to add support for various new and older titles.
Head over to the following link
Download the The.Pedestrian.Ultrawide.7z file by clicking it

Now, it is possible that Windows will flag this is a virus, but add your downloads folder to the exclusions list. It's completely safe.
After it is downloaded, unzip the file using a compression software like Winrar or 7zip. The password is rose
Launch The Pedestrian – Ultrawide tool that was inside the zip file
If it gives a security warning, simply click on More Info, and select Run anyway
Now, launch the game, and use the commands shown below to enable proper ultrawide support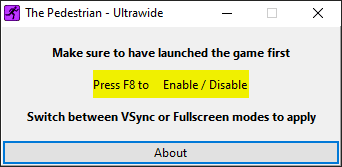 That is all you need to do, and the game will run properly on ultrawide monitors. Here is a screenshot provided by the author.


While you are here, make sure you check out our ultrawide guides for other titles like Demon Slayer, Sam and Max, and Hellblade Senua's Sacrifice.
We hope this guide was helpful, and you were able to fix The Pedestrian Ultrawide issues. If you have any questions, feel free to ask them in the comments below.