Rumbleverse is a free-to-play, 40-person Brawler Royale from Iron Galaxy Studios and Epic Games Publishing. It is available for PC, current, and last-gen consoles as well. Season 1 will start on the 18th, so you can get a feel of the game right now, and practice your moves. This is exclusive to the Epic Games Store on PC, and while it runs well, for the most part, some users have run into technical issues. Here are a few suggestions that can fix the Rumbleverse crash at launch issue.
Fixing the Rumbleverse Crash at launch issue
Some users have reported that they can't seem to get into the game as it crashes when you launch it. It's either immediately, or after the initial screen shows up. In most cases, when a game is crashing like this, it's something on the user's end that's missing or corrupted. Try the following methods to fix that, and get into the game.
Verify Game Files
The first thing you want to do is verify your Rumbleverse game files. At times, during the download or installation process, game files can get corrupted. These files can easily be scanned and verified through the Epic Games Launcher, and we'll explain how.
Open your Library in the launcher
Now, click on the three dots next to your game
Here, select Manage
Click on the Verify button next to Verify Files

This will initiate a scan and will take a bit. The progress will be shown below the game. After it's done, the client will download
Run the Epic Games Launcher as an Administrator
You can try running the Epic Games Launcher as an Administrator which lets you bypass the User Access Control that can prevent certain actions from taking place on your computer.
Right-click your Epic Games Launcher shortcut
Click Run as administrator
Launch Rumbleverse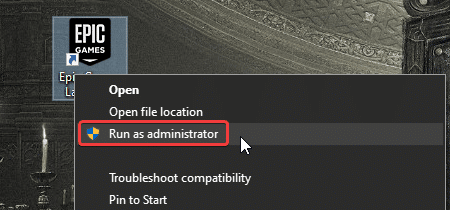 Update DirectX and Visual C++ Redistributables
Ensure that both DirectX and Visual C++ Redistributables are on the latest version.
Update your GPU Drivers
Make sure that you have the latest drivers for your GPU installed. You can get the latest ones from the links below.

Add an exception to your anti-virus
It's possible that your anti-virus software might be flagging Rumbleverse as a threat. It's best to add the game folder to the exclusions or exceptions list.
We have listed some popular ones and their respective FAQ pages.
Update your Windows
Make sure that you are on the latest version of Windows. The developers have recommended this as well.
In Windows Search type "Update", and click on Check for Updates
This will take you to the Windows Update section, and you can make sure you are on the latest version
We recommend checking out the system requirements as well, in case your PC is way under the minimum requirements.
Make sure to follow the Twitter support channel for updates regarding Rumbleverse, server status, errors, and more.
If some other method worked for you, please mention it in the comments below, and we'll add it to the guide and credit you.
We hope this guide helped fix the Rumbleverse crash at launch issue. Let us know if you have any questions in the comments below.