Salt and Sacrifice is a brand new Soulslike developed and published by Ska Studios. This is a sequel to the hit title Salt and Sanctuary which came out back in 2016 and is now out on multiple platforms. Salt and Sacrifice is available on PC via the Epic Games Store, PS4, and PS5. The PC version isn't very demanding and runs well on a wide variety of systems. Though, if you are running into the Salt and Sacrifice Crash at launch issue, here are a few things you can try to fix that.
PC players that want to use the PS4 controller can refer to this guide to get it working.
Fixing the Salt and Sacrifice Crash at launch issue
While in my experience, Salt and Sanctuary ran pretty well with minimal issues, some users have reported that they are running into crashes at launch, or during gameplay. Here are a few things we recommend doing if you are one of those.
Verify Game Files
Epic Games Launcher lets you verify the files of any installed title. This is pretty simple and lets you redownload and install any corrupted or missing files. To do this, follow the steps below.
Open your Library in the launcher
Now, click on the three dots next to your game
Click on the Verify button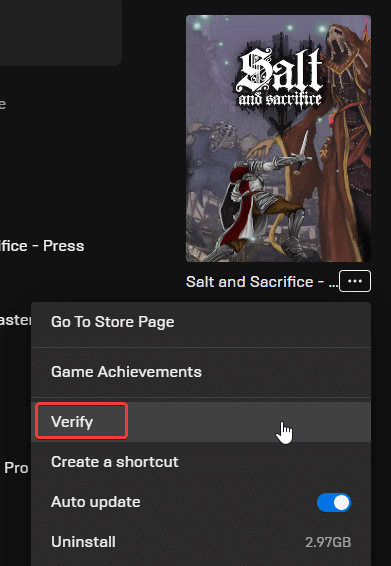 This will start a verification scan, and some files might be downloaded.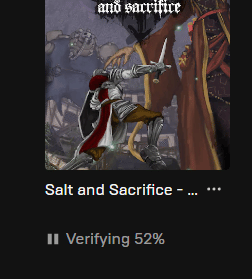 Update DirectX and Visual C++ Redistributables
Ensure that both DirectX and Visual C++ Redistributables are on the latest version.
Manually update your GPU Drivers
Make sure that you have the latest drivers for your GPU installed. You can get the latest ones from the links below.
There isn't a whole lot you can check otherwise. As we mentioned before, the game isn't very demanding and should run on most laptops even. If nothing works, try reinstalling it entirely.
If some method worked for you, please mention it in the comments below, and we'll add it.
We hope this guide helped fix the Salt and Sacrifice crash at launch issue. Let us know if you have any questions in the comments below.