Sonic Frontiers is finally out on PC through Steam and multiple consoles. It's been over five years since the underwhelming launch of Sonic Forces, and it seems that the reception so far for Frontiers is really positive. It's so nice to see a return to form for one of the most iconic gaming franchises of all time. The PC version runs great for the most part, but as usual, some players are facing technical issues. If you're running into the Sonic Frontiers crash at launch issue, here are a few things you can try to fix that.
Fixing the Sonic Frontiers Crash at Launch
Some players have reported that they can't get into the game. Either it crashes at the start, or after a few seconds. This is a common thing with new PC releases, and in most cases, it's something at the user's end. Here are a few things we recommend to address this.
Verify Game Files
As always, you first want to ensure that your files are in order. Anything can go wrong during the download or installation process, and for most users, simply scanning game files and redownloading the missing or corrupted ones will do the job. You can do this by following the steps below.
Open Steam, and navigate to your library
Right-click on Sonic Frontiers in your library
Click Properties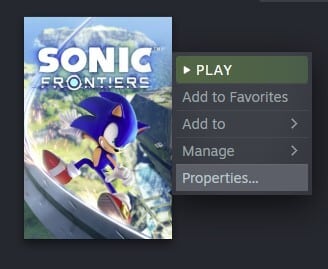 Select the LOCAL FILES tab
Click on Verify Integrity of local files…
Set Graphics Preference to High Performance
For some users, the game seems to crash while they try to adjust the Graphics Settings. This is a bit odd and was also an issue with Sonic Origins. Some users have confirmed that setting the value to Graphics Preference to High in Windows has fixed this though. Here is how you can do that.
Right-click on your Desktop and select Display settings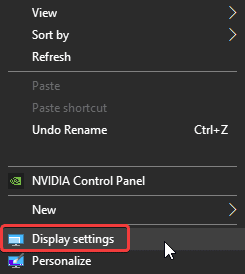 Scroll down to the bottom and select Graphics settings

Now, again, at the bottom, under "Choose and add to set preference", click on Browse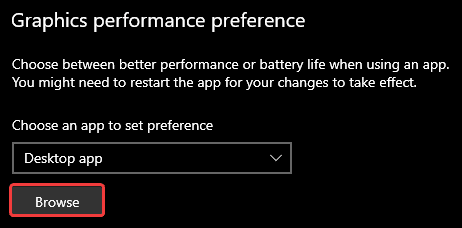 Locate the executable for Sonic Frontiers, and add it
Now, click on Options under the added entry
Here, select High Performance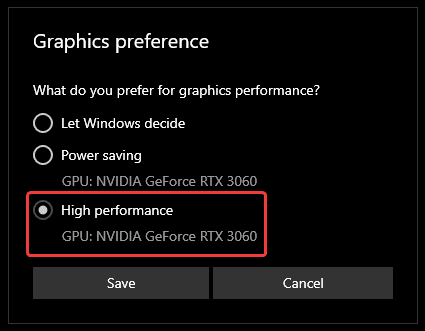 Click Save, and relaunch the game
Update DirectX and Visual C++ Redistributables
Ensure that both DirectX and Visual C++ Redistributables are on the latest version.
Manually Update Your GPU Drivers
Make sure that you have the latest drivers for your GPU installed. You can get the latest ones from the links below.
Switch to Dedicated GPU (Laptop Users)
Ensure that your dedicated GPU is being utilized instead of the integrated one.
Switching to the dedicated Nvidia GPU
First, open the Nvidia Control Panel
Then navigate to 3D Settings and then Manage 3D Settings
Open the tab Program Settings and choose Sonic Frontiers from the dropdown menu
Next, select the preferred graphics processor for this program from the second dropdown.
Your Nvidia GPU should show as a High-performance Nvidia processor
Save the changes
Switching to the dedicated AMD GPU
First, open Radeon Settings
Then navigate to Preferences, followed by Additional Settings
Here, select Power and then Switchable Graphics Application Settings
Select Sonic Frontiers from the list of applications
If Sonic Frontiers isn't on the list, click the Add Application button and select the executable from the installation directory. This adds the game to the list, and you'll be able to select it afterward.
In Graphics Settings, assign the High-Performance profile to the game.
Add an Exception to Your Anti-Virus
It's fairly common for different anti-virus software to flag games as potential threats. This can interfere with the game, and Steam, making the game unresponsive. We recommend adding Sonic Frontier's folder into your anti-virus software's exclusions or exceptions list.
We have listed some popular ones and their respective FAQ pages.
Run the Game as an Administrator
When Sonic Forces came out, a common fix to address crashing was giving the game admin privileges. You can do this by following the steps below.
Open Steam and then your library
Here, right-click on Sonic Frontiers
Click Manage
Then select Browse local files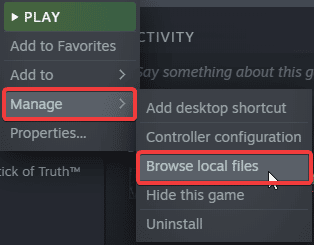 Right-click on the executable and select Properties
Click the Compatibility tab
Check "Run this program as an administrator"
We hope this guide helped fix the Sonic Frontiers Crash at launch issue. Let us know if you have any questions in the comments below.